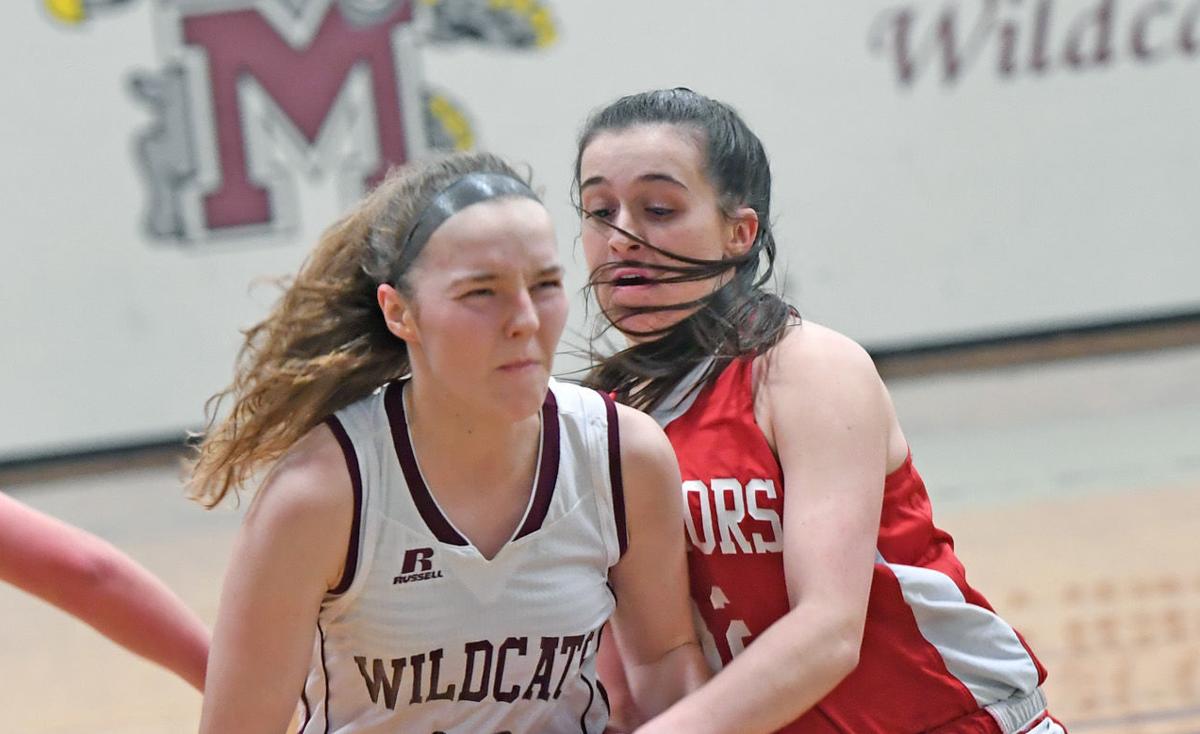 NEW HOLLAND — For a quarter, Mechanicsburg girls basketball was having fun.
But a quarter is not a full game. And over the next 24 minutes, Archbishop Wood showed why it is a favorite to make a sixth straight PIAA championship game.
The Vikings turned a 7-5 deficit into a 50-24 romp in Wednesday night's PIAA Class 5A second round at Garden Spot High School, setting up a third meeting with Bishop Carroll in Saturday's quarterfinals.
With the loss, an impressive turnaround comes to a close for the Wildcats.
Mechanicsburg was ravaged by injuries and roster turnover a year ago, struggling all season with a young team that took its lumps and missed the playoffs. But with roughly the same group back, they turned things around, upset Bishop McDevitt in the regular season and fought to the state second round.
"Obviously a lot to celebrate," 'Cats head coach Clay McAllister said. "Good kids. They decided they were going to put down after last year, and they're gonna do it better, and they're gonna do it differently. … We didn't overachieve either, we did what we were capable of doing. We've played some pretty good basketball lately."
"I know tonight we'll be sad, but by tomorrow we'll be just proud of ourselves," said Rylee Everett, one of two starting seniors and seven on the roster.
Mechanicsburg played with nothing to lose right out of the gate, knowing full well who was across the court from them.
With a noticeably louder crowd on their side, the Wildcats' defense held Wood to just six shots in the first quarter. And Everett, Logan Nutt, Megan Schrass and Allison Schrass all scored to build a slim 7-5 lead.
Everett said the team didn't play scared.
"Then I looked at the end of the quarter, they had six fouls at the end of the quarter," McAllister said. "I said, 'We could not have drawn it up better for us right now.'"
"It was really fun, it was really hopeful. We thought things were going to go up from there," Everett said. "I was really proud of our first quarter. We played good defense, we seemed to connect everywhere."
But the Vikings would not be subdued any longer.
Better ball movement led to wide open 3-point attempts. And Wood consistently made them, dropping five in the second quarter, including three from Lindsay Tretter.
AW's passing was two steps ahead of Mechanicsburg's defense. There was simply nothing the Wildcats could do except hope the Vikings missed.
They did not, shooting 7-of-12 from the field in the decisive second quarter, then 7-of-11 in the third to ice the game.
Kaitlyn Orihel, who is fielding multiple Division I offers as a sophomore, led all scorers with 12 points despite sitting much of the third quarter in foul trouble. It was a balanced night for the Vikings, who also got 11 from Tretter off the bench, seven from Annie Whalen and six each from Ryanne Allen and Brianna Bowen.
"That's usually our MO," Vikings head coach Mike McDonald said. "This year, Kaitlyn has stepped up and scored a lot of points for us. But traditionally we move the ball, and whoever's open takes the shot."
On the other end of the court, Wood's defense clamped down. Bigger, stronger and more athletic across the board than Mechanicsburg, they used their press and tight halfcourt defense to hold the 'Cats to just 29 shots on the night. The District 3 sixth seed made six of those.
"I just really think our defense set the tone," McDonald said. "And early on we were forcing some shots, and then we started just moving the ball and finding the open kid."
"I thought we handled that initial pressure good — it's that second or third pass, we just didn't execute like we hoped to," McAllister said.
Everett, in her final game, led Mechanicsburg with 11 points. Backcourt mate Talia Gilliard was held scoreless on four shot attempts. Megan Schrass chipped in seven points.
HALFTIME: @WoodGirlsBball 24, @GoMechanicsburg 15.

An Everett finger roll gets us to this score. Trotter, who went 3-4 on 3s in 2Q, misses this last second midrange J. pic.twitter.com/LpbWhb0lip

— Jake Adams (@jakeadams520) March 14, 2019
Get in the game with our Prep Sports Newsletter
Sent weekly directly to your inbox!