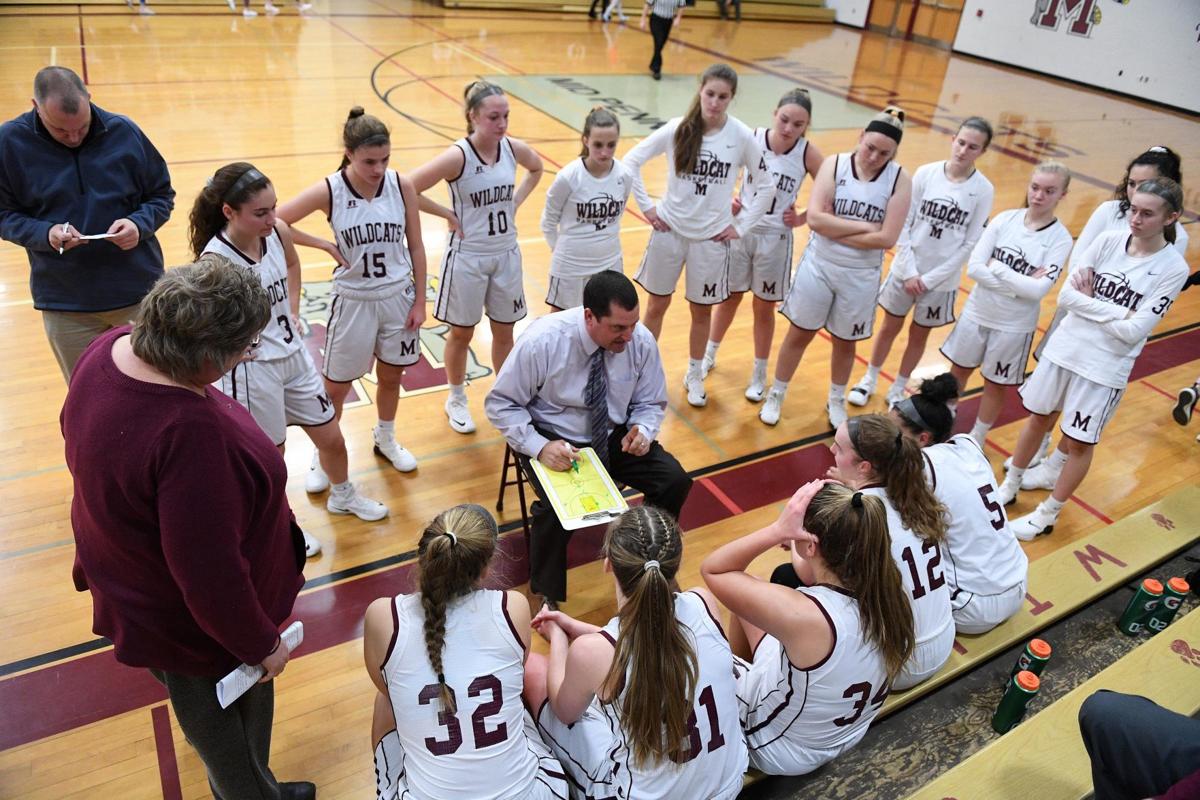 A year ago, the Mechanicsburg girls basketball team finished 8-14 overall and 4-10 in Mid-Penn Keystone play, failing to qualify for the District 3 playoffs for the first time since 2011.
It would be easy to look at last year's record as a reason to lower the expectations coming into the 2018-19 campaign. But don't tell that to the Mechanicsburg coaches and players.
"We came into the season thinking we have nothing to lose," senior guard Rylee Everett said. "No one expects anything out of us. They all think we're still going to be the same losing team we were, so we fed off all that negativity. We just wanted to prove people wrong."
Head coach Clay McAllister's Wildcats have rebounded back to form this year with a 13-4 record (7-4 Keystone) and currently hold a five-game winning streak ahead of Tuesday night's meeting with unbeaten Bishop McDevitt (18-0, 11-0). A return to the postseason appears imminent as Mechanicsburg is ranked ninth in the latest Class 5A district power rankings (16 qualify) with five regular season games remaining.
The seeds of this year's success, however, are planted in last year's disappointment and heartbreak.
Before the first game of last season the team learned starting point guard Everett suffered a full lateral meniscus tear in her left knee and was out for the year.
The Wildcats prepared with Everett as their primary ball handler and were forced to change gears quickly. McAllister turned to freshman Talia Gilliard and junior Maddie Hurst to handle the bulk of the point guard duties.
It was a steep learning curve, especially for Gilliard, thrown into serious varsity minutes as a ninth-grader.
The inexperienced backcourt had its share of growing pains and the team followed suit with up-and-down performances, finishing with the first losing season for the Wildcats in 12 years.
You have free articles remaining.
But out of adversity came opportunity.
"I was talking to Talia about last season and how much we've grown," Everett said. "I mentioned that part of me is glad that she got the opportunity to fill in and get a lot of the experience because she's a great player, but I don't know if she'd be where she is right now if she didn't get that exposure.
"It developed a lot of the girls to where we could be where we are this year."
Gilliard has displayed maturity and composure this season, which she gained from all of her time on the floor last year. She remains the engine that powers the offense — the 5-foot-7 guard is equally at home shooting the long ball or driving to the basket.
McAllister regularly plays 10 players, and he has received contributions from everyone up and down the bench. Everett, Gilliard, senior Megan Schrass and junior Logan Nutt each have double-digit scoring games for the Wildcats.
"In order to become the player you want to be, you have to get the minutes," Schrass said. "The fact that we have such a deep bench this year, it honestly helps that a lot of kids were able to get minutes last year. They've come in as veterans rather than players, who for the first time, are facing the pressure and handling certain situations."
The other major difference fromlast season is the return of a healthy Everett. The 5-foot-4 sharpshooter is the team's leading scorer at 10.7 points per game and has 30 3-pointers.
"I feel like as a team, collectively, we are closer," Schrass said. "We made an effort to do team sleepovers, we're always talking, and we always make sure our freshman are included, so amongst the younger and older kids there is a connection there.
"Over the summer we started fresh and played really, really well together. All of the new things we wanted to change just clicked. So I think coming into this season was a much more positive attitude and we were just ready to play."
MECHANICSBURG — Down double-digits at one point in the second half, Mechanicsburg reeled off…
Get in the game with our Prep Sports Newsletter
Sent weekly directly to your inbox!