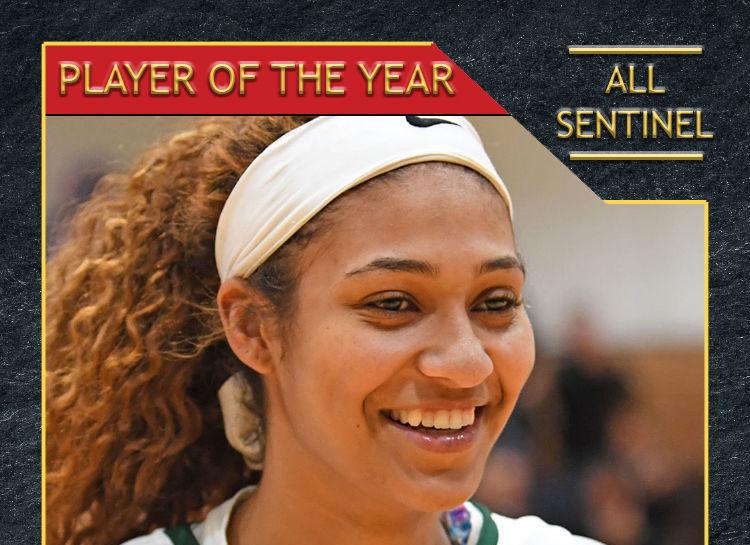 Player of the Year and First Team
Coach of the Year
Kristi Britten, Trinity: Sure, Britten has more Division I talent on her roster than anyone else in The Sentinel coverage area. But balancing all of those hungry mouths is tougher than most imagine. She got girls to buy in and sacrifice personal glory for the team enough to repeat as District 3 champs and finish a win shy of the PIAA Class 3A title game. Others getting consideration included: Cumberland Valley's Bill Wolf, Mechanicsburg's Clay McAllister and Cedar Cliff's Scott Weyant. 
Second Team
Jaylin Moore, so., G, Trinity
Ava Stevenson, so., G, Trinity
Julie Jekot, so., G, Cumberland Valley
Abbie Miller, so., F, Cumberland Valley
Margrett Brown, jr., F, West Perry
Honorable Mentions
Back court: Emilee Sullivan, fr., G, Big Spring; Sydney Hemler, sr., G/F, Boiling Springs; Julianna Askins, so., G, Carlisle; Natalie Sassano, sr., G, Cedar Cliff; Kylie Holcomb, jr., G, Cumberland Valley; Talia Gilliard, so., G, Mechanicsburg; Jaeden Longenecker, jr., G, Northern; Tori Rumbaugh, so., G, Shippensburg; Emelie Nonemaker, so., G/F, Shippensburg; Braylee Fetterolf, jr., G, Trinity; Natalie Boltz, West Shore Christian; Alexa Smith, sr., Carlisle Christian Academy. 
Front court: Laney Noreika, fr., G/F, Big Spring; Passion Bragg, sr., F, Camp Hill; Kendal McCall, so., C, Camp Hill; McKenna Borrell, jr., F, East Pennsboro; Logan Nutt, jr., F, Mechanicsburg; Olivia Hawkins, sr., F/C, Red Land; Lauren Trumpy, fr., C, Trinity; Gretchen Frederick, sr., F, West Perry; Bridgette Cless, fr., F, West Perry; Alexa Niles, so., Harrisburg Academy. 
Email Jake Adams at jadams@cumberlink.com or follow him on Twitter @jakeadams520​
Card production provided by Joshua Vaughn.