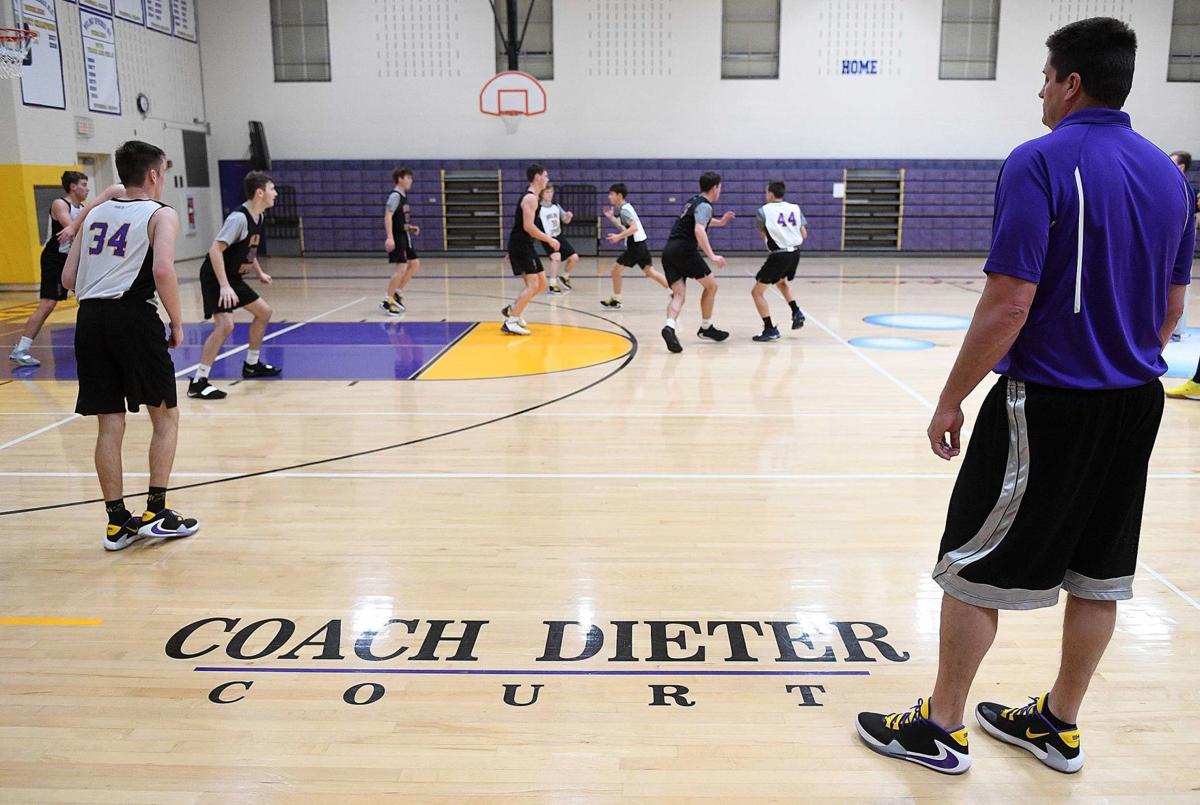 Joel Martin said the upcoming weeks will be about finding "the new normal."
For the new Boiling Springs boys basketball head coach, that means adjusting to life without one of his closest friends, a local legend with whom he spent thousands of hours scheming, arguing, battling in pick-up games and grooming young players.
"I still think about him every day," Martin said of Pat Dieter, who died during heart surgery in February while his Bubblers participated in the 2019 postseason. "Writing practice schedules, thinking, 'What would he do?' Some days you remember good memories, and it gets a little emotional. We spent a lot of time together. I miss arguing with him, too."
Like rival Big Spring playing its first season after 16-year-old JT Kuhn's death in March, the Bubblers enter an emotional new era without the only coach they knew the previous 36 years. The months since Dieter's death while his team played Octorara in the District 3 Class 4A playoffs, a 76-60 first-round loss, witnessed numerous program changes.
Dieter's right-hand man, Martin, was tabbed his successor in the spring. The team room in the gym's locker room was remodeled. Some players graduated, others went separate ways during the summer break.
But the starkest reminder of the post-Dieter era is painted permanently on Boiling Springs' gym floor.
There will be an official dedication ceremony Friday during the Paul Corby Tip-Off Tournament for the recently named "Coach Dieter Court."
The ceremony will run between the 6 p.m. game and the Bubblers' season opener at 7:30. The court was named Coach Dieter Court this summer following South Middleton School District School Board approval.
It will serve as the team's first in-season opportunity to honor Dieter, who served as head coach for 36 years and 477 wins.
The dedication ceremony will be attended by Dieter's family, Martin said.
"It's only right that his name is on the court because he coached here for [36] years, [and] he basically built this program," Bubblers senior Gavin Donley said after a recent practice. "So, he really deserves all the credit."
Donley, who said Dieter "basically taught me everything I know" about basketball, added that he leaned on last year's senior class to get through the loss of a coach he grew close to. He also played AAU ball with Big Spring senior big man Gavin Pritchard, and the two bonded on and off the court over the summer. Pritchard was mourning his friend and teammate, Kuhn.
Martin said nearly 70 players from grades 7-12 attended open gyms in the fall at Boiling Springs, enough to force him to open three gyms instead of the customary two most nights. It was a welcomed sign of support in what everyone expects to be a challenging season.
Martin's installation as Dieter's replacement maintained a sense of stability for a program that only knew one coach for nearly four decades. Fathers and sons played for Dieter, and Martin knew most of them.
"Not switching to a completely different coach and someone who's been around the program and actually coached with Dieter for 20-some odd years, that really keeps — it still has the feel of Pat Dieter basketball," Donley said. "It's not completely switching everything up, and that's good for the guys."
The court dedication is just the first step the program and other coaches in the Mid-Penn are taking to memorialize a central Pennsylvania basketball institution.
The Colonial Division will hand out a sportsmanship award in Dieter's name at the end of this season and every year after.
The movement for the award was spearheaded by Shippensburg head coach Ray Staver and quickly gained support from the rest of the division's coaches.
"And he was a great mentor, I think, for a lot of people," Staver said. "He was a great ambassador for the sport."
Martin said Dieter would appreciate the recognition. He hopes the alumni Dieter impacted over nearly 40 years — Martin was one of Dieter's first players in his first season in 1983 and served as one of Dieter's assistants for much of the next 35 seasons — will attend Friday's opener to help honor the longtime coach.
"I think he didn't like being the center of attention, [so] he made it about the kids," Martin said. "But certainly I know that obviously would've meant something to him. His mentor was [former Carlisle head coach] Gene Evans, and when they dedicated the gym to Gene Evans, he certainly was there."
"[Dieter would] probably say that it's a waste of money, not gonna lie," Donley said of the court dedication and redone team room, laughing a little. "But I think he'd be happy that we took the time to really base the program around him and what he stood for."
Martin also said he's working on a memorial holiday tournament starting next season for the boys and girls teams that will include Carlisle boys and girls, Cedar Cliff boys and girls (Colts girls head coach Scott Weyant played for Dieter), Octorara boys and an as-yet-determined fourth girls team. Martin wants the alumni to help organize that every year.
Martin also has another surprise for this season on the court he'll unveil this weekend, a small gesture that will further honor an icon in the area.
"We're trying to keep the tradition alive," Martin said. "He built a great foundation here between sportsmanship and discipline, and we're just trying to continue it."
Get in the game with our Prep Sports Newsletter
Sent weekly directly to your inbox!