Billy Owens once said his older brother, Michael, doesn't feel pressure.
Whether it was playing football and basketball at Carlisle (where he ran for nearly 4,500 yards in his career), running for 1,000 yards in a season as a senior at Syracuse University or trying to make the NFL, Michael Owens said he always stayed calm.
But pressure didn't always find him during game time.
"I took it all with the flow. It's life, I have to deal with it," he said when asked about rape allegations he faced nearly 30 years ago.
It's how Owens said he approaches his entire life.
The Kansas City Chiefs drafted Owens in the ninth round of the NFL Draft in 1990. Despite a 4.43 40-yard dash time at 216 pounds — the memories of an athlete are always specific — Owens never played a down in the NFL.
When he finally put his cleats in storage, that was it. Football, which once consumed his life, didn't matter anymore.
"There was one time I thought I couldn't live life without football," he said over the phone in February. "I kinda just let football fade away."
And he followed his little bro.
He moved to California in 1991 to live with Billy, who had just been drafted by the Sacramento Kings and then traded to Golden State. Michael stayed for more than a decade, met a girl, worked some jobs, helped his brother and watched him live out his own professional dreams.
"It was just a real pleasure and joy to be with my brother out there while he was having a great time," he said.
All four Owens siblings were highly successful athletes in high school. Oldest brother Perry topped 1,000 points in his career at Carlisle, and his early exits in the playoffs inspired baby brother Billy years later. Stacy helped win the PIAA Class AAA 4x100 relay championship in 1982.
It was a competitive household, especially for Michael and Billy, who were close in age. But they have always been close.
"We were always competitive against one another, but we were always supportive of each other in our sports," Michael Owens said. "Once [Billy] got to the NBA, I never thought about having what he had."
This isn't necessarily the glamorous life friends and admirers envisioned for Owens. Nowadays, Michael lives in Carlisle, works at the Giant distribution center and officiates PIAA track and field events. He visits his children and other family, hangs out with former teammates to watch football on weekends, and leads a normal life.
Along the way, however, he's had his troubles.
In 1991, at age 23, he was accused of rape of an 18-year-old woman in a New York City hotel room. He faced the possibility of 25 years in jail, but avoided jail time by taking a plea bargain for charges of sexual abuse, according to a 1992 Associated Press article.
"The offer of a conditional discharge was so attractive in a case where it's one person's word against another that Michael decided to take it rather than run the risk of a more severe punishment at trial," Owens' attorney, Robert Tisdell, said in the Associated Press article.
"I had enough people who were around me that helped me deal with it," Owens said recently. "I was totally innocent of the accusations."
Shortly after moving back to Carlisle, he was arrested for failing to make child support payments. It was cleared up after eight hours in jail, he said; the automatic payments from his paycheck had not been converted over to his new job after leaving California.
And in 2010 he was cited for disorderly conduct for throwing a piece of cake in the middle of West High Street on his birthday, according to a PennLive article.
Owens does not hide from those incidents. He doesn't have regrets but wishes he had applied himself more as a player. Perhaps his pro days would've lasted longer.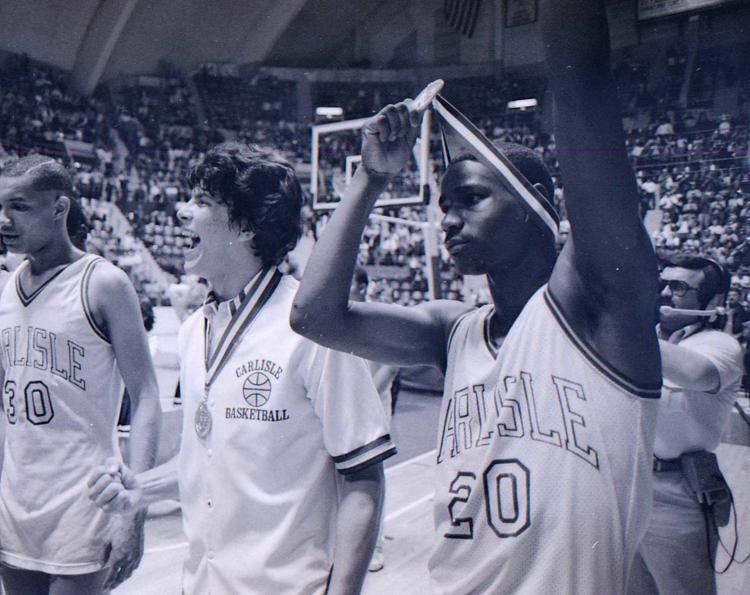 Carlisle, then and now
Owens perks up at any mention of his Carlisle and Syracuse days. They were the good times for him.
With the Herd, he bullied defenders and scored 70 career touchdowns for four years in football and won two state titles in basketball (1985 and 1986), and he took immense pride in trash-talking, handling pressure and leading his teammates.
"I just loved the family atmosphere that we had at the high school level, and football, and basketball," he said. "I loved being the leader. I love leading. ... I loved that the guys would look to me for whatever it was, on the field, off the field."
He was another All-American that Carlisle produced in the 1980s, who then wore the sacred No. 44 with the Orange — the digits worn by Brown, Ernie Davis and Floyd Little — and ran for 1,000 yards one year. He keeps in touch; Syracuse just had its own 30th anniversary for the 1987 undefeated team.
If anything, he misses the carefree nature of those days. He believes Carlisle conspired to keep his teammates in separate classes so they didn't goof off, chuckling at the thought. Teammates would head to Shawn Hodge's house — the most likely to be free of parents — when not in school.
"Joyride, or practice or play something," Owens said, referencing car rides with whomever had an available vehicle. "We walked together, we rode together, we did it all together."
Hodge, who had his own stints in jail on drug charges, visits on weekends to watch football now. Orlando Roebuck does sometimes, as do other old friends, Owens said.
He turns 50 in April. His children are on their own now — Denaria, 34, Ashlee, 28, and Keirstyn, 24, were all cheerleaders in high school, while Mikeal, 25, played three sports and went to Lackawanna — and doing well, spread out among Carlisle, New Jersey and Syracuse. He sees his youngest daughters more often, being so close, and the family gets together for holidays and family cookouts.
There are no big plans, no grand goals. Just one day at a time now.
"Continue to work, that's all, man."