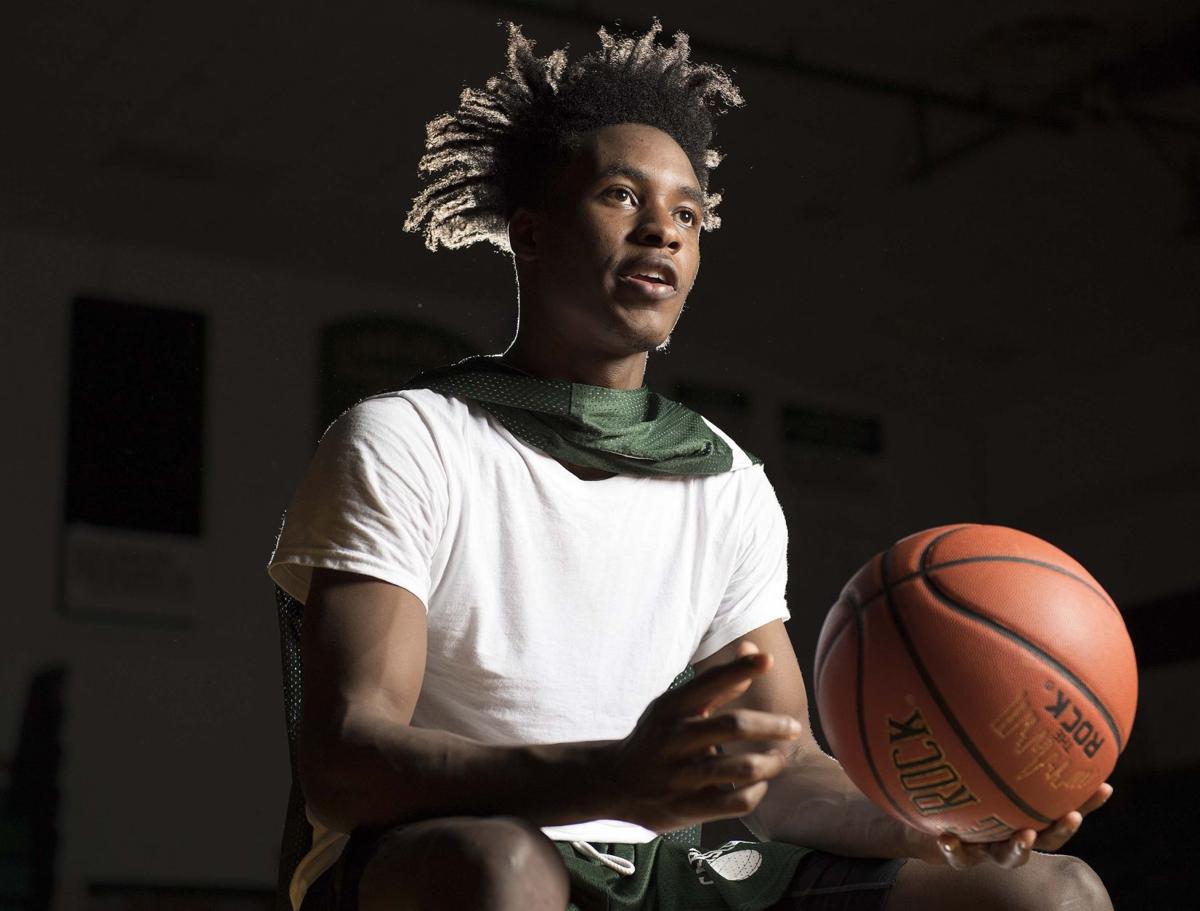 It's taken 5,017.5 miles for Deshawn Millington to get to this point.
In reality, it's more than that when you count flights to and from home. But geographically, Carlisle's third all-time leading scorer has traveled more than 5,000 miles in three years.
Three years, three schools, three coaches, three addresses.
All to end up at Tuskegee University in Alabama.
That's where, if all goes according to plan, one of the best Thundering Herd basketball players in years will spend his final two years — studying to finish a communications degree and dribbling a basketball through defenders.
"I just feel like the two years made me a better person overall and made me realize you gotta grow up sometime and can't be a kid forever," the now collegiate junior said Wednesday night when he could steal a few minutes following preseason two-a-day practices.
"Yeah, for sure it has been worth it. Not every route is an easy route. … Most importantly, I wanna be able to see I got a degree in [communications]. … I just wanna stand out from the rest."
Millington led Carlisle on its most successful four-year stretch since the legendary 1980s teams that won four straight state titles, guiding the Herd to a PIAA quarterfinal and PIAA semifinal in his final two years. He spent the past two years playing junior college ball at Palm Beach State College in Florida and Mt. San Jacinto College in California.
Despite being one of Pennsylvania's top guards coming out of the Class of 2017, academics forced the smooth, slashing Millington to take the JUCO route, which for him included a pair of stops.
And because he finished his summer classes at MSJC late, his options this season were limited. Tuskegee, founded by Booker T. Washington in 1881, had an opening, an interest and a fit.
Millington said Mt. San Jacinto's head coach, Patrick Spring, had a connection with the Golden Tigers' first-year skipper, Benjy Taylor. And in Tuskegee, Millington found an environment that welcomed him and would allow him, in his mind, a fair crack at a solidified role rather than feeling like he was trying to "force" his way in as a late arrival on an already established roster.
"I felt like I had a guaranteed place that I could actually call home," said Millington, who first heard of Tuskegee around Aug. 16, committed four days later and flew out almost a week after that. "He just made me feel like I was welcome and it was never too late of a start for me."
The two-time All-Sentinel Player of the Year appears to have more perspective two years removed from high school. He expressed regret in not focusing on his grades more at Carlisle so he wouldn't have to go through the JUCO circuit.
"JUCO, you're on your own," he said. "You don't get café food, we don't get that meal plan. Basically, you're independent. You're in the jungle when you're at JUCO. … It's not easy, and I do not wish it on nobody."
But Millington said the experience has helped him mature, and he's focused on graduating.
Suddenly, he's no longer a high school standout leading a talented group that included multiple future college basketball and football players. Former teammates like Gavin Barnes, Tyler Greene and others are playing in the college ranks or, in Timmy Atkinson's case, working on a graduate degree while leading a summer league back home.
"Man, I can't even believe that to be honest," said Millington, who was a freshman during Atkinson's final year at Carlisle. "Every year I say, 'Man it's gonna be a long year.' And then it just flies by.
"I keep up with [head coach Andre Anderson]. … I'll be chopping it up with them in the summer."
Millington doesn't know yet what he wants to do after college. It might be basketball related, it could be a job he lands with his degree. Whatever it is, it'll be a long way from the New York native who found a home in Carlisle and traveled across the country and back to play basketball and grow.
Deshawn Millington's story is currently in the middle of its best chapter.
More on Millington
On attending a college founded by Washington and Tuskegee's history, which also includes a George Washington Carver museum: "Speaking about that, it's so much to this school. They really take this school serious. … It's an interesting fact that you learn being here. They're really about the history of Tuskegee. … We're a national landmark, so we still have buildings from [that] era."
On what his role will be with the Golden Tigers: "It's a new coach, so nobody has a guaranteed spot. … My goal is to just do everything that's [asked], do everything that's right. … I'm a junior, so I've been around, I've been playing college basketball for two years, so I don't wanna do nothing more, nothing less, I just wanna play my role."
Get in the game with our Prep Sports Newsletter
Sent weekly directly to your inbox!