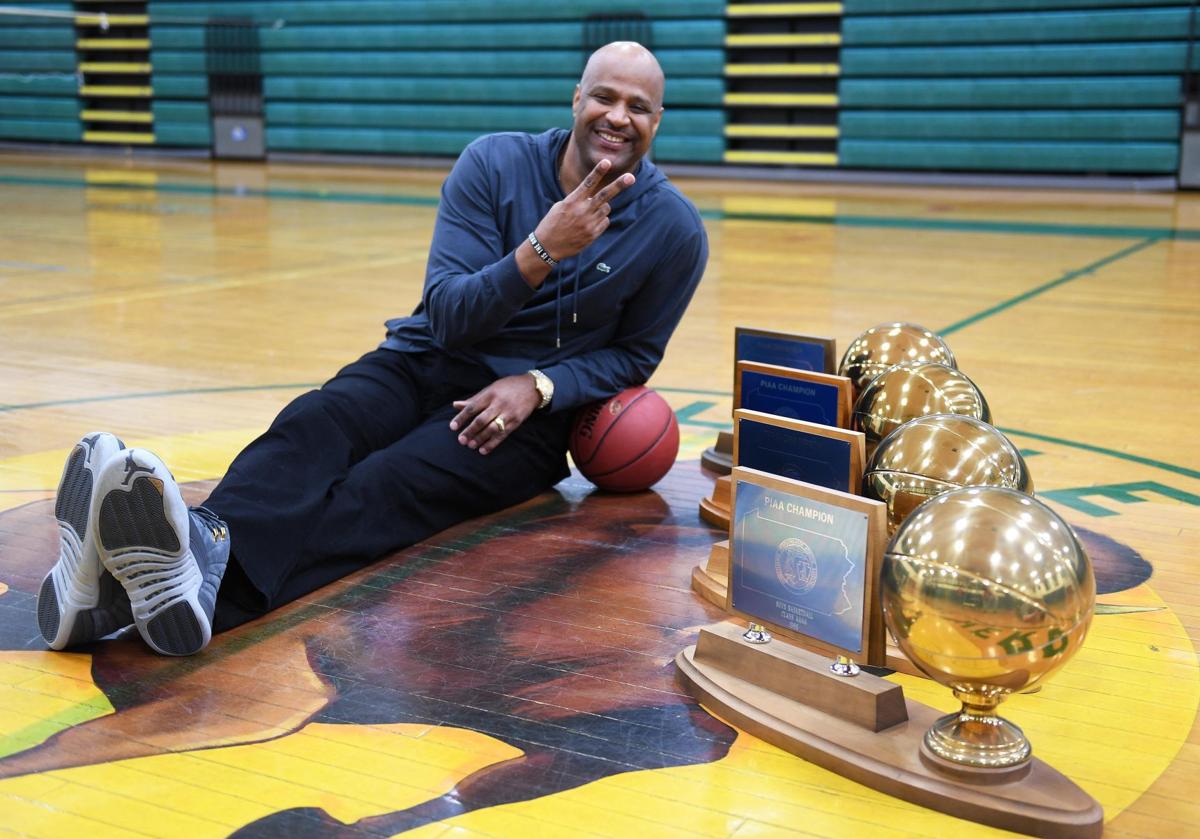 It had been five years since Billy Owens last stepped foot on Coach Lebo Court.
Five years after he was honored with a banner for being inducted into the National High School Hall of Fame and to celebrate the 25th anniversary of his last state championship, he was in town for a photoshoot.
It's likely the last time his still imposing 6-foot-9 frame, in his off-gray Air Jordans, will be on this very court. In the coming weeks, Gene Evans Gymnasium is set to get a major overhaul: new floor, bleachers, display cases, paint, locker rooms, backboards … the works.
It has been nearly 30 years since Owens played a meaningful game on this court, weathered and worn much the way time has battered but not yet beaten the man whose play inspired the moniker "Billy Ball."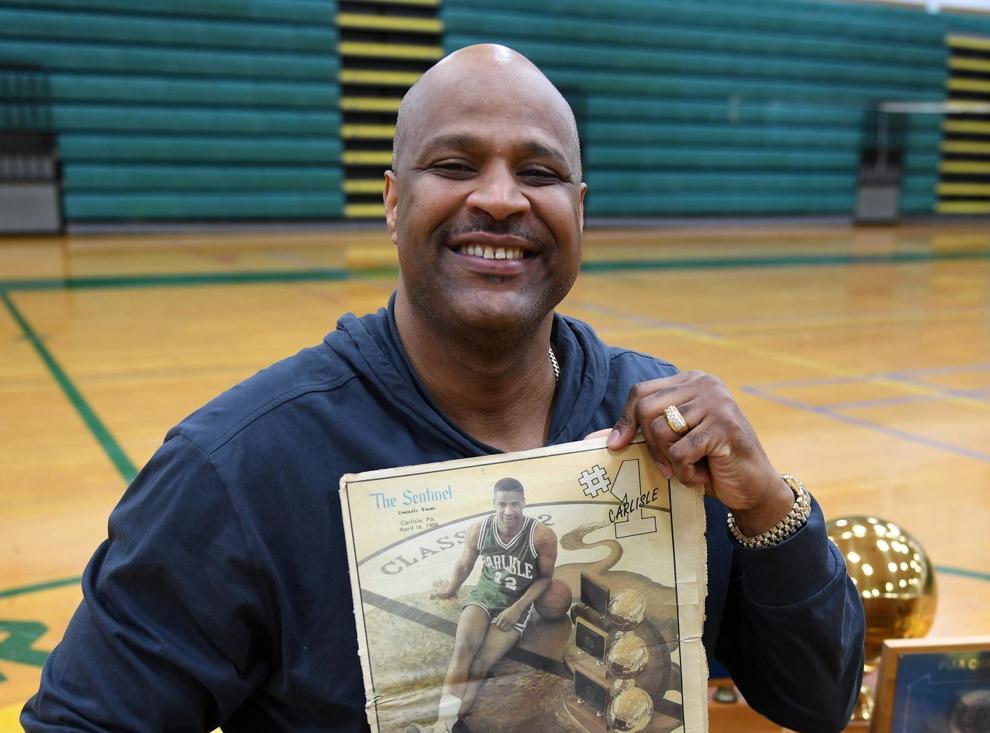 The complete player
Owens grew like a weed when he took Pennsylvania by storm. He was 6-3 as a freshman and topped out at 6-9 by his senior year.
His exploits are legendary by now, some of them passed down verbally through the years to the point where they are becoming folk lore and perhaps a bit fantastical. Some of the memories are a bit more etched into stone, like the PIAA championship record 53 he slammed on Pittsburgh Central Catholic.
He won four state titles, leading the Thundering Herd to a record that had not been seen in Pennsylvania history. He was a Parade All-American and was named the McDonald's All-American Game MVP, and was considered the No. 2 prospect in the class of 1988 behind Alonzo Mourning. He scored 1,000 points in his senior season alone (and nearly did it as a junior) and finished with 3,298 in his career, second most in state history.
He is a flawless 20-0 in state playoff games.
Owens — who wore No. 32 because of Magic Johnson and O.J. Simpson, his favorite players — holds all high school athletes to his standards now. If you are truly a great player, he said, you should never lose a game.
"High school probably consists of a lot of deep Division III players, a lot of Division II players," he said. "I expect you to win that game. … It just comes from living up to the hype."
He was LeBron James before James, a forward who could bring the ball up the court, pass with precision, shoot with some range — the 3-point line wasn't instituted until he was a senior — and dismantle teams inside on defense or offense.
Owens was strong and fast and smart and dangerous whenever he touched the ball. In many ways, he was in his playing days what the NBA is becoming now: a league of 6-8 athletes who can run the point or play in the post — positionless.
He went to Syracuse, was named Big East Player of the Year as a junior and averaged 17.9 points, 8.8 rebounds and 3.7 assists before being drafted by the Sacramento Kings No. 3 overall. He was traded shortly after to Golden State, where he was named to the NBA All-Rookie First Team in 1992, and played for a decade for six teams (career stats: 11.7 points, 6.7 rebounds, 2.8 assists per game) before knee injuries forced his retirement in 2001.
Whatever quartet one comes up with on the Mount Rushmore of Pennsylvania basketball, Billy Owens' bust is on there.
"Unbelievable high school player," said coach Dave Lebo, whose name is painted on the soon-to-be dismantled court at Carlisle. "Very coachable. Very smart. Extremely skilled and very much a team player. One of the two best players I ever coached in my life [along with son Jeff]."
"I thought [Billy Owens] was gonna be the next Magic Johnson," said Jeff Lebo, another legend who went on to North Carolina after he was Owens's teammate for the 1984-85 season.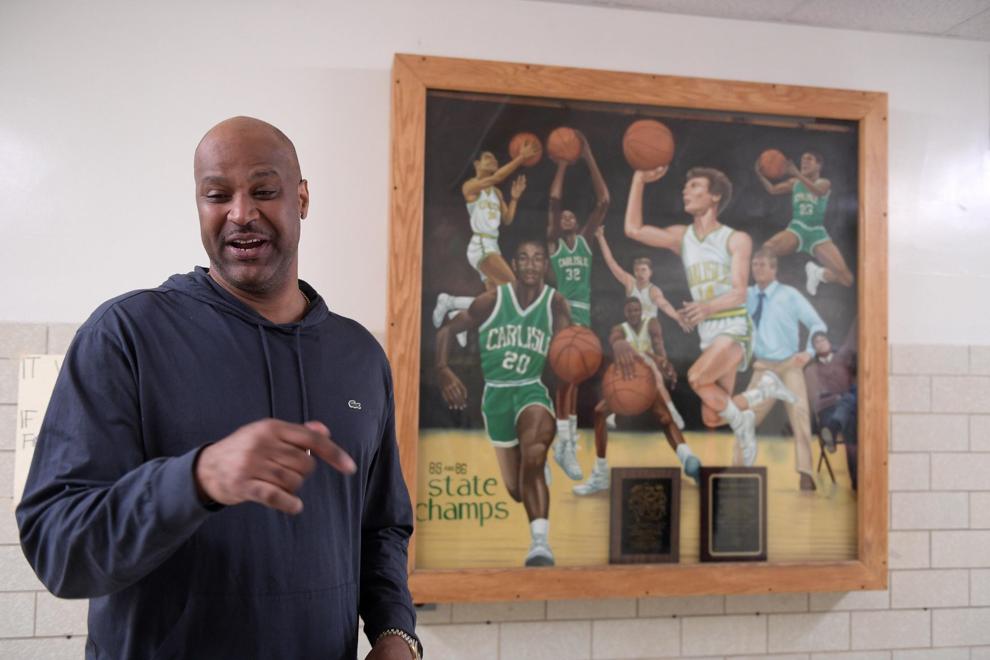 Becoming Billy
Owens isn't talkative like his brother, Michael, but he has stories.
Like the time a friend came crashing through the boys' locker room before a Harrisburg game because he didn't have a ticket, interrupting Dave Lebo's pregame speech. Or the time three years ago a woman followed him in the grocery story before eventually telling him she drove from Chester to all of his games as a senior in high school (he bought her groceries after). Or the time he was crying in the car as a kid after oldest brother, Perry, lost a state playoff game and Billy vowed to his dad that he'd never lose a state playoff game.
He played games by himself against an imaginary Julius Irving — "He was fouling me and everything; always won by one or two points, though" — in the old Police Athletic League building.
He was beat up by Michael, verbally and physically, for years in every sport.
Originally, Owens dreamed of being an NFL quarterback. He watched Washington Redskins quarterback Joe Theismann practice at Dickinson when the team had training camp there, and he modeled himself after Warren Moon as well. But he never stopped growing.
Mike Hodge turned Owens into a left-handed dribbler without knowing it. Hodge always took the ball from a young Owens, and one day the future star was crying at home when his dad, Bill, asked him what was wrong.
"So he took me out in the backyard, wrapped my right arm around my body, had me out there dribbling with my left hand," Owens said. "That's why I dribbled with my left hand the whole time."
Owens was used to the autographs by his later years in high school. But the fans, the signatures, the TV and ESPN cameras — none of it ever got to his head. He prides himself on being laid back.
Ageless performances
The best Owens game to many was his last one — a thorough dismantling of Central Catholic that capped a 33-0 season and one of the best high school careers in history.
He scored 53 points, grabbed double-digit rebounds, dunked all over hapless defenders and led the Herd to a fourth straight state title on the biggest stage of his then-career.
"Billy was a really unselfish player," Dave Lebo said. "That last state championship game, I told him, 'Billy, you have to be selfish tonight. If we're going to win, you have to score.'"
But while Owens considers it one of his best, he isn't convinced it was the best.
"There's a couple that I like," he said. "Central Catholic game was probably my best performance when it comes to field goal-wise and being damn near perfect, but there was other games when I probably scored 28 points and the game was close and you have to make good plays [and you do]."
There was the Cumberland Valley game his senior year where he also scored 53, setting the new court record in front of the former Eagle who originally set the mark — the name escapes Owens now.
One of the most famous plays involving Owens was one he didn't score on.
He took a late inbounds in the '86 championship against Kiski and was immediately double-teamed. Instead of trying to fight through it, he hit Orlando Roebuck with a perfect pass under the basket. Roebuck made the bucket, but missed the free throw after he was fouled. However, Carlisle wound up winning the second title.
"Actually when we took the timeout, Coach Lebo drew up a play for me," Owens said 32 years later. "And me being the all-around basketball player that I was, I saw a guy wide open under the basket. And I think the correct play … is to get the layup."
And he never expected the final score in Hersheypark Arena in that last championship game: 80-54.
"Every state championship game had been tough. You win by one point, two points, three points, and then to come out in that last game that I played in high school, we was kind of nervous," Owens said. "I can remember when I got that alley-oop dunk [in the middle of the first quarter], and I just took it all from there. I don't think we came into the game thinking we was just gonna blow them out like we did and win like we did."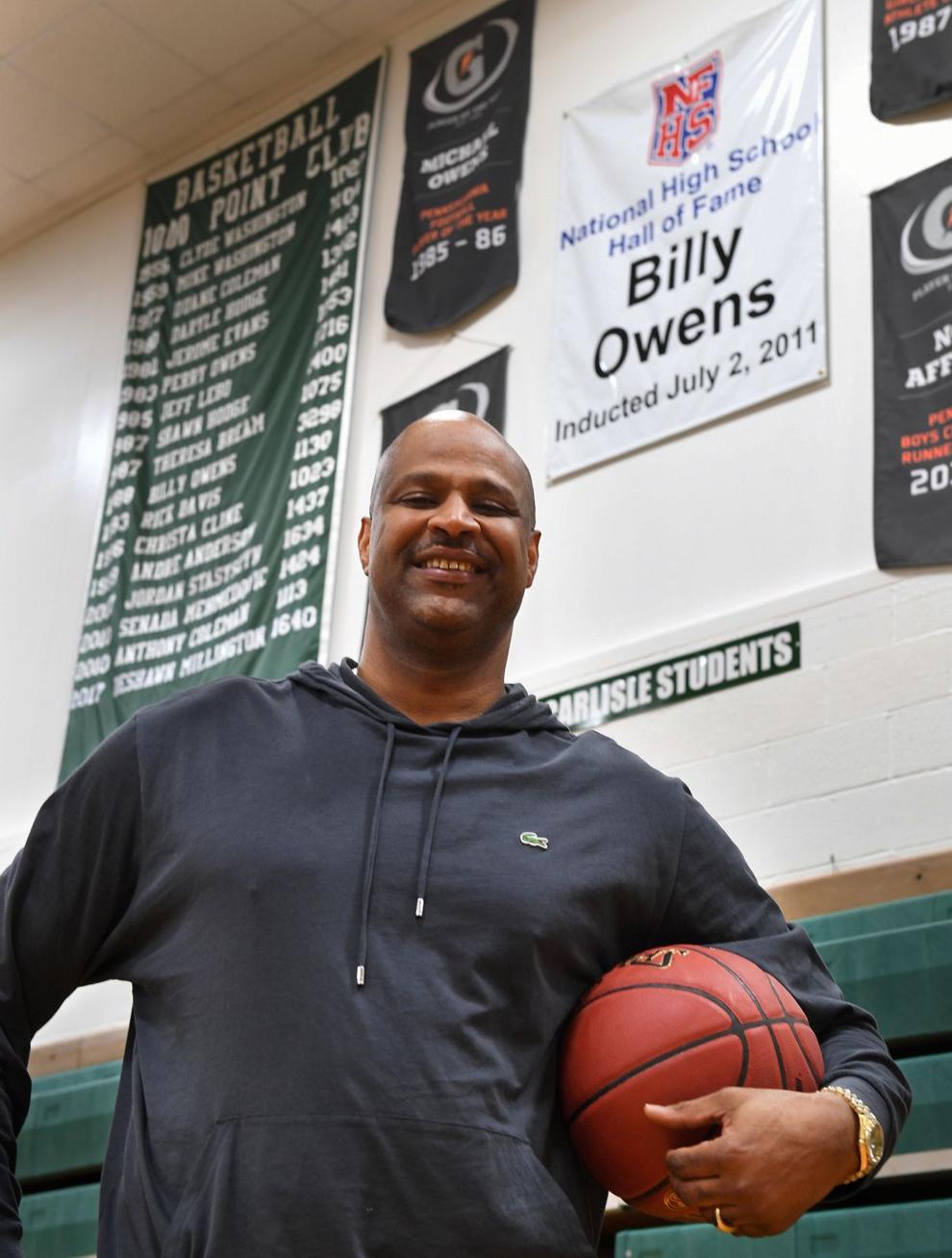 Chip still on his shoulder
Owens made millions in the NBA. He had a long career. But to many he is considered a bust.
He was supposed to be the next Magic, a competitor to MJ, a perennial all-star. Being drafted No. 3 only exacerbated it. But injuries sapped his career and he never played to the form expected of him after his days at Carlisle and 'Cuse.
In conversation now Owens shrugs it off, but it's clear those beliefs have eaten at him, less so as time has gone on. He was disillusioned with the pro game, especially the business aspect of it.
"It was never comfortable," Owens said. "It was fun, and I thank God for getting me to that point, but it was a business, and that was the part I didn't like."
But an interesting thing happened not long ago. Owens met Kevin Durant at the 2012 All-Star Game in Orlando. Owens brought his daughter, who liked KD, to meet him and Owens wanted to introduce himself and complement the future Golden State Warrior's game.
"He stopped me and said, 'I used to watch your games and studied you in high school,'" Owens said; Durant has since said in interviews he studied tape of Owens more than many others growing up to be a more complete player. "It makes me feel good. It put something out there [contrary to] these people who said I didn't have a good career in the NBA."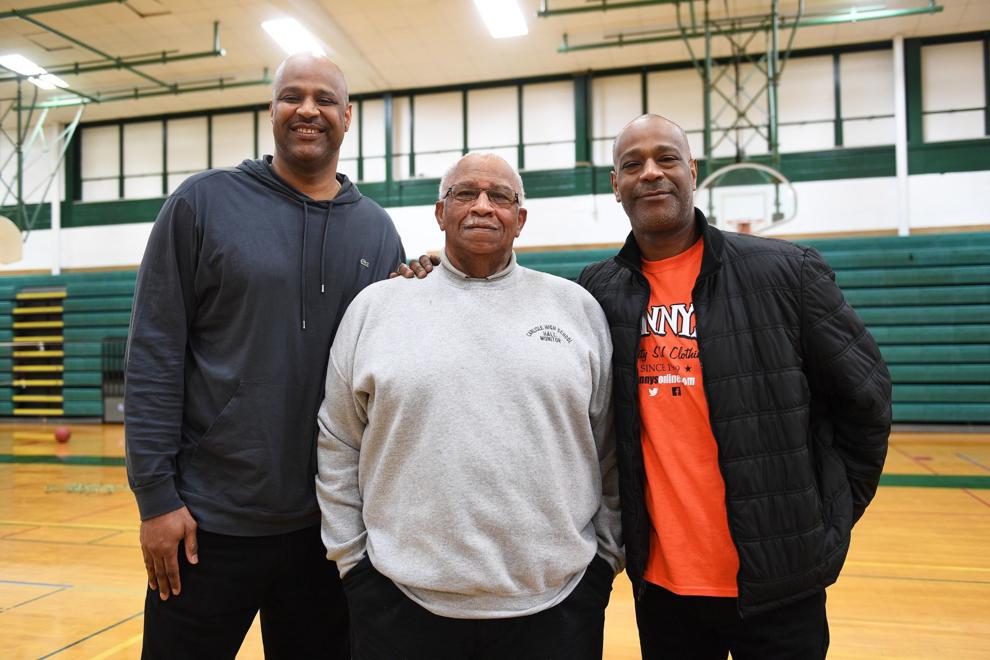 Today
Owens now spends his days working multiple jobs and training his youngest son, Chaz, 17, who plays at The Shipley School.
He's an assistant coach at Rutgers-Camden for his sixth season and is an agent at PBI Sports and Entertainment, working mostly with coaches in the NHL, but also the NBA and NFL. Notable clients include Bob Ryan and Mike Sullivan, among others.
He invested in a limousine service that didn't work out, and has invested in Measurement Vault, which he said creates portable 3D scanners for the human body. There have been meetings with Under Armour and medical companies.
"It's hard. It's a lot of late-night dinners," he said of his busy life. Being a coach is also a challenge because he can't "make a foul shot for the kid."
"They don't understand the Dr. J stories I have, you know?" Owens said. "I told them I used to sleep on my basketball, and they thought that was the funniest thing in the world."
He's been married to his wife, Nicole, for 20 years and has five children. LaVail, 30, played at Wissahickon High School and then Mansfield University; he is now a manager at JC Penny's. Lonaa, 26, is a real estate agent in Blue Bell, where the Owenses live. Middle daughter Billie LaRae is a 21-year-old senior at Syracuse. And he has twins — Skyla, 17, is at Wissahickon and Chaz is a 6-foot-5 starter at Shipley trying to follow in his father's footsteps.
"He's coming along. Sometimes I think he's tired of listening to me," the patriarch said. "When it goes bad, he tunes me out."
He hopes he can bring Chaz to Carlisle, perhaps get Shipley to play a scrimmage or in a showcase against his former team next year.
Perhaps it'll be the next time he steps foot in the gym he captivated. It'll be different, there will be emotions when he sees it again.
"What'll probably touch me the most is probably the locker rooms, 'cause we had fun in the locker room, we was just a family," Owens said. "To come running out from that little hallway in front of the crowd with the packed fans and coming in this building, we didn't lose too much in this building."
He'd like to have a piece of the old court if it can be salvaged, and he hopes the bleachers on each end stay as close to the baskets as they are now.
"I used to love dunking the ball, and the guy back there named Marty used to sit over there all the time, I used to give him a high-five after every shot," he said.
"So as long as they keep the bleachers underneath the basket, I think this will still be the old Carlisle gym to me."