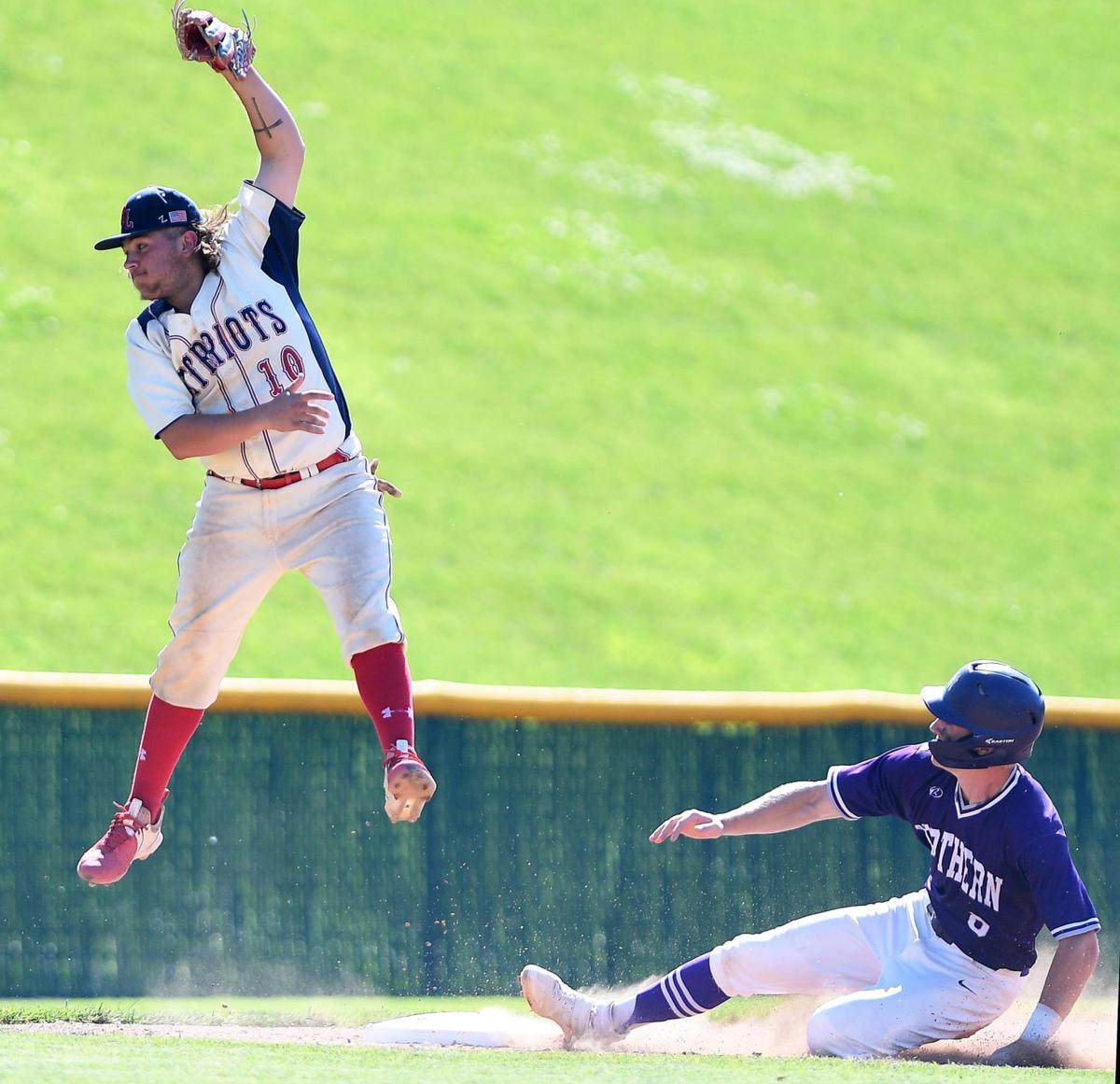 While Trinity and Camp Hill bowed out in Thursday's PIAA Class 2A and 3A baseball semifinals, the Patriots of Red Land remain alive in the chase for back-to-back state titles in the Class 5A bracket thanks to a 5-0 shutout against Archbishop Wood.
With the win, Red Land advances to Monday's semifinals where they'll meet District 3 foe Manheim Central at Peoples Bank Park in York.
For the Patriots, they will eye to reach their third state title appearance in program history.
Here's all you need to know about Monday's semifinal tilt.
Class 5A: 3-1 Red Land (24-4) vs. 3-5 Manheim Central (25-2)
Location: Peoples Bank Park, 5 Brooks Robinson Way, York
Key players
Red Land: Benny Montgomery, sr., OF/P; Cole Wagner, sr., 1B/DH; Kaden Peifer, jr., C/P/1B; Drew Hildebrand, sr., OF/P; Brady Ebbert, jr., 2B/SS/P; Ethan Phillips, sr., 3B/1B.
Manheim Central: Colton Book, sr., P/1B; Connor Rohrer, jr., P; Cam Eberly, sr., SS/OF; Brady Harbach, so., INF/P; Ky Watson, fr., INF/OF; Malakai Zilinski, sr., 3B/P; Dylan Yoder, jr., OF.
Notes
Red Land: It doesn't get much better than a no-hitter. On one of the biggest and most high-pressure stages of the season, Pats' ace Kaden Peifer delivered Thursday, striking out 10 and walking Navy commit Aiden Myers twice to reach no-no status. With just four days between contests, Peifer should garner backstop duties for Red Land Monday.
If season trends tell to be true, Patriots' skipper Nate Ebbert should turn to Ryan Gordon or Christian Lubic on the bump Monday. Gordon received the starting nod — working 4 2/3 innings — in Red Land's 6-3 first round win over Marple Newtown and Lubic slammed the door on the remaining 2 1/3 frames to close out the victory.
It's no secret the Patriots are dangerous up and down the lineup, but the heat of the order (batters 3-7) continues to be the most consistent this postseason. Third baseman Ethan Phillips kicked off his states batting total with two multi-hit games, a 2-for-4 line and a 2-for-3 line, which includes a pair of doubles. Junior Brady Ebbert currently sports three knocks in seven plate appearances and No. 7 hitter Drew Hildebrand, while held hitless Thursday, boasts a 2-for-5 line with three RBIs.
It also doesn't hurt to have a Division I pledge duo at the top of your order in Benny Montgomery (University of Virginia) and Cole Wagner (University of Georgia). While the tandem has been held fairly quiet in states action, there's no telling when the bats will wake up, as Montgomery's batting average sits at .444 and Wagner's at .375, according to Red Land's GameChanger account, through 28 games.
Manheim Central: There's no question the Barons' 25-2 record is an eye-grabber. However, the strength of schedule showed in the District 3 Class 5A championships as the previously No. 1-seeded Barons spiraled to fifth place.
On the other hand, Manheim Central continues to play redemption as its made quick work of Strath Haven (5-2) and Abington Heights (8-1) in its first two state games.
The Barons have an ace and Division I signee of their own in Colton Book. The senior southpaw and Stony Brook University commit — who touches 87 mph with his fastball, according to his Perfect Game statistics — is sure to take the bump after counterpart Connor Rohrer pitched for 16 strikeouts in Manheim's win Thursday.
At the dish, the Barons take a bit to get warmed up, using big innings later in the game to capture their wins. A three-run seventh inning versus Strath Haven and a pair of four-run frames in the fifth and seventh against Abington Heights fueled their victories.
Central currently boasts four batters above the .300 mark — with a minimum 80 plate appearances — in Brady Harbach (.324), Book (.328), Malakai Zilinski (.333) and Dylan Yoder (.342). Cleanup hitter Cam Eberly owns a .296 average.