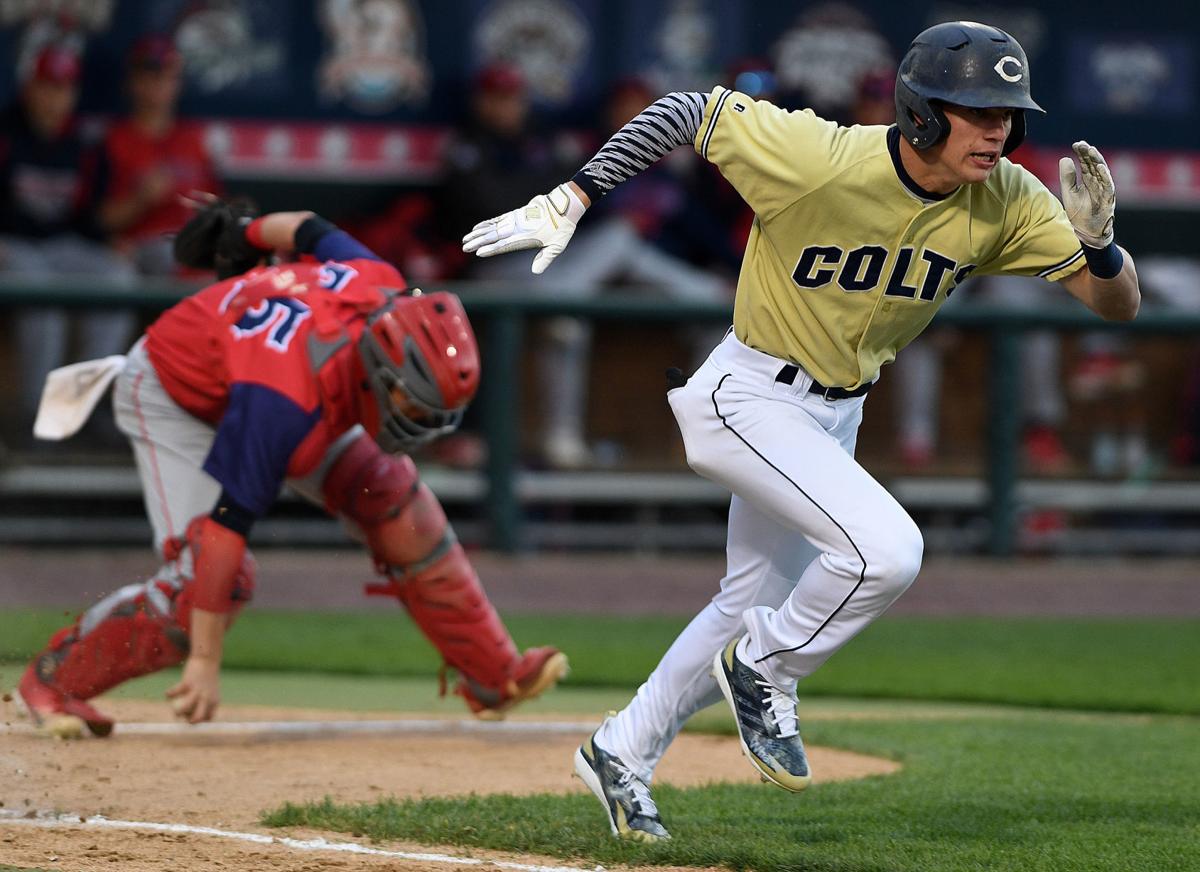 Bobby Whalen belongs in a class all to himself.
He's the only Cedar Cliff baseball player with 100 hits. He's the only one believed to have scored 100 runs. He's got two District 3 titles. Heck, he can now say he got a call from his beloved Philadelphia Phillies during the MLB Draft.
No one can claim the same kind of success in Colts history.
"It really does validate the kind of player that he is," head coach Scott Lackey said. "There's nothing he can't do."
In the past 72 hours alone Whalen did things no Colt before him ever accomplished.
Philadelphia contacted him Tuesday during the second day of the MLB Draft, Lackey said. They wanted to see if Whalen would skip his college career at Louisville to be their 11th-round pick.
Despite a burning desire to fulfill a lifelong dream and play for his boyhood team, he politely declined, saying later in the week he wants to chase another dream of his: "playing in Omaha in the College World Series." He would have been the third Cedar Cliff player to be drafted, according to Baseball Reference.
"It's just a surreal feeling," Whalen said Thursday evening after Cedar Cliff's 11-0 win in the PIAA Class 5A quarterfinals over Bishop Shanahan. "At the time when they called me, it was really hard not to say no because all I wanted to hear was my name called."
Then Thursday evening at Muhlenberg Middle School, Whalen scored his 100th career run. It was his second of the day during a euphoric win over Bishop Shanahan, clinching the Colts' first ever PIAA semifinal berth (Monday at 4 p.m. vs. Lampeter-Strasburg at Red Lion High School) on a field that has terrorized them for the past two years.
A questionable runner's interference call could've derailed Cedar Cliff in the PIAA Class 5A quarterfinals. Instead, the Colts rallied immediately and buried Bishop Shanahan. They're a win away from their first state championship game.
It's that last part that Whalen, typically one to deflect questions about himself to say something about the team, would likely say is his favorite accomplishment (so far).
Career stats
Whalen's career numbers are nothing short of impressive. In 97 career games, he's hitting nearly .350, having raised his average significantly in each year: from .213 as a ninth-grader, to .280, to .351, to .455. His power numbers exploded in 2019, with five homers and 37 RBIs as a senior out of the leadoff spot.
He has excellent range in center field, can fly around the bases, and even took on a closer role this year. (And none of this gets into his prowess as a talented, multidimensional football player or his time as a wrestler on another district champion.)
"He's certainly the guy that makes it go here," Lackey said. "And to have a leader like that on our club — when your leader is that kind of guy, not only in games, but in practice, in everything he does — those guys try to keep up with him."
"It really makes us want to step up and be better than him," classmate and Colts pitcher Trey Law said. "He's always been working his butt off since freshman year and before that, and it gives us a good work ethic, too."
Is Whalen the best Colt ever?
"You know, that's funny you ask, because we've had that conversation before," said Lackey, in his fifth season as head coach. "And there's three or four other names that pop up, and no one's done what he's done. So, on a sheer numbers perspective on that, he has to be at least 1, if not 1a."
Top Colts
Well, who would get consideration next to Whalen on Cedar Cliff's Mount Rushmore of baseball, if it were up to Lackey?
"Guys like Tyler Orris, Grant Breneman, Tommy Savastio," he said, and add in Jordan Lawson and Miles Campbell.
Whalen's numbers are a bit skewed compared to prior generations. Lackey said for years the program didn't allow freshmen to play varsity, so there are probably a handful of alumni denied the chance to break into those clubs (100 hits, 100 runs) simply because they weren't able to play enough games.
That's no longer the case. Whalen has been starting in center field since his freshman season. He's now won 73 games in blue and gold.
"Could you imagine me not starting that guy as a freshman, just because that's the rule?" Lackey said. "No way."
Even with that year's head start calculated, it's hard to deny Whalen's status among Cedar Cliff greats. And if the Colts were to win the last two games of the season and win a state title for the first time in their first trip to Penn State?
Well, it would be fitting for a player like him to break that barrier as well.
Correction: A previous version of this story stated there were no previous Cedar Cliff players drafted into MLB. A search in a different part of BaseballReference.com revealed there were two previous draftees: Will Hoover (1993) and Reynolds Parthemore (2009).