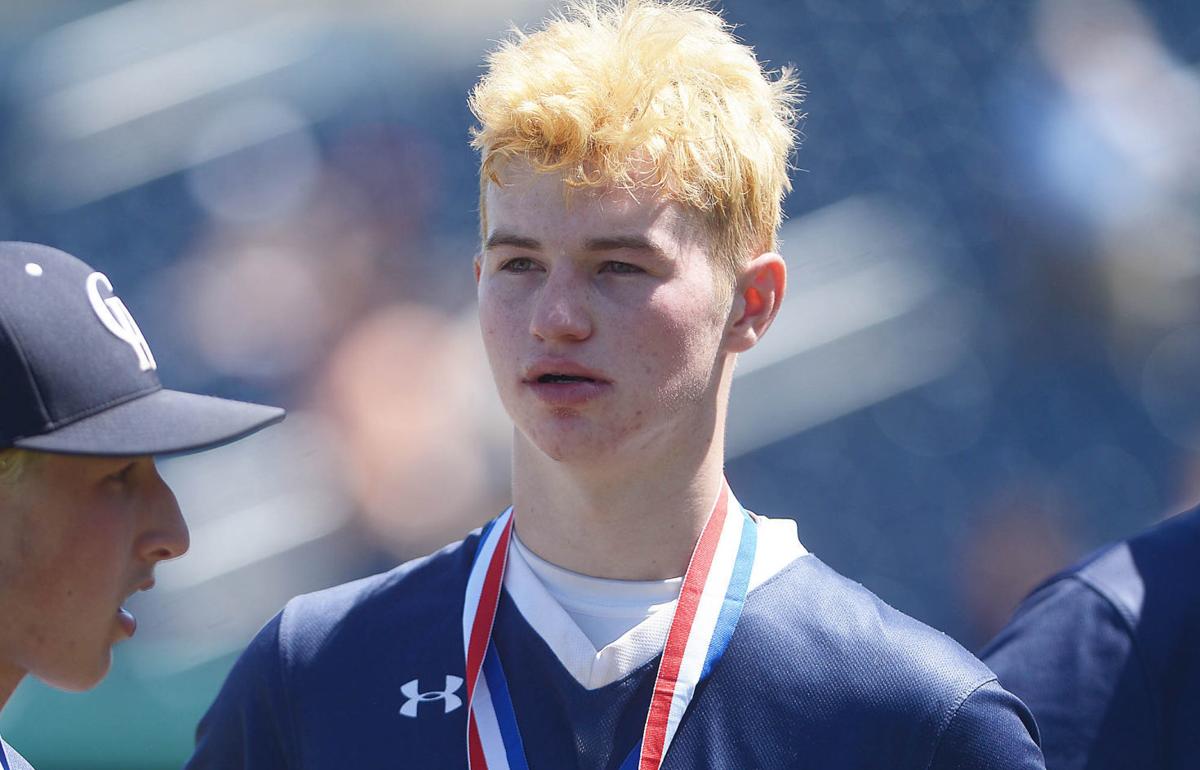 There's another Mid-Penn Conference catcher joining the Division I ranks.
Camp Hill rising junior Jackson Thompson announced Wednesday he has verbally committed to play baseball at Virginia Tech.
Thompson is the fourth Cumberland County catcher to earn a D-I scholarship offer in recent years. Cumberland Valley grad Drew Baughman joined Liberty for the 2019 season, and recent Red Land state champion Jared Payne is off to Kentucky already. There's also another CV underclassman, rising sophomore Logan Sauve (West Virginia).
Thompson, who helped Camp Hill return to the PIAA Class 2A championship as a freshman, picked the Hokies from a group of nine that included Duke, Campbell, Eastern Carolina, Maryland, Liberty, Purdue and Penn State. He said his top choices were VT, Duke and Campbell.
UNIVERSITY PARK — Rocky Grove knew the scouting report: don't ever count out Camp Hill.
"When I talked with [head coach John Szefc] at Virginia Tech and his staff, they had their eye on me a while ago," Thompson said. "They were awesome with me, they seemed to display a sincere interest in my future academic and athletic development."
Thompson said he was offered a partial scholarship. The Hokies were intrigued by his abilities as a left-handed bat, but also in his versatility defensively. While he profiles as a catcher, he said he could see time elsewhere in the field, including first base, if needed at the next level.
"They said that they loved my hitting from the left side as a catcher, being a left-handed hitting catcher," he said. "I grew up playing a bunch of positions with my brothers."
It's been a busy summer for Thompson. He said he competed in several tournaments, including the WWBA National Championships in Georgia, with his travel team, the Mid-Atlantic Red Sox, and went to camps in South Carolina and Maryland. It's also how he built his relationship with the Hokies coaching staff.
"I was going to wait a little, but the recruitment process moves quicker than usual for baseball," he said.
Thompson is a three-sport athlete as well. He's already practicing with the Camp Hill golf team for the start of the fall season Monday, and in the winter he plays basketball. He has another baseball tournament in Florida in the upcoming weeks as well.
The 6-foot-2 Jackson started from Day 1 with the Lions. In 2019, he led the offense with a .403 batting average, 19 runs, 27 hits, 18 RBIs, eight extra-base hits and 12 stolen bases. He also commanded a rotation that posted a 2.12 ERA and fanned 206 in 129 innings.
He's a two-time All-Sentinel Honorable Mention at catcher.
It's a lot to ask of a freshman.
East Pennsboro's Nick Embleton, bound for St. Joseph's next year, capped his Panthers career with a second District 3 championship and his first All-Sentinel Player of the Year nod.
He also helped the Lions win a District 3 title in 2018, narrowing missing out on a repeat this spring. Camp Hill went on a roll in 2018 behind Thompson and some excellent pitching to Penn State, losing to Rocky Grove in the state championship.
"It definitely made me more mature, in a way," Thompson said of missing the state title. "Without failure, you never know what success really is. It just makes me wanna work harder."
Now he can look forward to playing in the challenging ACC.
"I'm ready to take it head on," he said. "Excited is an understatement."
East Pennsboro grad Connor Yoder joined VT in 2016 and made 27 appearances last year as a reliever. Greencastle-Antrim's Nathan Starliper is also on the roster.
Tech went 26-27 last season, finishing 9-21 in ACC play.
Get in the game with our Prep Sports Newsletter
Sent weekly directly to your inbox!