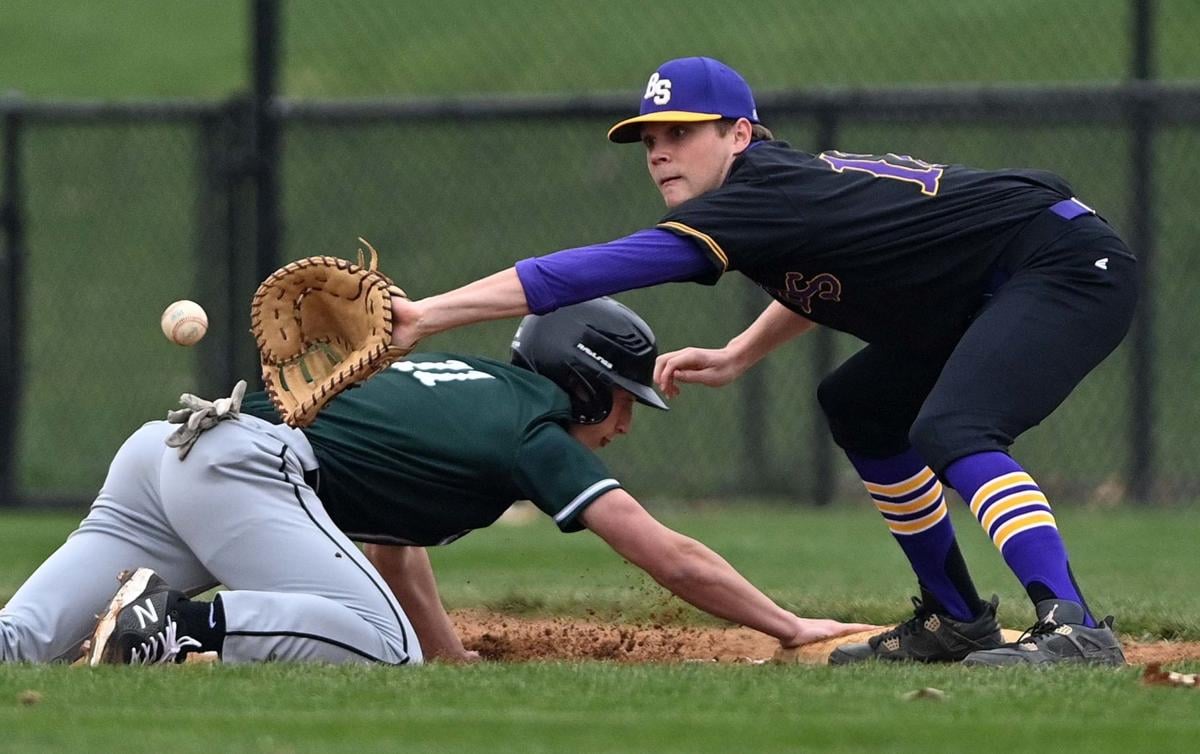 FREDERICKSBURG — After falling to Oley Valley 5-1 in the District 3 Class 3A baseball championship Tuesday evening at Earl Wenger Field, the Trinity roster lined up on the first baseline to accept their silver medals.
They couldn't hide the sadness and disappointment on their faces.
In their first-ever District 3 title appearance, the Shamrocks went toe-to-toe with one of the best pitchers in Berks County, Garet Blankenbiller, who pitched his defending champion Oley Valley (18-5) squad to a repeat performance.
"The bats didn't show up, but at the same time, we ran into a freight train today," Trinity head coach Chris Cap said. "He was really on his game. We have faced some top-quality right-handers, and he ranks right up there.
"They have a veteran pitcher out there who's very crafty and can beat you in so many ways. He has four effective pitches. We tip our hats to him. That's a really good ball club over there."
Trinity (15-6) scratched out only two hits against the Millersville commit as Blankenbiller tossed a complete-game victory. However, offense was at a premium for both sides as Shamrock pitchers Landon Kuntzelman and Josh McCombs limited the Lynx to only one base hit in the entire game.
Kuntzelman was electric, fanning nine and walking two in four innings of work as he got the starting nod for Trinity. However, the two free passes would come back to haunt the sophomore right-hander.
Leading off the bottom of the second inning, Kuntzelman allowed bases on balls to the first two batters. The hurler then misplayed a sacrifice bunt when he thought about the lead runner and wheeled too late for the out at first. A Luke McDonald sacrifice fly scored the first Lynx run and top-seeded Oley tacked on two more when Paul Petersen and Andrew McMullen scored on subsequent wild pitches.
"Landon is a fierce competitor," Cap said. "He has really grown in our program in a short period of time. We feel he is going to give us a lot of quality innings. All we asked of him today was to keep the game close, and he really accomplished that objective for us. Unfortunately, we couldn't reward him on the offensive side. He spilled his guts for us out there on the mound today. I couldn't ask for more."
No. 2 Trinity cut into the 3-0 lead in its next at-bat as Ethan Pfeffer came around to score after a leadoff walk in the inning. But that's the only time the Shamrocks would cross the plate.
Oley, making its fifth straight championship game appearance, added a run in both the fifth and sixth on wild pitches to push the advantage to 5-1.
Standing Out
One tough-luck inning did in Kuntzelman, but he was impressive in the loss as he allowed three runs on one hit while striking out nine.
JT Cap and Ryan Balaban pocketed the Shamrocks only hits of the night, and senior catcher Payton Warner drove in the lone run with an RBI groundout.
Up Next
For the first time in school history, Trinity will play in the PIAA state tournament Monday. The Shamrocks will face La Salle College, the District 12 champions.
They Said It
Cap on looking at the positives: "Just to get to this point, there are a lot of other clubs that would love to be at this level right now."
Cap on his squad: "I'm blessed each and every day to be around such fine, young men. They're going to make significant contributions long after the cleats come off after their playing careers are over. I speak for all of the coaching staff and our Athletic Director when I say we're very fortunate to be around them."