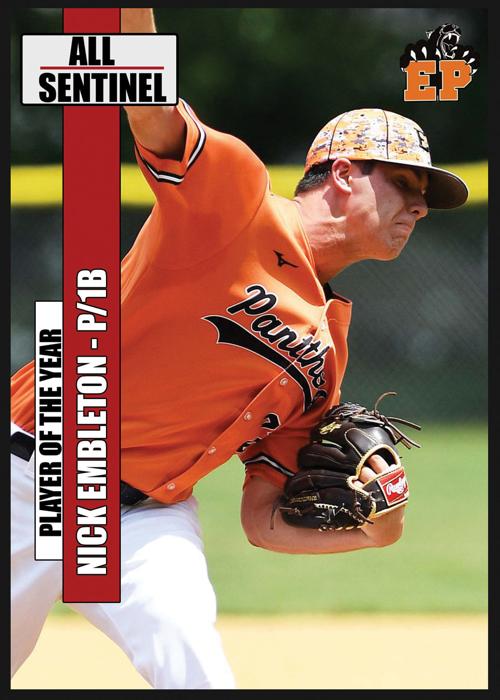 Player of the Year and First Team
Coach of the Year
Nate Ebbert, Red Land — Sure, he had more Division I talent than any team in recent memory in the area, but Ebbert pushed all the right buttons to lead the Patriots to their second PIAA championship. He had to navigate a rugged division and district field — Cedar Cliff beat their rivals twice in three tries, including the District 3 semis — and potential egos, to get this team to Penn State. 
Honorable Mentions
Pitchers: Carey Myers, jr., P/CF, Camp Hill; Jonas Fowler, so., P/1B, Carlisle; Joe Matter, sr., Cedar Cliff; Hayden Fry, jr., LHP, Cumberland Valley; Nic Flaherty, sr., P, Mechanicsburg; Zach Russell, sr., P, Mechanicsburg; Eddie Ensor, jr., P/OF, Northern; Jaden Henline, jr., RHP/LF; Adam Cramer, jr., P/LF; Andrew Root, jr., P, Trinity; Andrew Spaan, so., P, West Shore Christian.
Catchers: Zack VonStein, sr., Boiling Springs; Jackson Thompson, so., Camp Hill; Donovon Ball, sr., Cedar Cliff; Sam Zercher, sr., Mechanicsburg; Jonathan Lentvorsky, jr., West Perry. 
Infielders: Nate Uzelac, fr., 2B, Cedar Cliff; Chris Dare, sr., 3B, Cedar Cliff; Dave Mangold, sr., 2B, Cumberland Valley; Alejandro Escalet, jr., SS, East Pennsboro; Josh Jamiolkowski, so., SS, Mechanicsburg; Nick Tomasko, sr. 1B, Mechanicsburg; Dylan Hellam, fr., 3B, Mechanicsburg; Tyler Yohn, jr., SS, Northern; Cam Dick, sr., 3B, Northern; Mason Walker, sr., 3B, Red Land; Kyle Hannon, jr., SS, Red Land; Jacob Frey, sr., SS, Shippensburg; Tommy Keene, sr., 1B/LHP, West Perry.
Outfielders: Zach Garlinger, jr., OF/P, East Pennsboro; Brady Swenson, so., OF/P, East Pennsboro; Benny Montgomery, so., RF, Red Land; Ronnie Neidigh, sr., RF/P, West Perry.
Utility: Braden Petty, sr., RF/1B, Big Spring; Connor Madison, sr., DH/3B, Cumberland Valley; Jake Madden, jr., DH/CF/RHP, East Pennsboro; Kaden Robinson, jr., P/1B/3B, West Perry.
Cards produced by Joshua Vaughn.
All-Sentinel teams are selected by the sports staff at the end of each season with the input of area coaches as needed. Stats and information provided by the teams or from the information provided to The Sentinel throughout the year.
Email Jake Adams at jadams@cumberlink.com or follow him on Twitter @jakeadams520
Get in the game with our Prep Sports Newsletter
Sent weekly directly to your inbox!