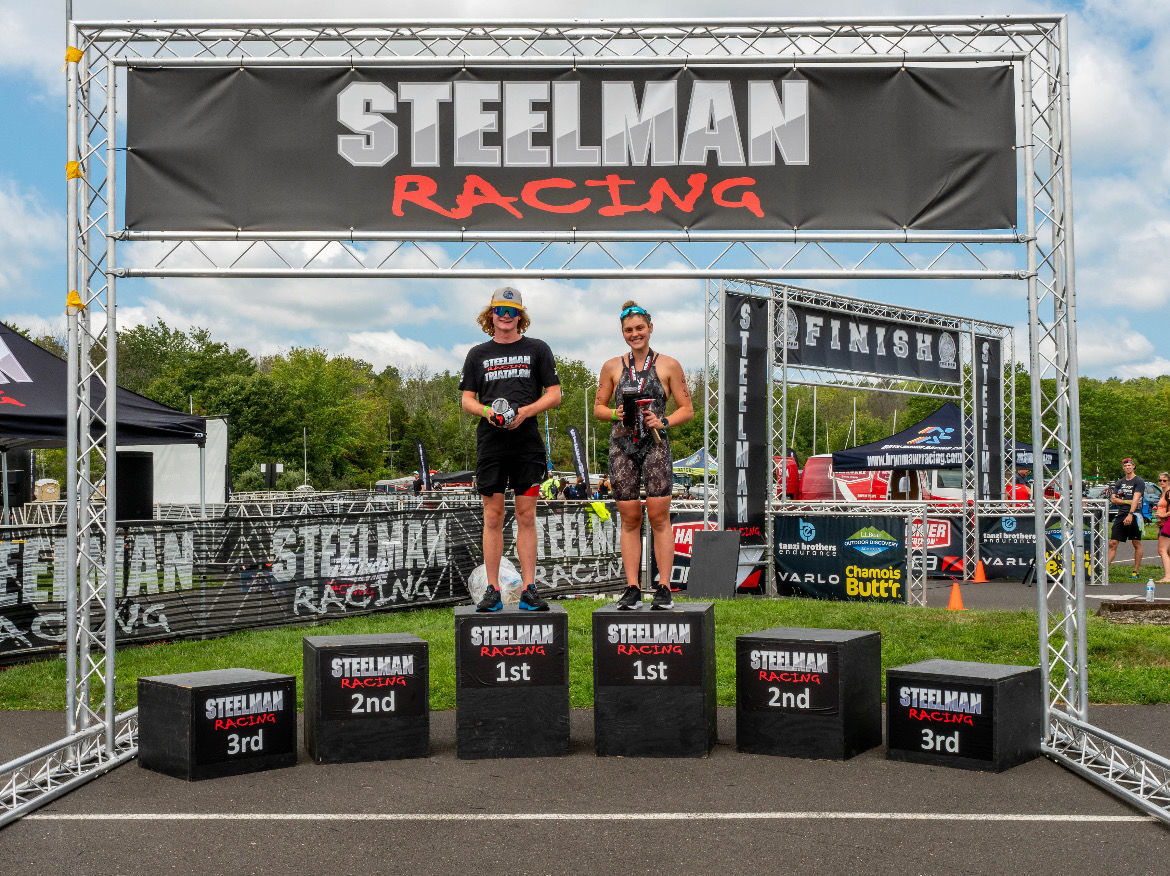 Determination. Excitement. Willpower.
Those are the three words Cumberland Valley rising senior and dual-sport athlete Presley Staretz would use to describe competing in a triathlon.
And those three words are what helped her cross the finish line for first place in the 2021 Steelman Racing Pennsylvania High School Triathlon Championship at Nockamixon State Park in Quakertown Sunday. She used times of 10:37 in the lake, 45 minutes on the bike and 21:37 on the running portion to stand atop the podium at the end of the day.
"Some people can crumble under [pressure] if they don't have a good mindset," Staretz said via phone Tuesday. "So, if you have that determination to do it, to do this thing, then you can get there, and you can make it, and you can make it through to the end."
Staretz competes in swimming and track for the Eagles each winter and spring. In the winter, she featured in the girls 200 medley relay and the 200 and 500-yard freestyles at the District Three Class 3A championships. Come spring, she kicked impressive times in the 800 and 1,600-meters while also running legs in the 4x400 and 4x800 relays.
Staretz said she credits her competitive seasons in swimming and track for laying the framework and building her foundation in triathlons. Sunday's event was her third career triathlon. The race consisted of a 0.5 mile swim, a 13.3 mile bike ride and a 3.1 mile trek on the running course.
"For me, competing in track and swimming, it's just different," Staretz said. "I feel like track and swimming is really short and you have a lot of events. While with triathlons, you have one event, and it's more endurance [related] than with track. I feel like I'm more of an endurance person, so it's really helpful."
Staretz said Sunday started out with her normal bowl of oatmeal in the morning, followed by some music on the drive up and when she arrived, focusing on staying loose and hydrated. Rising temperatures in the lake required Staretz to ditch her wetsuit and instead perform the race in a swimming kneeskin. Throughout the race, she used internal motivation and put her trust in God to pave the way to her victory, she said.
Along the way, she also received support from fellow competitors.
"During the race, I was just trusting God. And what I had in my mindset was that God already had my purpose planned out and set in stone. So, he already knew what I was going to accomplish today and what I was going to do today," Staretz said. "So, I just told myself that I'm going to just do what he has already set in stone. He knows the outcome, so I'm just going to prove to him that I'm going to do this."
"So, throughout the race, I was just staying focused on him. And that's really what got me through the race."
For Staretz, while Sunday's triathlon ended with a trip to the top of the podium, it was all about soaking in the experience. And, of course, using that determination, excitement and willpower to cross the finish line, no matter the placing.
"It's just so much fun. Throughout the race, for me, I always have a smile on my face and it's something that just makes me have this happiness," Staretz said. "It's so exciting. Even the day before and the week before I'm just like, 'Oh my gosh,' I'm so excited to do this."