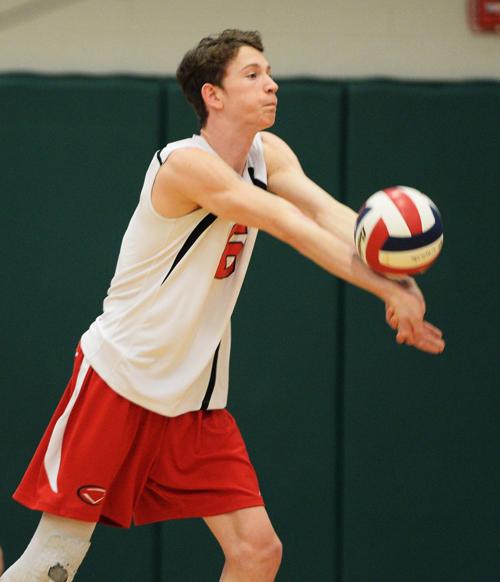 Throughout the 2018-19 high school sports season, we will name a weekly Sentinel Athlete of the Week every week highlighting the on-field performances of some of the area's best high school competitors.
This week's athlete is Cumberland Valley boys volleyball player Blake Liprando.
On April 11, Liprando hit his career mark of 1,000 kills and has continued a dominating streak ever since. The senior smacked 19 kills in a win over Northeastern on Thursday and 31 kills in a win over Chambersburg on Wednesday.
According to the team's MaxPreps account, Liprando currently has 180 kills, 29 assists and 30 blocks so far this season going into a game against Red Lion on Monday.
Q: What do you think has led to your individual success this season?
A: My teammates pushing me in practice to become better every time I step in the gym.
A: Everyone on our team is dedicated to the sport and we have focused practices to keep our eyes on our goals.
Q: You hit 1,000 kills. What was your reaction when you hit that mark?
A: Hitting 1,000 kills was an amazing feeling. It is not something that you see every day and I was proud to be apart of this awesome organization that has helped me reach that achievement.
Q: What about your team's reactions?
A: My team was super happy for me and they got wild when I hit 1,000.
Q: Anything you did to celebrate afterward?
A: We had snacks and soda on the bus ride home from that game.
Q: Any other marks you'd like to hit before the season ends?
A: There are a lot more marks that I would like to hit, but we are taking it one step at a time and focusing on winning Mid-Penn's before anything.
Q: Do you have any hobbies outside of volleyball?
A: My hobbies consist of lifting weights, playing video games, hanging out with my friends and cutting grass.
Q: If you could have any job in the world, what would it be and why?
A: An astronaut because it would be very cool going to space.
Q: Who inspires you the most in life?
A: My brothers, Austin and Drew, and my best friend Jesse King.
Get in the game with our Prep Sports Newsletter
Sent weekly directly to your inbox!