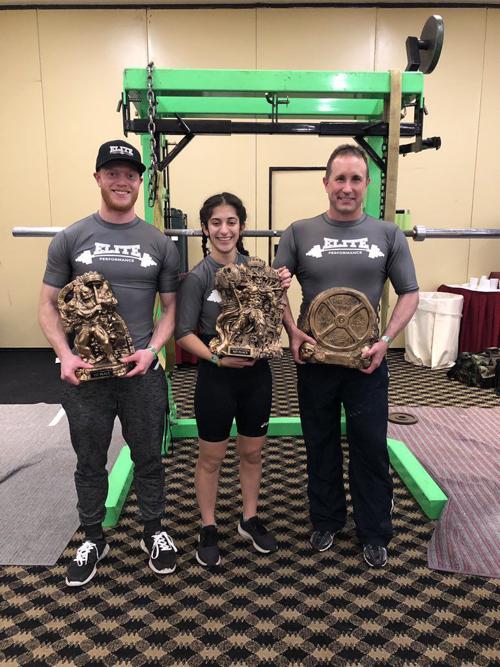 Throughout the 2018-19 high school sports season, we will name a weekly Sentinel Athlete of the Week every week highlighting the on-field performances of some of the area's best high school competitors.
This week's athlete is Cumberland Valley's Amelia Mantione.
Mantione competed at the Revolution Powerlifting Syndicate in York on Saturday and broke the deadlift and meet world records for the 105-pound Amateur Teen 18-19 Raw Classic Division. The senior lifted 205 pounds for the deadlift record and a total of 485 pounds for the meet record. She trains individually for Team Elite at Elite Therapy and Fitness and lifts year-round.
Mantione is also a soccer player who is committed to Lebanon Valley College to continue playing.
Q: What got you into weightlifting?
A: I started weightlifting to gain more strength for soccer since I'm a shorter player. I have been lifting regularly for five years. A few months ago, my trainer suggested that I do a competition with them, so I decided to give competitive lifting a try.
Q: What made you want to go for the world record?
A: I was deadlifting one day in the gym and my trainer thought that I was close to the record. Once we looked it up, we knew that if I trained for a few months I could beat it. It's not every day you get an opportunity like that, so I really wanted to do it.
Q: When you broke the records, what was your reaction?
A: I knew going into the competition I could do it because I got it in the gym the week before. I was just really nervous that something would go wrong during the competition. I was so excited when I did and everyone was cheering really loud, which made it even more hype.
Q: Did you do anything to celebrate after?
A: I went and got a big dinner because I had cut weight the week before.
Q: Do you have plans to continue on with lifting?
A: I don't know if I will compete again anytime soon because I will be leaving for college. I will continue lifting regularly in the gym, though.
Q: Any other records you would like to break?
A: As of right now, I don't plan on trying to break anymore records.
Q: You also play soccer. Does the lifting help with your season?
A: Lifting helps me tremendously for soccer. I am a a shorter player, so having that extra strength allows me to hold my own on the field. Lifting also helps me increase my sprint speed and agility, which is very helpful for the quick movements of the game.
Q: Do you have any hobbies?
A: I enjoy pottery, kayaking, volunteering with special needs kids and obviously soccer and weightlifting.
Q: If you could have any job in the world, what would it be and why?
A: I want to be a pediatric hematologist because my cousin had a disease when he was less than a year old. Seeing his doctor cure him made me want to save children's lives just like he saved my cousin's.
Q: Who inspires you the most in life?
A: My mom inspires me the most in life because she always pushes me to be my best self.
Get in the game with our Prep Sports Newsletter
Sent weekly directly to your inbox!