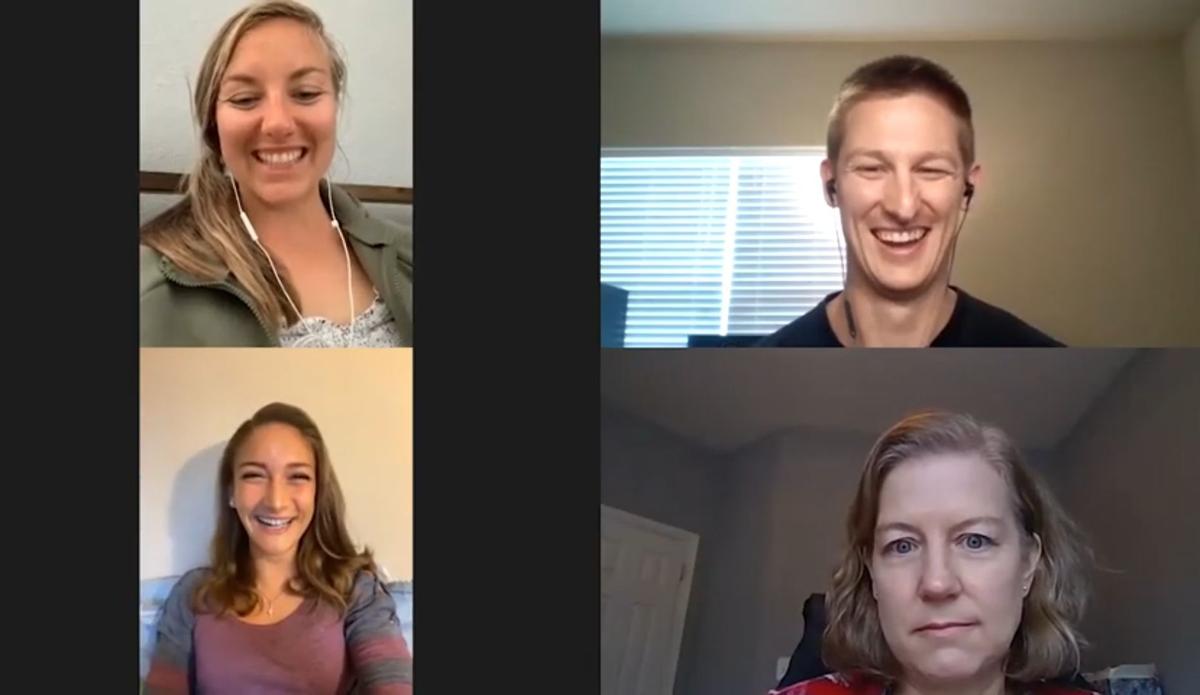 As Marlee Starliper's time kept falling and the medals kept stacking up, the comparisons became easier to draw.
Lois Brommer. Neely Spence.
Those were Starliper's comps, two of the all-time greats in central Pennsylvania distance running history.
With Starliper's high school career now over — unceremoniously cut short by the coronavirus pandemic — those comparisons have proven quite apt. The three-time PIAA Class 2A cross country champion and record holder, three-time District 3 distance double champion and 1600 record holder indeed belongs in the same stratosphere.
If one were to build a Mount Rushmore of local distance running legends, the Northern senior belongs alongside 1982 Mechanicsburg grad Brommer (now Lois Duquette) and 2008 Shippensburg grad Spence (now Neely Spence Gracey). The trio represent three different generations of runners.
Duquette was among the first high school girls runners to compete after Title IX was established. Spence Gracey dominated in high school and at Shippensburg University in the new millennium, chasing down some of Duquette's longtime records. She's now competing professionally.
And now there's Starliper, a North Carolina State commit attempting to make the same leap beyond high school like her predecessors.
But the three runners, linked in so many ways on the track and on the rolling hills of the Midstate, had never talked together.
That changed in April, when The Sentinel hosted a Zoom chat with the three runners. It was the first time all three talked together, and the first time Starliper had ever met Duquette.
The three chatted and laughed for nearly an hour, answering questions, sharing stories and offering advice.
Here are five of the best highlights from a unique conversation:
1. Starliper taking a break
Starliper said she hurt her leg during a light jog with her mom several weeks ago. An MRI didn't show a stress fracture, and the likely diagnosis is a muscle strain. The injury, plus the cancelled season, is giving her rare time off to relax.
"I actually haven't been running for I think like about three weeks. But as hard as that's been on top of everything else, not having that to just like mentally be relaxed and just be enjoying the outside more — it's been really tough. But at the same time I'm trying to really make the most of it in the sense of, like, 'You know what? My body hasn't gotten a break like this in a few years from just trying to stay as fit as I can and be at my best for each season. So I'm really trying to embrace [it].
"With everything being shut down and stuff — for me to keep up some cross training — we actually borrowed a wetsuit from a friend and I went to a lake nearby my house, and I was, like, aqua jogging and doing a little bit of open swimming. And that worked for one time, but the second time I got kicked out."
2. Duquette reflects on career
Duquette was one of the first generations of high school female runners after the passage of Title IX. She went on to become one of District 3's greatest distance runners, and one of the best in the state, before eventually competing and studying at Harvard. When races had to be boys and girls because of time, she found herself dealing with bitter male athletes who didn't take kindly to being passed by a girl. Still, running became an integral part of her identity.
"I remember when they first started letting girls compete. And I always felt very blessed that I never missed a year of running because when I was in seventh grade was the first year that they let girls run junior high track. And I was very fortunate because that's clearly where my talent was. I think at the time there might have been five years of girls running before me. When I was looking at times and setting goals about what I could do, there really wasn't a whole lot of history of what girls could do and how close girls could get to boys or not. So I think, in a way, it was probably a blessing. I had no idea the times I was running would hold up as long as they did.
"I feel so blessed that I was able to run because I love it. And I still run. I loved competing. I really loved a good race, and I loved seeing what I could do. And I can't even imagine for me what my life would've been like if it hadn't had that available to me. ... I went to Harvard. And I'm sure I went to Harvard because I was a good student and a good athlete. ... I can't imagine what my experience would've been like without that."
3. Passing of the torch
All three runners won numerous titles and broke several records during their high school careers. But Duquette, Spence and Starliper are intrinsically linked. Duquette's 1600-meter District 3 record of 4:53.98 in 1981 lasted 27 years until Spence Gracey ran a 4:50.23 to set the new record. It lasted 10 years, when Starliper posted a 4:46.86 as a sophomore, only to shatter that record in her junior season with a 4:38.70, a record that may be untouchable for years.
"That was really special for me [to witness in person], Marlee," Spence Gracey said.
"All those years leading up to that performance and other times this year, I just always heard your guys' names over and over and, 'Oh, shoot, you might be going after this,'" Starliper said. "It's just so awesome to be talking with you guys now."
4. Another year to train helps Spence Gracey
Spence Gracey gave birth to her first child, a son, 15 months ago. That left little time to train for the 2020 Summer Olympics in Tokyo. But the games have been postponed to 2021 because of COVID-19, which is something Spence Gracey believes benefits her as she attempts to make another run at qualifying.
"Oh, yeah. It's been very nice for me. Of course it's very unfortunate circumstances, and I wouldn't have wished for this to be the case, but I'm totally embracing the ability to train with no pressure, to train and really listen to my body without out this, like, I have to be ready on this exact date. So that's been really helpful. And then, yeah, having an extra year of consistency is super important because distance running, running in general, is all about consistency. ... I took off from competitive racing for the past two years. And I'm really excited to have this chance to rebuild some strength and fitness and try and work back towards being a competitive athlete and chasing these goals again."
5. Wisdom for Starliper
The women hit it off immediately during the hour-long Zoom chat. And near the end, Duquette and Spence Gracey imparted some wisdom on Starliper, who is now focusing on the next stage of her career — winning NCAA championships with the NC State Wolfpack.
"I would just tell you, especially you, Marlee, enjoy it now while you have it," Duquette said. "'Cause for me when I graduated from college, that was what I really missed was just having that team to get together with every day and work out with. As you get older, it gets much harder to have that community you can run with every day once you have to try to balance work and family.
"I would say it's gonna be a big change, and to be ready for it. You're gonna be living somewhere different, you're gonna be eating different food, you're gonna have a different coach. You know, just be ready for change and be kind for yourself and don't expect yourself to automatically adjust right away. ... And enjoy it, it is a really special opportunity."
Added Spence: "You've obviously had a really successful high school career, you've accomplished a lot and you have it dialed in. 'This is how Marlee runs best.' College, you're kind of gonna go through that process all over again. ... I think it's also important to remember each year is a building block and just because one year maybe doesn't go the way you hope, or one season doesn't go the way you hope, it's a learning opportunity."
Sentinel Senior Day: Celebrating our local Class of 2020 spring athletes
Happy Sentinel Senior Day.
Today, we celebrate the Class of 2020 spring sports seniors — a class of more than 560 across more than a dozen schools in Cumberland County and Dillsburg.
You deserve a day dedicated to you. This was supposed to be an exciting spring — the most competitive, fun and important season of your high school careers. It was to be filled with laughs, sweaty practices and emotional wins over career rivals.
You had prom coming up, graduation around the corner. Some of you were still weighing decisions about your future, whether it be college or something else.
This is an important year for you all, and one you'll never forget. The coronavirus pandemic has made sure of that.
But today will not be about mourning those losses. Today, we celebrate.
Today, we recognize a historic class of student-athletes. Included in these pages are your memories and your future plans in your own words. There are photos — from the confines of home, in the midst of competition, in your Senior Day best — to accompany this. And a list of all of your classmates to remember for a long time.
You have the rest of your lives ahead of you. Some of you will get another chance to compete in college and perhaps beyond. Some will become doctors, entrepreneurs, community activists, firefighters, police officers or members of the military defending our country.
You may start a family one day. You may travel the world. You may build a life far away or right down the street from your childhood home. Maybe we'll cover a few of you in the coming years as coaches. It will be exciting to see how your lives play out.
So, cheers to you. All of you. Congratulations on final careers as students and athletes, and good luck in your future endeavors, whatever shape they may take.
- The Sentinel Sports Staff: Jake Adams, Mallory Merda and Michael Heaton