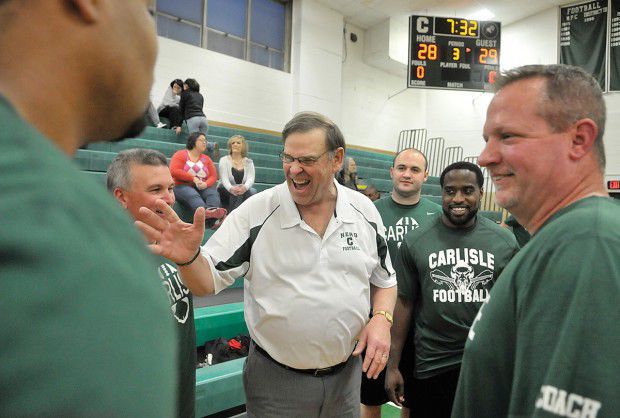 Dave Eavenson is a talker.
He has stories for days and anyone with the intent of chatting for just 15 minutes with the man is only fooling themselves. Block off an hour.
Even at 71 and battling liver cancer — his doctors gave him an 80-percent success rate; he's already had one surgery and the second round of treatment is coming soon — he is willing to talk to anyone who would like to pull up a chair and listen.
So that's what I did — well, on the phone — for an hour Sunday night in between watching NCAA Tournament games on TV. (With a mad opening weekend, his bracket still has Villanova and Gonzaga alive to make the Final Four.)
Eavenson graduated from Carlisle in 1965, then from West Chester in 1969. He worked in varying capacities at Carlisle from 1983-2004, including athletic director for all but three years, assistant principal and associate principal. He served as an assistant coach for the Thundering Herd basketball team for a year after Dave Lebo left, in track and field for two years, and for three different football coaches.
He's married to Marianne, 49, and has two sons — David, who works at Methodist University, and Jon, who works at Carlisle and is an assistant for Andre Anderson.
Let's let the storyteller take it away from here, with minimal questions from me (edited for clarity and length).
Q: Those four years (1985-88), what memory stands out the most?
A: The thing you have to understand about the runs from '84-88, even though it was Carlisle High School, really the town of Carlisle was as much involved in that Carlisle run. … Everything was a complete sellout.
Eavenson said they sold 300 season tickets to students, 450 to the community and more to players' families, coaches and teachers. The gym was built for around 1,800 people, but routinely filled up north of 2,000.
That's just the way it had to be to accommodate all the people. If the fire marshal ever came in that gym, he'd probably shut us down. We were always over capacity. We had people sitting on the floor, we had risers in the corners.
It was one of those best scenarios you could ever ask for, but all I did was sell tickets for four years.
If a team didn't sell its allotted 200 tickets to Carlisle home games, Herd fans gobbled them up fast. Sometime during the run, Carlisle started using different colored tickets for each game so they couldn't be used a second time in the season by crafty fans, especially for the Harrisburg game.
What an experience for those kids. We went to the biggest tournaments. … As a reporter, hell, you had to get there early to get a seat. [Editor's note: That hasn't changed.] … Then, with Billy Owens, we had college coaches [Dean Smith and Jerry Tarkanian were a few names Dave mentioned] coming all the time. … It was just that kind of atmosphere the whole time.
Q: OK, I've heard you caught a fan trying to squeeze into a girls' bathroom window. Was that the craziest story?
A: That one was the best one. This poor kid, he wanted in the game so bad, we caught him three times sneaking in. Finally he found a window, and unfortunately for him it was the girls' bathroom… and of course they're screaming in there. I said, 'Look, son, I've never seen anyone try as hard as you to get in. Go on in there, sit down and behave.'
The cheerleaders when Harrisburg was here, we usually had to give them a room to dress. About 20 of them went in, and when they came out there were about 30 of them. Apparently the other 10 came through the window.
He then goes into more stories about tickets and the town…
The downtown square was packed. The Hamilton was always packed after a home game. The Fireside, now the Rustic, was packed after every home game.
Eavenson said Chester threatened in the Eastern Final in 1986 to not play before eventually requesting 1,000 tickets for their fans in a conference call with organizers for the game. As soon as the Chester AD hung up, Dave was asked by those still on the call when he planned to pick up the remaining 6,000. For championship games, Carlisle instituted a lottery for the 2,000 tickets the school was granted. It was a tough choice.
We could sell anything out, but then when it came to the championship, they limited you to X number of tickets because they had to spread them around. … That was the toughest part because the people who were coming to every single game, they were having a helluva time getting to the championship game.
Q: I also know Billy needed some security guards at times. Got any stories from that?
A: When we were down at Reading Billy's senior year, we were playing Chester [with Chester fans behind the Herd bench]. Why, I do not know. As the game was wearing on, the game was getting a little physical. … We went to their security people and I said, 'Look, as soon as the game is over, you get that boy the hell outta here before someone does something stupid.'
Q: How much changed in the very next years?
A: I think everybody knew the cupboard was pretty much bare. The two returning players, the one decided not to return, which was very disappointing, and the other got hurt the first week of practice. … Of course, with Dave [Lebo] gone, nobody cared that Dave was gone, they were gonna make Carlisle pay for what they did [the previous four years]. … It took us about 'til four or five years to get it all straightened out again.
Carlisle used to be a football town, but I personally believe it's a basketball town [now].
Q: Why hasn't there been a movie or book about this yet?
A: I've wondered why it hasn't been a movie, No. 1, and No. 2, a book would be even better. … This is a Cinderella story for somebody to do a movie or book. … I have all the lottery stuff, all the winners… in a big huge file.
Q: Heck, it could be a 30 for 30.
A: ESPN was there all the time during Billy's senior year.
Q: What are your thoughts on the floor being torn out after all these years and possibly sold in pieces to fans?
A: I wanted them to preserve the old floor and cut it up so we could sell sections. … I'm anxious to see if they do it right. You're not ever gonna see it again. … Get a nice logo for the middle of the floor, make Lebo Court big enough so you can read it.
I'm really interested to see why they're doing the bleachers again, because we did those 15 years ago. … I think if they do it right and they get the right kinda wood in there and they color it correctly… ours [Gene Evans Gymnasium] needs to be made like a showpiece as well.
Q: I heard about your cancer diagnosis a few weeks ago? How is that fight going?
A: It's a real shock when somebody tells you that. But I've always been a fighter, and certainly I respect my doctors that I have. … I'm anxious to get onto this second treatment and see what else has to be done. And just be very positive.
I think [my family has] been real positive with me. My sons have been both very, very supportive and helpful. … My wife has been a trooper. … That part of it has been so important.
Good to hear. Good luck with your bracket and your treatment.