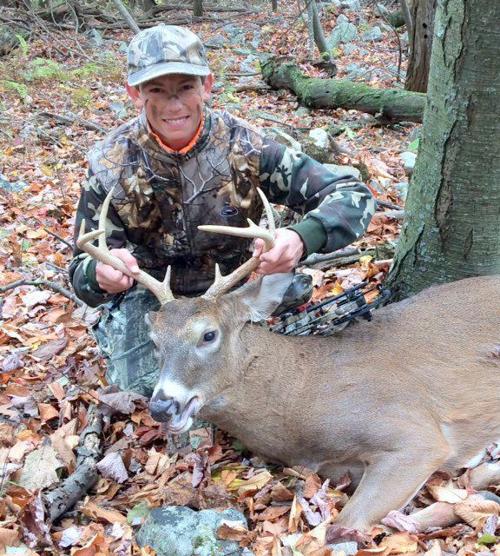 The use of semiautomatic rifles and shotguns for big game, $25 permits for adults who want to hunt pheasants, and the return to a split regular firearms deer season in this area will formally become realities when the PA Game Commissioners vote next week.
The board's quarterly meeting on Monday and Tuesday at commission headquarters will begin at 8:30 a.m. each day.
Since commissioners gave preliminary approval in January, the proposal to allow semis for big game drew fire from sportsmen concerned about safety and reckless shooting.
"Too often I have found deer that had been shot and the hunter never adequately tracked," Bruce Barner said. "I think we would see more of that if semis are allowed."
In the new reg, a five-round magazine would be required for all semi hunting rifles, with the total ammunition capacity limited to six rounds.
The authorization for use of semiautomatics is for three years and will expire, or "sunset," in 2020 if commissioners do not vote to renew it.
Hunters likewise were flustered with the idea they'd have to pay $25 to hunt pheasants.
"What pheasants? I see more turkeys than pheasants," Glenn Hansford said.
The Game Commission announced it was closing two pheasant farms in order to save money. A $25 permit to hunt the gamebirds would add bucks to the budget.
As for the regular firearms deer season, the commission is turning back the clock to the days of a bucks-only period, followed by days when antlerless deer can be taken.
The change applies to deer hunting during the firearms season in Wildlife Management Units 5A and 5B. WMU5A includes portions of Cumberland, Adams, Franklin and York counties. WMU5B entails sections of Adams, York, Lancaster, Dauphin, Berks and Lebanon counties.
During recent two-week seasons in the local WMUs, hunters could take either antlered or antlerless deer with the proper license.
The commission said switching WMUs 5A and 5B would be done for consistency across the Commonwealth. The move leaves only WMUs 2B, 5C and 5D with concurrent seasons.
Under the split season format, the five-day antlered deer season would be Nov. 27 through Dec. 1. That would be followed by a seven-day concurrent season for antlered and antlerless of Dec. 2-9.
Antler restrictions will remain in place.
At the quarterly meeting, public testimony will be taken on Monday, followed by reports from staff. Recommendations on antlerless deer and elk license allocations will also be offered.
Final approval of hunting and trapping seasons and bag limits for 2017-18 will be given on Tuesday, as will antlerless and elk license allocations.
The agency is available on the commission website at www.pgc.pa.gov, under "Quick Clicks" and "Meetings of the Board & Upcoming Events."
The meeting is scheduled to be live-streamed at the commission website.
The next step in lifting the closed season on smallmouth and largemouth bass on the middle and lower Susquehanna River, and lower Juniata River, is a trio of public meetings by the PA Fish and Boat Commission.
As outlined in January, the proposal would allow anglers to practice catch-and-release for bass from May 1 through mid-June. Tournaments would remain banned during the spawning period mid-April to mid-June, as with all other Commonwealth waters. Catch-and-release regs for bass would remain in place throughout the rest of the year.
All meetings would be held from 6-8 p.m. at the following locations:
April 17 – PFBC Headquarters, Susquehanna Room, 1601 Elmerton Ave., Harrisburg PA 17110.
April 18—Columbia Crossing River Trails Center, Columbia River Park
41 Walnut St., Columbia, PA 17512.
April 19—Susquehanna University, Charles B. Degenstein Campus Center, Benjamin Apple Meeting Rooms 2-5, 514 University Ave., Selinsgrove, PA 17870.
Comments can be submitted online now through May 10.
The closed season for all bass has been in place since 2012 on 98 miles of the Susquehanna River from Sunbury downstream to the Holtwood Dam and on 31.7 miles of the Juniata River from Port Royal downstream to the mouth. Catch-and-immediate-release regulations had been imposed on the same sections in 2011. Surveys from 2013-2016 showed increasing numbers of adult smallmouth bass after depressed numbers in 2005-2012.
If approved by commissioners, the proposed changes would take effect in 2018.
Deer hunters had good success all the way around in Pennsylvania during the latest campaigns.
The Game Commission says hunters killed 333,254 deer in 2016-17. That was up about six percent over the 2015-16 harvest.
The antlered deer take was up nine percent, at 149,460 and was the largest harvest of antlered deer since 2002.
The antlerless deer kill was up three percent, at 183,794 animals.
Bowhunters were very much on target, drilling 33 percent of the overall deer harvest, taking 109,250 deer (59,550 bucks and 49,700 does) with archery tackle. Meanwhile, 20,409 deer (1,350 bucks and 19,059 does) were harvested during muzzleloader seasons.
Antler restrictions continue to pay off in more mature deer. The percentage of older bucks in the harvest remained high, with 56 percent of bucks being at least 2 ½ years old.
The antlerless kill was 64 percent adult females, about 20 percent button bucks and about 16 percent doe fawns. The commission says those rates are similar to long-term averages.
In wildlife management unit 5A (portions of Cumberland, Adams, Franklin and York counties) 3,000 antlered deer were taken, up from 2,900 the year before. The antlerless number was 4,000, down from 4,600 of 2015-16.
In WMU 5B (sections of Adams, York, Lancaster, Dauphin, Berks and Lebanon counties) the antlered take was 8,900, up from 8,000. The antlerless harvest was 12,400, up from 11,500.
The pair of bald eagles on the nest at Codorus State Park became parents this week, when their two eggs hatched eaglets.
The live-stream of the nest can be found at the Game Commission website, www.pgc.pa.gov and folks have been checking in them by the thousands.