15 W Big Spring Ave
Newville
,
PA
17241
Last Updated: June 12, 2018
The Egger Funeral home is a family-owned and operated funeral home that has been providing personal, compassionate and dignified services for Newville area families for more than 40 years.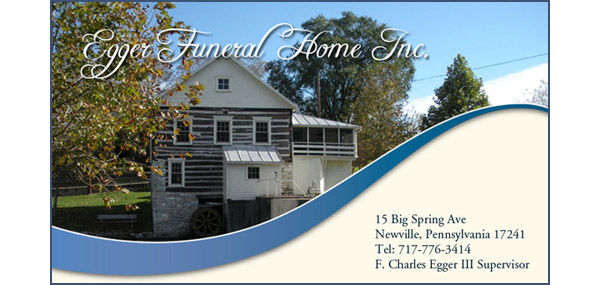 The Egger Funeral Home is a family owned and operated funeral home. We have been committed to providing personal, compassionate, and dignified services that meet each individual family's needs in the Newville, and surrounding areas including but not limited to Carlisle, Shippensburg, Newburg, and Walnut Bottom since 1971. It is our goal to comfort and assist every family while they grieve the loss of a loved one. At Egger Funeral Home we offer traditional services and cremation services as well as pre-arrangements.



Frequently Asked Questions
1) Why have a Funeral?
Funerals fill an important role for those mourning the loss of a loved one. By providing surviving family and friends with an atmosphere of care and support in which to share thoughts and feelings about death, funerals are the first step in the healing process. It is the traditional way to recognize the finality of death. Funerals are recognized rituals for the living to show their respect for the dead and to help survivors begin the grieving process. You can have a full funeral service even for those choosing cremation. Planning a personalized ceremony or service will help begin the healing process. Overcoming the pain is never easy, but a meaningful funeral or tribute will help.


2) Burial or Cremation?
Burial in a casket is the most common method of disposing of remains in the United States, although entombment also occurs. Cremation is increasingly selected because it can be less expensive and allows for the memorial service to be held at a more convenient time in the future when relatives and friends can come together. A funeral service followed by cremation need not be any different from a funeral service followed by a burial. Usually, cremated remains are placed in urn before being committed to a final resting place. The urn may be buried, placed in an indoor or outdoor mausoleum or columbarium, or interred in a special urn garden that many cemeteries provide for cremated remains. The remains may also be scattered, according to state law.


3) Why are funerals so expensive?
When compared to other major life events like births and weddings, funerals are not expensive. A wedding costs at least three times as much; but because it is a happy event, wedding costs are rarely criticized. A funeral home is a 24-hour, labor-intensive business, with extensive facilities (viewing rooms, chapels, limousines, hearses, etc.), these expenses must be factored into the cost of a funeral.

Additionally, the cost of a funeral includes not only merchandise, like caskets, but the services of a funeral director in making arrangements; filing appropriate forms; dealing with doctors, ministers, florists, newspapers and others; and seeing to all the necessary details. Funeral directors look upon their profession as a service, but it is also a business. Like any business, funeral homes must make a profit to exist.


4) Is there financial help if I need it?
There are a few options available:

• Determine if the deceased person qualifies for any entitlements. Check with the Social &nbsp&nbspSecurity Administration, the Department of Veterans Affairs, and with your State Fund. Many &nbsp&nbsppeople are entitled to get financial assistance with their funeral costs from these agencies if &nbsp&nbspthey qualify.

• Review all insurance policies the deceased person has; including life insurance. Some life &nbsp&nbspinsurance policies have coverage clauses for funeral related costs.

• Find local charities providing financial help for funeral expenses. Search for non profit &nbsp&nbsporganizations and for churches in your area.

• Talk to your funeral director about cremation options- these can be much less expensive &nbsp&nbspdepending on your choices.