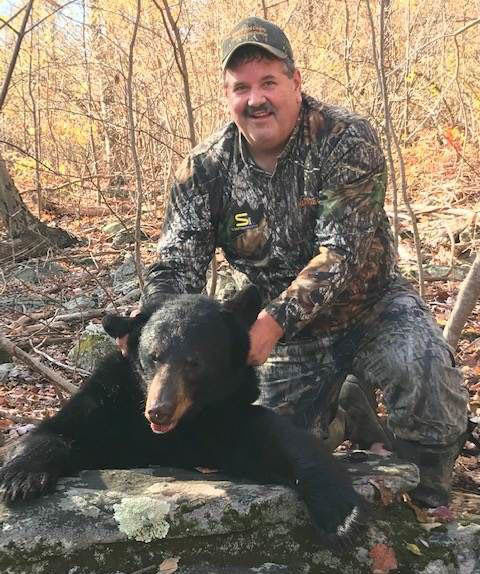 The statewide hunting season for black bears opens Saturday, but there is one less to look for in Huntingdon County.
Carl Goshorn, you know him as manager of the Cumberland County Conservation District, zipped a 149-pound bear on the last morning of the archery season, Nov. 7.
It is his first bear taken on property owned and hunted by members of "Just A Meer Deer Camp."
Carl was hunting from a ladder treestand at 8:15 a.m. when, "The bear came in behind me and was five yards away at one point, and I had to wait until it turned and started walking away before I could shoot," he says.
He made the 20-yard shot count with his Barnett crossbow.
It's good to have friends at a time like that. Carl had camp buddies to help get the bear out of the woods, rocks and briers from high on Shade Mountain.
The new bear season across the state opens Saturday and includes the first-ever bear-hunting opportunity on Sunday, Nov. 22, and then Monday and Tuesday, Nov. 23-24.
Life jackets mandatory
It is now mandatory to wear a life jacket during these cold weather months while underway or at anchor on boats less than 16 feet in length, or any canoe or kayak that is under way, and ends April 30.
This requirement applies to all Pennsylvania waters.
Boating accident reports in the Keystone State indicate that nearly 80% of all boating fatalities occurred because boaters were not wearing life jackets. A great number of those happen between November and April.
On the water these days, wear clothing that continues to insulate when wet, like fleece, polypropylene or other synthetics. Take a fully charged cellphone and keep it in a waterproof bag or container.
If you are about to fall into cold water, cover your mouth and nose with your hands to reduce the likelihood of inhaling water. If possible, stay with the boat. Get back into it or climb on top of the boat.
Keep wood pests out
"Chestnuts roasting on an open fire …"
Anyone who burns wood for heat or cooking feels its warmth when cutting, then stacking, then carrying well before logs ever make it to the stove or fireplace. In so many ways!
Be mindful that when warmed by the task of finding it, especially if travel is involved, that you may be spreading invasive forest pests hidden in or on the firewood.
Firewood choice matters and we can all help slow the spread of tree-killing pests.
The Pennsylvania Department of Conservation and Natural Resources offers these tips for smart firewood handling:
Buy and burn locally cut firewood.
Burn all firewood brought from another area. Do not leave it. Do not take it with you.
Encourage friends and neighbors not to move firewood.
Any dry firewood brought into Pennsylvania must be kiln dried, heat treated, fumigated, and/or USDA certified.
Remember: Only you can prevent forest pests.
Gentleman hunter
I have a friend, Heather, who loves to talk about hunting, hiking and "anything else that allows me to escape from the hustle-bustle that life dishes out," as she puts it.
So, when an elderly gentleman walked into the garage where she works, the topic naturally turned to hunting.
"I told him that I would love to get a recurve with enough pull to take it out for a traditional hunt," Heather said. The gentleman shared stories of hunting adventures in his younger days and the Bear Kodiak recurve bow that he took along for most.
That afternoon, the gentleman hunter was back at Heather's shop, Bear recurve in hand.
"This bow has been in a closet for over 20 years waiting for a new hunting partner, and you're it. Merry Christmas," he said to Heather.
It brought tears to her eyes.
She vowed to get a new string for the bow, and new arrows.
One more thing. "I will practice consistently so I can take it out for archery season next year," Heather said, still "blown away by such kindness."
Snapshots
The statewide rifle season for antlered and antlerless white-tailed deer, in Wildlife Management Units 4B and 5A, which include Cumberland and portions of surrounding counties, opens on the Saturday after Thanksgiving, Nov. 28. It includes Sunday hunting on Nov. 29 and continues to Saturday, Dec. 12. Some WMUs (like 5B) are antlered deer only on Nov. 28. Best to check your Digest of Regulations for specific criteria for your WMU.
As bear and deer seasons approach, I appreciate photos of successful hunters, especially when someone's bear or first buck is included. Please consider sending photos like these to me at bjsmall@comcast.net.