Black panther caught prowling French rooftops, and more of this week's weirdest news
Usually it's careless criminals, but this week it's all about animals behaving badly. Here's a look at some of this week's weirdest news from around the world.
Cat burglar: Black panther caught prowling French rooftops
PARIS (AP) — Emergency workers caught an unusual prowler lurking around rooftops in northern France: a black panther.
Firefighters and a veterinarian responded after residents of a neighborhood near Lille reported that a big cat had been spotted "strolling on residential gutters" on Wednesday night.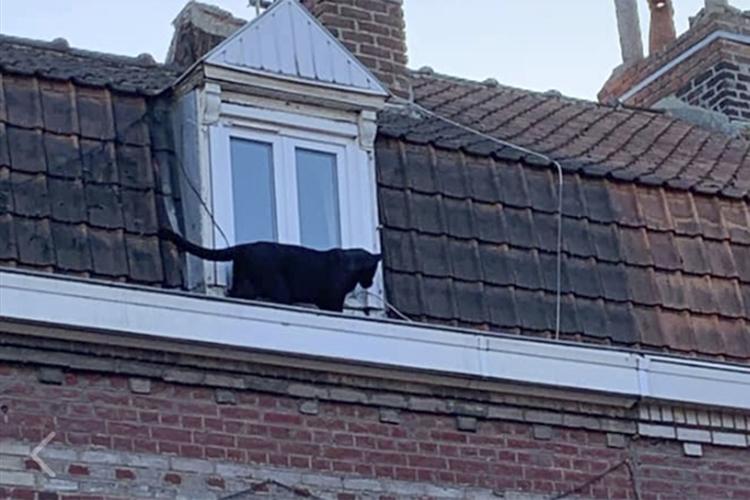 Photos taken after the fire brigade's arrival captured the panther making itself at home above ground, perching on building ledges and pacing outside a closed window.
After firefighters secured a precautionary perimeter, the curious cat burglar slipped inside a house and workers trapped it.
The animal was put to sleep with a drug dart and put in a cage. It wasn't clear where the panther came from or if it had escaped from a zoo.
Colorado driver puts injured bobcat in car next to child
COLORADO SPRINGS, Colo. (AP) — Officials have a warning after a Colorado Springs woman put an injured bobcat in her car, inches away from where her child was in a safety seat: Don't pick up wildlife.
Colorado Parks and Wildlife spokesman Bill Vogrin says the woman spotted the injured adult male cat while driving, wrapped it in a blanket and put it in the back of her SUV on Wednesday.
A boy, about 3 years old, was in the back seat.
Agency officials told her to get her boy and herself out of the vehicle when she called to ask what to do.
Vogrin says District Wildlife Manager Sarah Watson responded to the call, opened a door and slammed it shut when she spotted the 20-pound (9-kilogram) cat.
Watson used a trapping device to remove the animal, which was hissing and resisting despite severe internal injuries and paralyzed rear legs. The mortally injured cat was euthanized.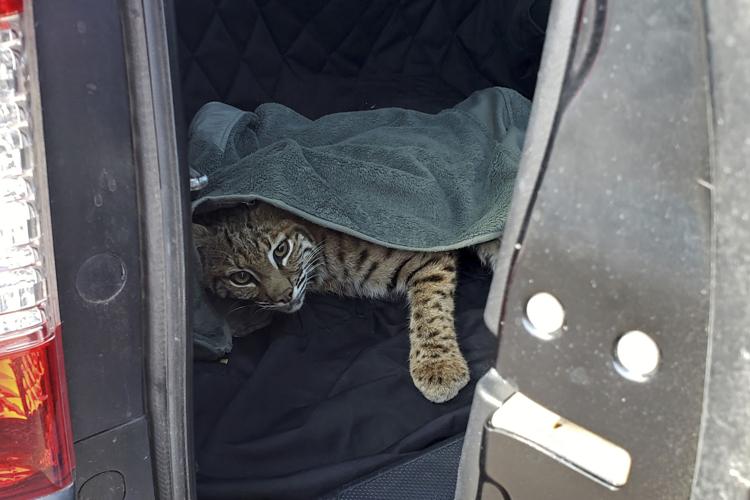 Cougar goes inside California house, lies down in bathroom
SONORA, Calif. (AP) — Officials say a mountain lion wandered inside a California house and was captured in a photo lying on a bathroom floor.
The Tuolumne County Sheriff's office said in a Facebook post that family members and the mountain lion ran away from each other Sunday after the cougar entered the home when the door was opened to let in cool air.
The big cat dashed to the second-story bathroom of the home in the Sierra Nevada foothill town of Sonora and the family ran away from it.
The mountain lion was coaxed out of the bathroom window by sheriffs' deputies and state wildlife officers. Then it jumped to the ground.
Authorities said the mountain lion didn't threaten anybody.
They released a photo of the cougar resting on the bathroom's tile floor.
Pigeon poops on lawmaker discussing pigeon poop problem
CHICAGO (AP) — A pigeon apparently didn't think much of a lawmaker's ideas to address a messy situation at a Chicago Transit Authority stop known by some as "pigeon poop station."
WBBM-TV reports that one of the birds did its business on the head of Democratic state Rep. Jaime Andrade as he was discussing the problem with a reporter outside of the Irving Park Blue Line station.
During the interview, Andrade rubbed the top of his head and said, "I think they just got me." They did.
The sidewalks outside of the station are covered in bird waste and feathers.
Andrade has been trying to fix the problem. One of his ideas is to ask the CTA to install a hose line for power washing when it constructs new escalators at the stop.
Pastafarian pastor leads prayer at Alaska government meeting
HOMER, Alaska (AP) — A pastor wearing a colander on his head offered the opening prayer on behalf of the Church of the Flying Spaghetti Monster to open a local government meeting in Alaska, the latest blessing from a nontraditional church since a court ruling.
Barrett Fletcher, the Pastafarian pastor, noted the duties performed by the members of the Kenai Peninsula Borough Assembly in his Tuesday message, adding a few of them "seem to feel they can't do the work without being overseen by a higher authority, " Kenai radio station KSRM reported Wednesday.
"So, I'm called to invoke the power of the true inebriated creator of the universe, the drunken tolerator (sic) of the all lesser and more recent gods, and maintainer of gravity here on earth. May the great Flying Spaghetti Monster rouse himself from his stupor and let his noodly appendages ground each assembly member in their seats," Fletcher said.
The only people who stood for the invocation were those without seats in the standing-room-only assembly hall in Homer, which is about 125 miles (201 kilometers) south of Anchorage. One man turned his back to face the wall during the invocation, and other men did not remove their hats.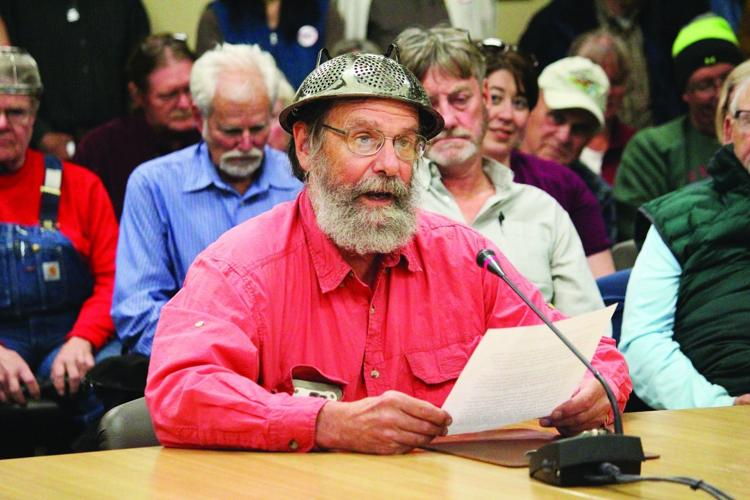 The Pastafarian invocation followed one in June from Satanic Temple member Iris Fontana that caused about a dozen people to leave the assembly chamber in Soldotna in protest when she invoked "Hail Satan" in her opening prayer.
Fontana was among the plaintiffs in the lawsuit litigated by the American Civil Liberties Union of Alaska against the borough after it approved a 2016 policy saying that people who wanted to give the invocations at the government body's meetings had to belong to official organizations with an established presence on the Kenai Peninsula. Other plaintiffs who had been denied permission to give the invocations included an atheist and a Jewish woman.
The Alaska Supreme Court last October ruled that the borough policy was unconstitutional, and the borough government changed it in November to allow anyone to offer invocations regardless of religion.
The Flying Spaghetti Monster church, called FSM for short, was formed in 2005 as a response to the Kansas State Board of Education's hearings on evolution in schools. Its founder sent a letter about FSM as a way to argue against teaching creationism in biology classes, the Homer News has reported.
Church followers believe an invisible and undetectable monster made of spaghetti and meatballs created the universe after drinking heavily, and that his "noodly appendages" hold great power. Many label the movement as satire, but it is recognized as an official religion in some countries, the News reported.
Barrett, who started his chapter in Homer, on the lower Kenai Peninsula, concluded his opening prayer as asking the Flying Spaghetti Monster to provide each assembly member "satisfaction in the perception of accomplishment and allow them true relaxation and an ample supply of their favorite beverage at the end of this evening's work."
He then ended the prayer with: "Ramen."
Thieves steal $80,000 in wigs from South Florida warehouse
MIAMI GARDENS, Fla. (AP) — Police in South Florida say thieves stole up to $80,000 in merchandise from a wig warehouse.
The owner of Prime Trading Hair and Wigs told detectives in Miami Gardens that he was notified overnight Tuesday that the alarm at the warehouse had been triggered.
Hossain says the thieves appeared to know what they were doing and were in the warehouse for no more than 5 minutes.
Video surveillance shows a truck backing up and ramming the warehouses front door three times.
Hossain says he is insured for his losses.
Deputies: Couple had sex in patrol car after arrest
FERNANDINA BEACH, Fla. (AP) — Authorities say a man and a woman who were stopped for drunken bicycling in a Florida beach town had sex in a deputy's patrol car before one of them fled naked.
Nassau County Sheriff's Office deputies last Friday arrested Aaron Thomas and Megan Mondanaro. Both face charges of resisting arrest with violence, committing a lascivious act and exposing sexual organs.
The Florida Times-Union reports a deputy was patrolling Fernandina Beach when he spotted the bicyclists almost get hit by a car.
An arrest report says that after they were put into the squad car to await being taken to jail, they took off their clothes and started having sex. A naked Thomas was removed from the cruiser but fled. He was later captured.
Court records showed no attorneys for them.