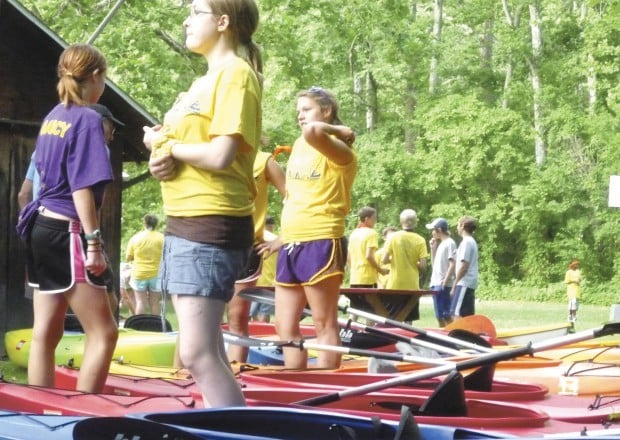 Wide-eyed and excited, they came from Dauphin, Cumberland and perhaps one or two other counties.
Youths ages 11 to 15 years old strapped on camping gear and packed sporting equipment, life jackets, snacks and other goodies as they prepared to become one with nature during the second Yellow Breeches Youth Sojourn, which began Sunday at the Allenberry Playhouse and Resort in Boiling Springs.
The educational paddling expedition, where participants spend three days exploring 28 miles of Yellow Breeches Creek, will see the group head from Boiling Springs to New Cumberland today and Tuesday as they are taught the nuances of outdoor life.
"It is an opportunity for the youths to get familiar with the local river and an opportunity for them to learn about how they should respect it," said Brook Lenker, the planning and event chairman of the Yellow Breeches Watershed Association's annual event.
"They will have an intimate discovery of the research being explored and, hopefully, they will walk away from here with a new appreciation, a sense of stewardship, and they will become more proficient kayakers," Lenker said.
The group arrived at about noon on Sunday with tents that they will use to camp in during the sojourn.
Opening day included field games, crafts, and a creek skills safety discussion and demonstration with creek skills leader Pat Riley.
Led by professional guides from Blue Mountain Outfitters and escorted by adult leaders from local schools, outdoor groups and area organizations, participants will paddle kayaks down the creek, have group meals, musical entertainment and other activities, said Debbie Goetz, president of the Yellow Breeches Watershed Association.
Organizers said they are expecting the sojourn to mirror last year's when the stated and, ultimately, successful goal was to use paddle sports to get the group excited about conservation.
There were a number of conservation-related presentations last year and more are planned this year.
Participants also installed bird boxes, picked up trash, and pulled invasive plants.
As an extra bonus, the participants learned about outdoor photography and the advantages of changing the shutter speed, all of which were part of the effort to enhance their appreciation for the natural environment.
"We hope the youths will learn to enjoy the watershed and realize the survival of the life around us depends on us," Goetz said.
"This is about young people observing nature, learning about conservation topics and showing their commitment for a clean and healthy environment," she said.