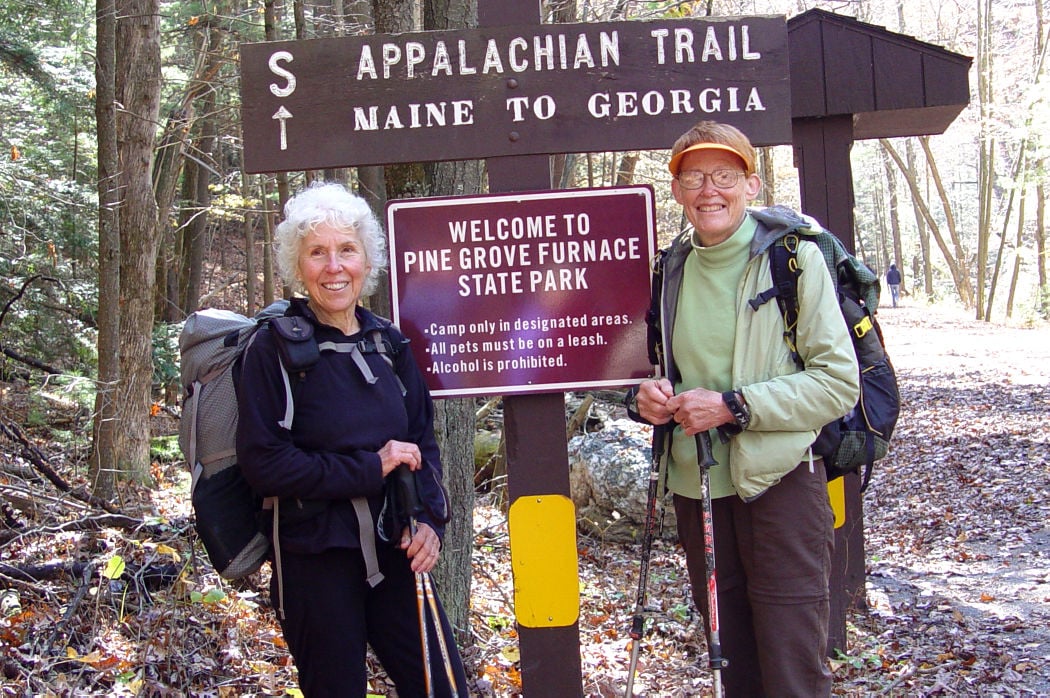 GARDNERS — Many women walk the entire length of 2,182-mile Appalachian Trail in the same year.
But none have been the vintage of Nan "Drag'n Fly" Reisinger, of Camp Hill. She finished the hike from Georgia to Maine on Sunday at the age of 74, the oldest woman ever to do so.
"I wanted to finish my section hike when I was 70 years old and it didn't happen," the new thru-hiker said Sunday after stopping at the Appalachian Trail Museum at Pine Grove Furnace State Park. "We were on a hike at Harper's Ferry last summer and Carolyn found out that the oldest woman was 71. She said, 'you could to that, and you cannot wait.' I always wanted to do that and thought, 'I can beat that.'"
Reisinger and Carolyn "Freckles" Banjak, now 67, started to plan. Section hikers complete the trail in pieces, often over years. Thru-hikers do it in one piece in the same year.
They left Springer Mountain, Georgia, the southern terminal of the trail, on March 30 and reached Katahdin, Maine, on Oct. 4.
Injuries are among the many hazards on such an adventure and one befell Reisinger in her home state.
"I tripped on a rock and fell," she said of getting to south of Route 30 in Pennsylvania. "Hit my knee on a rock." The injury kept her from the trail for a week, as Banjak carried on. They reunited a week later and continued to Katahdin. At that point, Reisinger back-tracked and covered the lost ground from Route 30 to Duncannon.
They saved the short section in Pine Grove Furnace for the grand finish that occurred Sunday. When they reached the gate below the Trail Museum to complete the journey, there were high-fives, photos, and hugs from friends and family. Banjak lives just down the road from the Museum, in Gardners.
As for a hiker of any age, endurance was a significant challenge for the 74-year-old woman hoping to negotiate more than 2,100 miles of mountains and valleys.
"I had to keep at it. I couldn't take time off," Reisinger said. "I couldn't ever hike the real long miles like some younger people do. So we had to hike every day and not take breaks. In the six months we took 12-15 zero days, where you don't hike at all and a half-dozen "nearo" days of little mileage."
Reisinger also credits good genetics.
"I'm blessed with good health; everyone doesn't have good health," she said. "I think people should be up and do things, but I understand. I take no medication. I have nothing wrong. My mother is 96 and she has nothing wrong with her either." She said she doesn't even get blisters.
It may also help that Reisinger stays active, enjoying cross country skiing, canoeing, bicycling, gardening, and tap dancing.
Reisinger went through three pairs of shoes during the thru-hike; Banjak four.
Reisinger said they missed fresh fruit and vegetables the most. She lost 25 pounds on the trip; Banjak, 15.
Both women banked on previous Trail experience on the recent historic hike. Banjak had at least one failed attempt at a thru-hike, but completed many large sections of the Trail on other hikes. After Sunday's finish, Banjak figured she has hiked about 6,200 miles of the Appalachian Trail since 2008.
Along the way, the women didn't lose any time due to weather, conditions Reisinger called wonderful. She said she is not sure they could have kept going if the weather had gotten bad after they got out of New Hampshire. They tabbed a 500-mile section of steep terrain in New Hampshire and southern Maine as the most difficult portion to negotiate.
Both women agreed that they were glad to get the hike finished and to reach their goal line.
On Sunday, they received the fitting heroes' welcome.
Get local news delivered to your inbox!
Subscribe to our Daily Headlines newsletter.