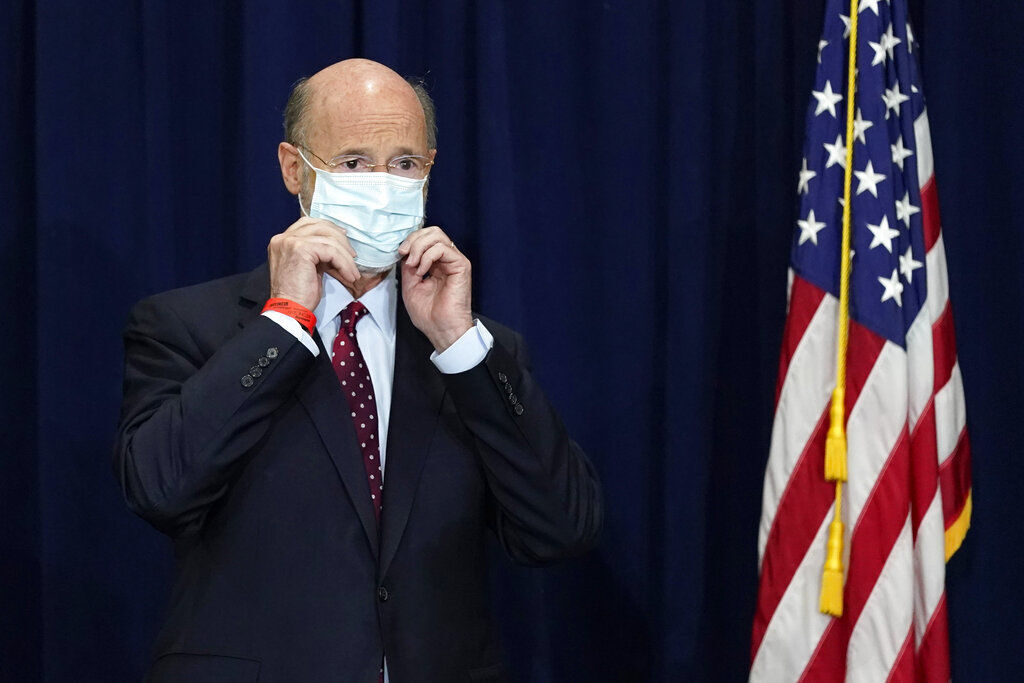 Maureen Casey compared the influx of COVID-19 patients at Penn State Milton S. Hershey Medical Center to waves on a shoreline, saying "They just keep coming."
Casey is a registered nurse who on Monday reported that the medical center was already at capacity and its staff exhausted, even before this year's flu season starts in earnest.
Her plea for Pennsylvanians to wear masks — just as they did in the spring, which helped flattened the curve of cases then — was echoed by state health officials during a news conference Monday that highlighted her story and others from hospitals with warnings of dire situations.
Gov. Tom Wolf said the state's plea about two weeks ago for residents to do the right thing with mitigating COVID-19 during the Thanksgiving holiday seems to have failed. Given the increase of cases, Wolf said the state is still looking at what else can be done to help flatten the fall resurgence and avoid hospital capacity and staffing issues.
"If we don't slow the spread of this dangerous virus now, the reality is that COVID-19 will overwhelm our hospitals and our health care workers," Wolf said. "That's dangerous for everyone who needs medical care in a hospital for any reason, because it stretches resources and staff to the breaking point."
New recommendations could come "very shortly," Wolf said, adding that the red-yellow-green shutdown phases that were instituted in the spring were a "blunt instrument" that he feels is no longer needed. With a vaccine on the horizon, more medical knowledge about the coronavirus and more testing kits and personal protective equipment, Wolf said targeted mitigation is key and seems to be what other states are doing in trying to wrest control over the rising numbers of cases.
However, targeted mitigation may be difficult considering health officials are losing a grasp as to the reason behind the spread of cases.
The number of COVID-19 cases in Pennsylvania over the course of the pandemic has topped 400,000, up from 200,000 just six weeks ago, according to Health Department data. The statewide positivity rate went up to 14.4% from 11.7% last week. And every county in the state has a positivity rate above 5%, considered a threshold for positivity being too high.
Cumberland County's positivity rate for last week rose to 16.2%, up from 11.8% the previous week. The county's incidence rate per 100,000 people last week rose to 412.9, up from 270.5 the previous week.
Health Secretary Dr. Rachel Levine said that when the state sees 12,000 new cases in a single day, there isn't a way for officials to successfully investigate all those cases or perform contact tracing, even if the affected patients did answer the questions from the state. Instead, the state's contact tracing team is prioritizing investigations for cases in schools, long-term care facilities and prisons.
Without contact tracing on the general population, Levine couldn't say whether the current rise of cases is due to Thanksgiving gatherings, though officials suspect that is the case, along with the spread from other states in the Midwest.
Whatever the case, Wolf and Levine said everyone in the state, in order to protect health care workers and ensure emergency services are available for non-COVID emergencies at hospitals, should stay at home, not attend gatherings outside the household and wear a mask.
"This is a significant challenge for our health care system, one unlike our modern health system in Pennsylvania has ever faced," Levine said. "Sadly, we have now seen deaths from COVID-19 in every county in the state, and our hospitals in many locations are at or near capacity.
"The steps each of us take, as part of our collective responsibility, are essential to protect us from the spread of COVID-19."
The same mitigation efforts could help prevent flu cases from spreading. According to Deputy Secretary of Health Preparedness and Community Protection Ray Barishansky, flu season is underway, though not at epidemic levels yet. The state had its first flu case of the season on Nov. 10 and has already seen 480 laboratory-confirmed cases and one flu-associated death.
Naomi's 5 favorite stories of 2020