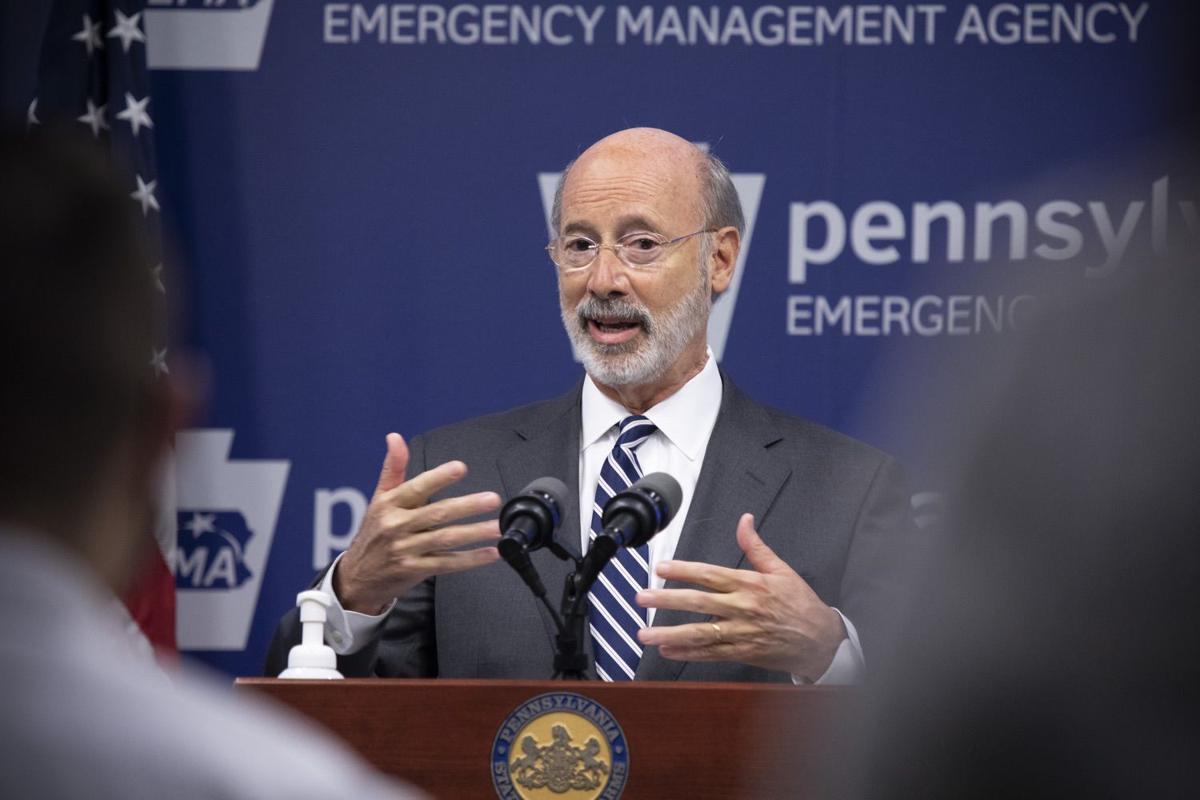 With Pennsylvania showing a seven-day increase of 1,325 COVID-19 cases last week over the previous week, along with an increase in percent-positivity up to 4.3%, Gov. Tom Wolf reiterated safety precautions as the state deals with a resurgence in the virus.
"The fall resurgence is here," Wolf said. "And while we must always take this deadly virus seriously, now is the time for all of us to double down on our efforts to keep ourselves and those around us safe. We've seen what happens when masks aren't worn and social distancing isn't practiced — people get sick, so we need to stay vigilant and work together to stop the spread of COVID-19."
The state Department of Health said the statewide percent-positivity went up to 4.3% from 3.9% last week. Counties with concerning percent-positivity are:
Huntingdon (9.9%)
Westmoreland (8.9%)
Bradford (8.3%)
Lackawanna (8.2%)
Lebanon (8.2%)
Perry (8.2%)
Elk (7.9%)
Susquehanna (7.1%)
Bedford (6.8%)
Berks (6.5%)
Lawrence (6.4%)
Luzerne (6.0%)
Schuylkill (5.9%)
Dauphin (5.7%)
Armstrong (5.6%)
Centre (5.6%)
Tioga (5.5%)
Carbon (5.1%)
Indiana (5.1%)
Montour (5.0%)
Blair (5.0%)
Also from Friday's data, Berks, Blair, Bradford, Centre, Huntingdon, Lackawanna, Lebanon, Montour, Schuylkill, Union and Westmoreland counties showed substantial level of community transmission according to the department. The departments of Education and Health will speak with school district representatives in these counties to discuss the implications of this level of transmission.
For the week ending Oct. 15, 10 counties were in the low level of transmission, 46 counties in the moderate level, with 11 with substantial transmission:
Low – Cameron, Clinton, Forest, Fulton, Greene, Juniata, Pike, Potter, Sullivan, Warren,
Moderate – Adams, Allegheny, Armstrong, Beaver, Bedford, Bucks, Butler, Cambria, Carbon, Chester, Clarion, Clearfield, Columbia, Crawford, Cumberland, Dauphin, Delaware, Elk, Erie, Fayette, Franklin, Indiana, Jefferson, Lancaster, Lawrence, Lehigh, Luzerne, Lycoming, McKean, Mercer, Mifflin, Monroe, Montgomery, Northampton, Northumberland, Perry, Philadelphia, Snyder, Somerset, Susquehanna, Tioga, Venango, Washington, Wayne, Wyoming, York
Substantial – Berks, Blair, Bradford, Centre, Huntingdon, Lackawanna, Lebanon, Montour, Schuylkill, Union, Westmoreland
Health Secretary Dr. Rachel Levine introduced a team of public health experts leading the work to make sure all Pennsylvanians are as protected as possible from both COVID-19 and influenza. The team is prepared for the resurgence, is managing a testing plan, preparing for vaccine distribution when a vaccine is available, and working to track influenza cases across the state.
"Our data, including case counts, hospitalizations and percent positivity reflect the fall resurgence occurring," Levine said. "The department and the Wolf administration are working continuously to ensure we are prepared for this resurgence and to protect Pennsylvanians. We all must unite to protect ourselves and loved ones from COVID-19 by washing our hands, wearing a mask, social distancing, avoiding large gatherings and downloading the COVID Alert PA app."