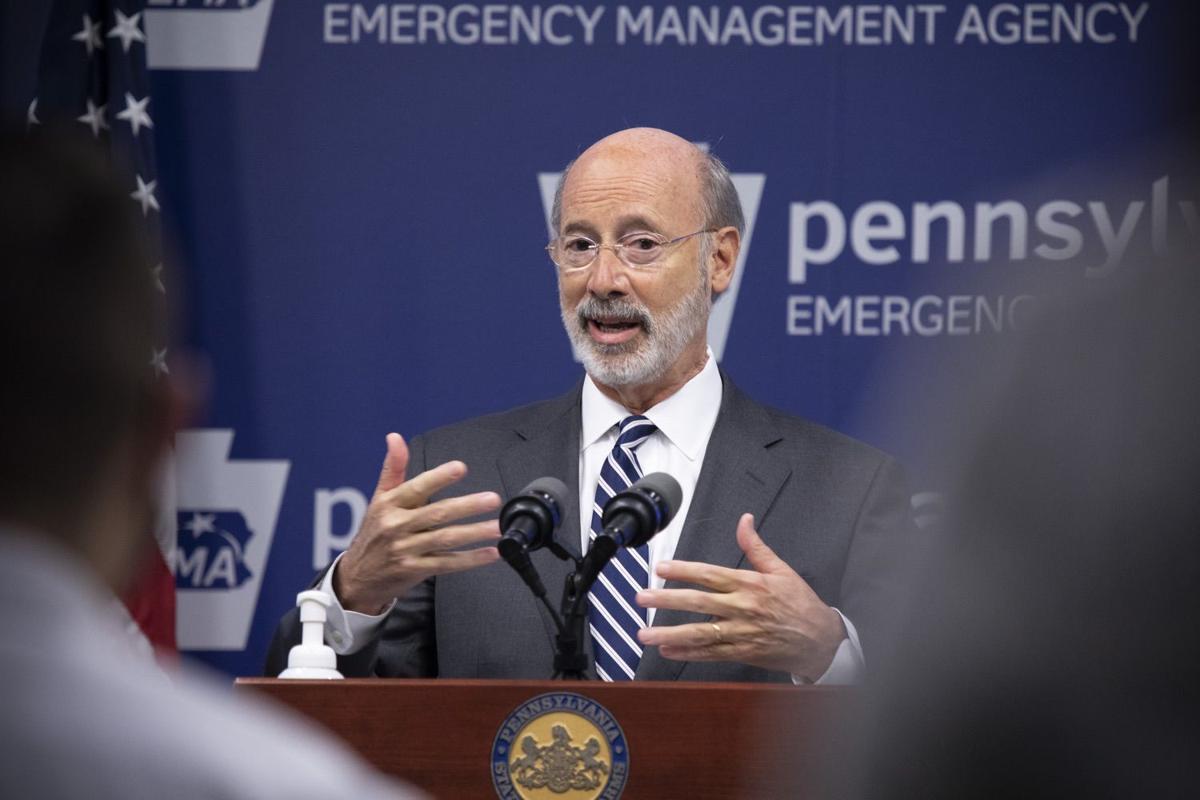 A week after issuing travel orders and new COVID-19 guidance, Gov. Tom Wolf's administration on Monday added a little more teeth to its effort to combat the further spread of the virus in Pennsylvania during the upcoming holiday season.
New measures from the state focus on enforcement of its past orders and recommendations, from masking to gatherings to school closures.
Health Secretary Dr. Rachel Levine also announced that the administration will require that all sales of on-site consumption of alcohol temporarily stop at 5 p.m. Wednesday before picking back up at 8 a.m. Thursday in order to avoid what Gov. Tom Wolf said is the busiest day of the year for drinking. Take-out sales of alcohol are still allowed.
"As our hospitals and health care system are facing greater strain, we need to redouble our efforts to keep people safe," Wolf said during a news conference Monday. "If our health care system is compromised, it isn't only COVID-19 patients who will suffer. If we run out of hospital beds, or if hospital staff are over-worked to the breaking point, care will suffer for every patient — including those who need emergency care for illnesses, accidents or chronic conditions unrelated to COVID-19."
The new measures come after record-breaking highs in the number of new cases in the state and Cumberland County Sunday, increasing rates of positive tests, and modeling from the Institute of Health Metrics and Evaluation at the University of Washington that projects Pennsylvania will run out of intensive care beds in hospitals in December.
The model also projects that if Pennsylvania stays on its current path, the state could see more than 32,000 deaths by the end of February.
Health officials say universal mask-wearing could reduce the number of deaths by half, and Levine and Wolf urged all residents to stay at home to mitigate the spread of COVID-19, though they noted this is an advisory and not a stay-at-home order.
School restrictions
Levine said there have been 24,000 cases of COVID-19 in children ages 5 to 18 since the start of the pandemic, and about 7,000 of those have been in the last two weeks.
At the start of the school year, the Department of Health issued guidance to public school districts regarding when they should stay open, how to manage in-person and hybrid models of learning and when they should opt to go fully remote. Though the department has allowed school districts to make decisions at the local levels, it had recommended that school districts in counties with "substantial" community spread opt to go fully remote.
For a county to be in the substantial transmission level, the county's incidence rate per 100,000 people must be higher than 100 or its percent positivity higher than 10% for a given week.
For numbers released by the state today, Cumberland County had an incidence rate of 246.2 last week and a percent positivity of 11%. For the week prior, the county carried an incidence rate of 192.5 and a percent positivity of 9.2%.
As of Monday, all but four counties in the state (Cameron, Pike, Sullivan and Wayne counties) are considered to have "substantial" spread of the disease. And health officials now seem unwilling to let school districts do as they please during this fall resurgence.
In the new measure, the administration is requiring all public school districts in counties with substantial transmission for at least two consecutive weeks to either move to fully remote learning or commit to safety measures. By Nov. 30, chief school administrators must sign an attestation form stating they have either transitioned to fully remote learning or are complying with safety protocols detailed by the department for schools.
Those who do not sign or comply with an attestation are required to provide only remote learning and suspend all extracurricular activities as long as the county remains in the substantial transmission level.
Cumberland County has been in the substantial transmission level for the last two weeks, which means all of its school districts fall under this category. So far, Carlisle Area School District and South Middleton School District have gone to fully remote learning for all students through Nov. 30 due to the presence of COVID-19 in schools and staffing shortages due to quarantining or COVID-positive faculty. Both, however, had plans to return to in-person learning on Dec. 1.
As of Monday afternoon, Cumberland Valley School District has only moved its high school and Green Ridge Elementary School to remote learning through Nov. 30. It did have to close Middlesex Elementary School on Monday for a positive student, and it reported other positives at Silver Spring Elementary School and Mountain View Middle School over the weekend.
Big Spring School District has reported a few positives at its schools, though all schools still remain open to a hybrid learning model. The district recently scrapped plans to move some of its schools to more in-person learning, and Superintendent Rich Fry said the district is prepared to move to fully remote if it needs to.
Mechanicsburg Area School District is operating on a hybrid learning model, and only its middle school is closed through Nov. 30 for remote learning due to a rise in cases there.
Businesses and events
The Wolf administration also reiterated previous orders when it comes to COVID-19 and businesses. It had been guidance before, but the administration Monday said telework is mandatory unless impossible, and safety measures are required for businesses if they are open, including cleaning, social distancing and masking.
With last week's order, masks must be worn at all times indoors, regardless of social distancing, if someone is inside with a person who is not in their household.
Online sales and curbside pick-up for all shopping is encouraged during this time.
The administration also remains heavily reliant on businesses to enforce the state's masking requirement. Though law enforcement will be stepping up its efforts and will respond to a business should there be a report, business owners carry the weight of addressing customers who are not wearing masks.
Because of this, Wolf on Monday said the administration is introducing liability protection for all businesses to receive immunity from civil liability when enforcing the masking order, which could potentially result in an altercation.
Though health officials note that its small gatherings that are helping drive up the COVID-19 numbers, the administration reduced allowable occupancy rates for large indoor and outdoor events. No indoor events of more than 500 people will be allowed, and no outdoor events with more than 2,500 people will be allowed.
Health systems may also find themselves cutting back on business if capacity worsens. Levine last week ordered hospitals to communicate with each other about future plans for capacity and safety equipment, and on Monday, Levine issued more refined guidance on what would happen if the situation worsened.
In the new measures, there are three aspects that would trigger all hospitals in a region to reduce the number of elective surgeries by 50% for one week. Those factors are 33% of hospitals in a region seeing increasing staffing shortages, hospitals seeing a 50% increase in the number of COVID-19 admissions in the last 48 hours, and less than 10% of medical/surgical beds being available in a 72-hour period.
This new measure will affect hospitals by region, and those regions will be notified daily if the elective procedure rule can be lifted. Levine said no region in the state currently falls under this new measure.
Local governments have also been empowered to issue their own recommendations and mitigation steps as long as they are stricter than what the state has authorized.
Watch Now: Learn more about COVID-19
From best mask-cleaning practices to whether it's safe to work out in a gym during the pandemic, watch these videos to answer all your COVID-19 questions.