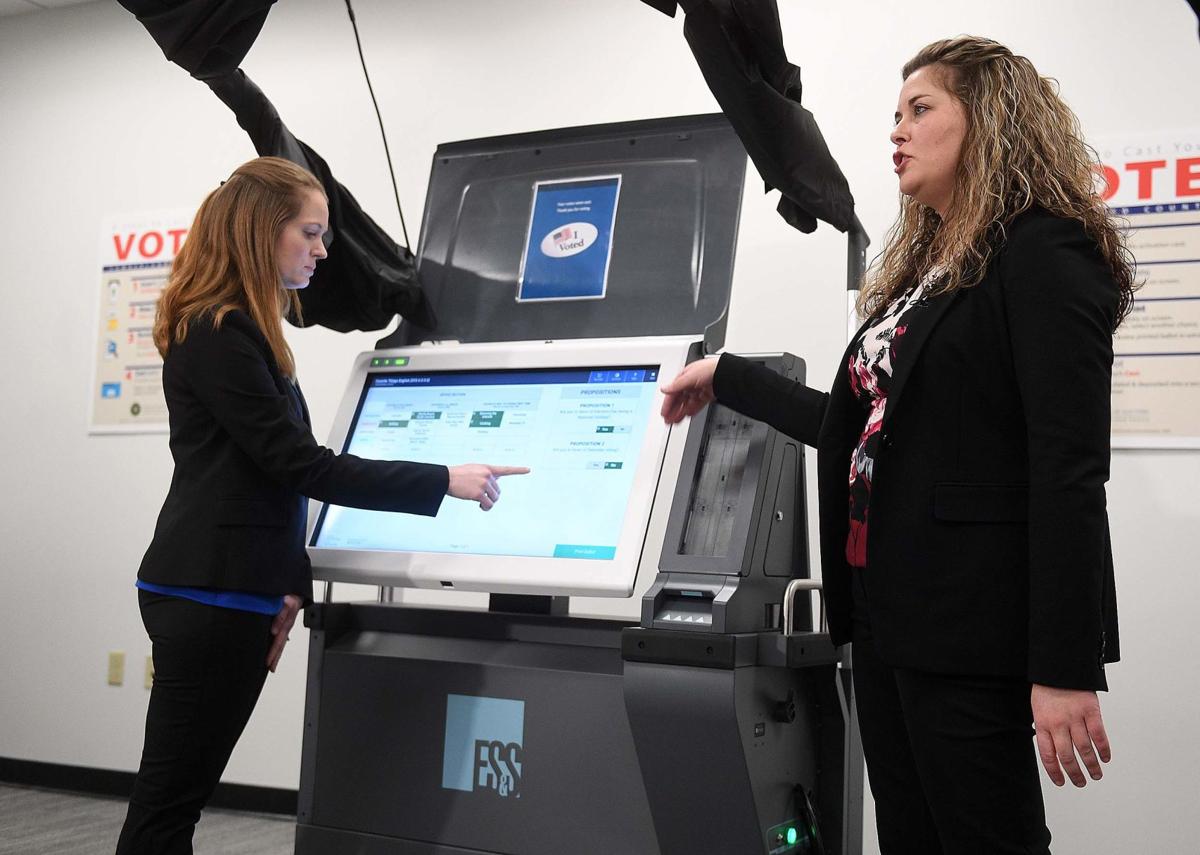 Cumberland County has sent out 37,310 vote-by-mail ballots for the June 2 primary, with a significantly stronger interest from Democrats in voting remotely.
It's thus unlikely that voters will get definitive results on Tuesday evening for contested races, given that a large chunk of the primary votes — quite possibly the majority — will come from mail-in and absentee ballots that won't be counted until after the polls close.
Based on prior years, roughly 80% of ballots mailed out are completed and returned by voters, county Elections Director Bethany Salzarulo said Friday. For comparison, the 2016 presidential primary saw 2,179 absentee ballots cast in the county, and just 959 in the 2012 primary.
The spike results from Act 77 of 2019, a bipartisan election reform package that includes a new no-excuse mail-in ballot option on top of the existing absentee ballot process, which requires a reason for absence. Coupled with the COVID-19 pandemic, which has made many voters cautious about voting in-person, counties statewide are dealing with an unprecedented vote-by-mail volume.
Interest among Democrats seems to be stronger throughout the state, with the Philadelphia Inquirer reporting Friday that 1.3 million Democrats statewide are set to receive mail-in ballots, compared to only 524,000 Republicans, despite the split of Pennsylvanians registered with the two major parties falling at a much narrower 55-45 in the Democrats' favor. Pennsylvania's closed primaries mean that independent and third-party voters can't vote in Republicans' and Democrats' intraparty primaries.
This trend is also evident in Cumberland County, where Salzarulo reported 22,159 Democratic vote-by-mail ballots sent out versus 15,151 Republicans, even though Republicans still have a registration advantage; Cumberland County has 88,027 registered GOP voters, 61,602 registered Democratic voters, and 28,777 third-part or independent voters.
Heightened interest among Democrats is to be expected to some extent in Cumberland County, given that GOP incumbents for most offices on the ballot are not facing a primary challenge, while several Democratic nominations are hotly contested, particularly in races where Democrats have a stronger chance of unseating a Republican in November.
While some areas of the state have reported delays in getting ballots out to those who requested them, Salzarulo said this week that Cumberland County has not received any reports of postal delays.
"They haven't said there's any problem, and we've been delivering them thousands a day with no issue," Salzarulo said of the U.S. Postal Service.
Voters who waited until the last minute on May 26 to apply for mail-in voting, and are just now receiving their ballot, may wish to return their ballot to the county in-person rather than risking it arriving in the mail after Election Day. Ballots received after 8 p.m. on June 2 are void.
A secure drop-box is located inside the entrance to the county elections office at 1601 Ritner Highway.
Voters who requested a mail-in ballot but wish to vote in-person instead can still do so, but will be required to fill out a provisional ballot at their polling place. Provisional ballots are only counted after it has been confirmed that the voter did not return their mail-in ballot.
Multiple state officials, including Gov. Tom Wolf, have endorsed allowing elections offices to count mail-in and absentee ballots before Election Day, but this has not happened in the state Legislature.
Cumberland County already had over 20,000 ballots returned as of Wednesday, Salzarulo said, but state law means those ballots cannot be opened and sorted until 7 a.m. on June 2, and cannot actually be counted until the polls close at 8 p.m.
Given the 30,000-plus ballots expected, there is no way they could be processed in time to have results on election night, Salzarulo said, so elections staff won't start processing mail-in ballots until the morning of June 3.
"We'd normally have about 2,500 for an election like this. Counting that after 8 p.m. is much different than trying to count 30,000," Salzarulo said.
Plus, with the county using its new voting machines for the first time in this election, Salzarulo said she doesn't want the attention of her staff taken away from counting the in-person votes after the polls close.
For any contests that are even remotely close, this means they'll likely be impossible to call on election night.
Salzarulo predicted turnout would be similar to 2012, given that large changes in turnout are typically driven by the presidential contest. In 2012, Democratic President Barack Obama was running as a secure incumbent, and the Republican race had been all but decided in favor of Mitt Romney. The same is true this year, with the party roles reversed: The GOP has a secure incumbent in President Donald Trump and the Democratic race is already clinched by Joe Biden.
In 2012, a combined 28.7% of voters who were registered with either of the two major parties turned out in Cumberland County.
If turnout held the same in 2020, based on current registration, that would put primary voter numbers at just under 43,000 ballots this year, meaning that about two-thirds of the vote totals would be from mail-in and absentee ballots.
This would certainly make any contested race difficult to call on election night. None of the county's state or federal legislators — all Republicans, all running to retain their seats — face primary challenges. But several Democrats seek the nomination to challenge those incumbents.
Current Pennsylvania Auditor General Eugene DePasquale and local attorney Tom Brier are in a race for the Democratic nod to run against Congressman Scott Perry, a close ally of Trump who national Democrats rate as one of the most vulnerable GOP seats in the nation.
Perry's 10th Congressional District covers eastern Cumberland County, including Carlisle, northern York County, including York city, and all of Dauphin County
In local statehouse races, Rep. Greg Rothman and state Sen. Mike Regan have attracted the most attention from prospective Democratic challengers, likely because their districts include the lion's share of the Camp Hill area, which shifted significantly to the left in the 2016 presidential race.
Heather MacDonald, Nicole Miller, and Sean Quinlan seek the Democratic nomination to run against Rothman; Shanna Danielson, Rick Coplen, and John Bosha contend for the spot to run against Regan.
By sheer cash outlay, Danielson and Coplen vying for a chance to unseat Regan have been the largest efforts. Danielson's campaign committee has spent $23,604.49, plus $1,563.77 in in-kind support, from January through May 18; Coplen's committee spent $30,448.91 plus $275 in-kind, according to the candidates' campaign finance filings.
Danielson has collected endorsements from a number of prominent Democrats, including DePasquale, as well as progressive advocacy groups. This includes $13,000 in funding from Represent PAC, a campaign fund for Democratic women, according to campaign finance records. Coplen has largely self-funded his effort, loaning his campaign committee over $22,000 out of his own pocket.
Get local news delivered to your inbox!
Subscribe to our Daily Headlines newsletter.