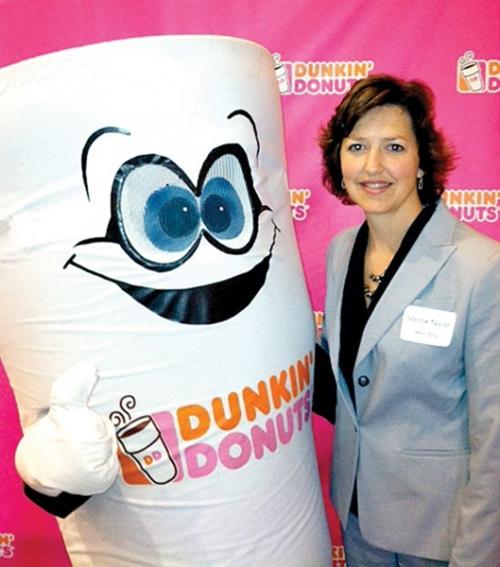 Shippensburg resident Marcie Taylor and Carlisle resident Elaine Livas received a "Thanks to You" Community Hero Award from Dunkin' Donuts during a ceremony in Harrisburg Wednesday morning.
Livas was awarded for her part with the founding of Project SHARE, the Carlisle food pantry, and Taylor received the award for her work in establishing the Drew Michael Taylor Foundation.
"I knew people had nominated us, but I didn't know how big of a competition this was," Taylor said. "It's very exciting. As any small nonprofit, you're always looking for promotion. Some of the grants are hard to get when you can't afford full-time grant writers, so it's really nice to have things like this where people can nominate you and speak from the heart."
The two were part of 10 winners from Central Pennsylvania to be honored during the awards ceremony.
According to Kara Luzik of La Torre Communications for Dunkin' Donuts, more than 160 people were nominated for awards. She said that winners were selected "based on their contributions to the residents of their local community, their community driven activities and accomplishments, and the creativity and originality of the nomination submissions."
Other winners included Sharon Bechtel, Gettysburg; Richard Cray and Wendell Murray, Harrisburg; Joan Espendshade and Jordan Steffy, Lancaster; Cheryl Hornung, Middle Paxton Township; Steve Rabine, New Oxford; and Joseph Volupas, Lititz.
Each award recipient received a $500 American Express gift card and coffee for a year.
The Drew Michael Taylor Foundation was started by Randy and Marcie Taylor following the death of their 3 and 1/2-year-old son, Drew Michael Taylor, in a 2006 traffic crash.
"Drew died June 13, 2006, and we started right away to start an organization to honor him," Taylor said. "We started with a number of things, and over the years we've honed it down to three main things."
Today, the foundation offers a bereaved parents support group, the Ready, Set, Go! program and Drew's Hope.
The support group meets from 7:30-9 p.m. on the first Thursday of each month at the Timothy House Annex of Messiah United Methodist Church, 25 S. Penn St., Shippensburg.
Ready, Set Go! is a kindergarten-readiness program for parents and children (birth to age 5). The next session will be from 5-7 p.m. Tuesday, April 23, at Nancy Grayson Elementary School.
Drew's Hope is a seven-session grief support group for children and teens ages 18 and under and their families. The next program will be offered Feb. 5 through April 30 (with new family orientation on Jan. 29) from 6-8 p.m. every other Tuesday at Grace B. Luhrs University Elementary School.
Information from Luzik states, in part, that, "Drew's Hope provides a safe, healthy and honest place for families to work together through their grief. They are supplied with a free meal, activities and group counseling with licensed volunteer counselors. The program has helped 60 local families learn to cope with grief and continues to motivate Marcie and her mission. She founded a unique and extremely helpful way to guide families faced with tragedy through their darkest days."
Taylor said she plans to use the $500 award for foundation expenses. She hopes to be able to use the coffee as fundraising prizes.
"Any time you win $500 for your organization, it's exciting," she said. "Five hundred dollars would pay for one family to go through the Drew's Hope program. That's significant. The coffee is a bonus."
Dunkin' Donuts was founded in 1950. Today, the company has more than 7,900 restaurants in 30 countries.