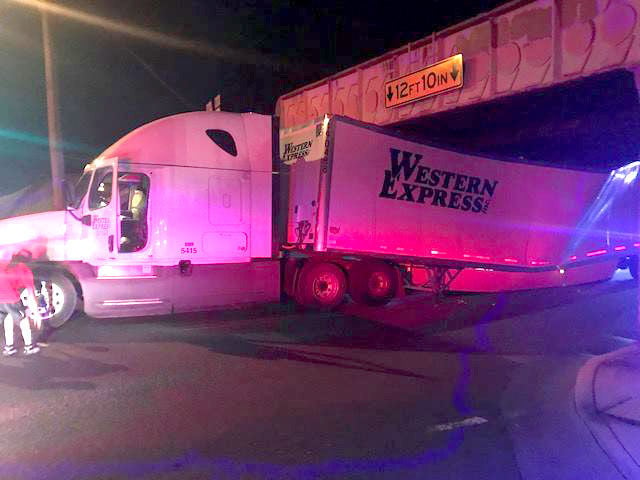 A truck got stuck in the subway at South Orange and West High streets Friday morning.
The initial call for the trapped tractor-trailer came in around 4 a.m., said Sgt. David Miller of the Carlisle Police Department.
According to a post on the police station's Facebook page, emergency crews were still in the area around 8 a.m. to clear the tractor-trailer.
The crash took some time to clear as responders first had to assess the truck itself to assure there were no hazardous materials involved before turning their attention to the cargo. In this case, it was gallons of tea, Miller said.
He acknowledged that crashes at the bridge seem to be more common lately. A look through the Carlisle Police Department Facebook page shows three this year — one on May 18 and one on Jan. 29 that prompted the department to post a caption that read, "Once again, the posted railroad bridge height was a fact rather than a suggestion."
Miller attributed the increasing number of crashes to the addition of warehouses in Carlisle's west end, and basic inattention.
"Some of them are getting jammed up because they're not reading the signs," he said.
Signs announcing the bridge height of 12 feet 10 inches are posted on Ritner Highway, Newville Road and both sides of the bridge, but that didn't stop one trucker recently whose trailer was clearly marked as being 13 feet 6 inches tall.
Many of the drivers, including the one who crashed this morning, blame GPS devices, but that's not an excuse, Miller said. The device may bring the trucker that direction, but it's up to the driver, as it is up to any driver, to pay attention to the road signs.
Each time a truck hits the bridge Norfolk Southern, which operates the railroad passing over the bridge, does an inspection in addition to its regular yearly inspection. PennDOT also inspects the bridge every other year.
Constructed of concrete, stone and steel, though, the bridge is solid in comparison to the fiberglass and aluminum construction of the trailers that often end up crumpled or in a V-shape.
"The bridge just laughs at these trailers," Miller said.
Unfortunately, there is little the borough can do to prevent more trucks from trying to go under the bridge. The bridge is owned by Norfolk Southern and is over a PennDOT road. The borough has no authority to ban truck traffic on a state road, Assistant Borough Manager Susan Armstrong said.
Get local news delivered to your inbox!
Subscribe to our Daily Headlines newsletter.