Teen of the Year
Teen of the Year: Mechanicsburg senior is changing world one person at a time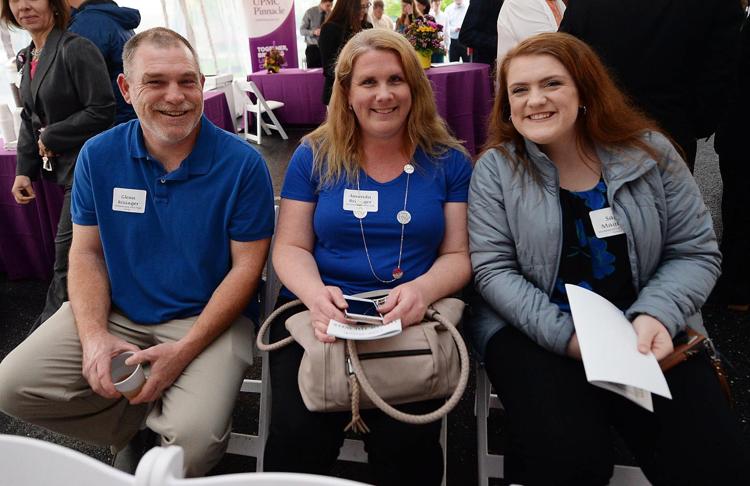 Tears cascaded down Amanda Reisinger's face as her daughter Sage Maguire was named Teen of the Year Wednesday at UPMC Pinnacle Carlisle.
Maguire is a senior at Mechanicsburg High School and will attend Gettysburg College in the fall to study biochemistry and molecular biology.
"I just think that we've come so far from where we once were, and I'm just so proud of Sage," Reisinger said.
"She's just an amazing young woman," Maguire's stepfather, Glenn Reisinger, said.
When Maguire was 12 her mother left her father after years of domestic abuse.
The family had nothing when they left, to the point where she and her siblings had to sleep on the floor, Maguire said.
For four years after leaving, her mother fought to get away from Maguire's father, finally severing ties when Maguire was 16, she said.
"Everybody would say 'why don't you just leave?'" Maguire said. "Well, it's because they are so afraid that they can't leave because that abuser has told them and manipulated them and said that if they try to leave they'll just destroy them even more."
Maguire has created the White Dove Domestic Violence Organization, a nonprofit dedicated to helping children and families in domestic violence situations.
The organization has two main programs right now, Maguire said.
One is providing instruments to children in domestic violence situations.
Maguire plays the cello and she told The Sentinel in September that playing her instrument was a defense mechanism and a way to survive the years of abuse she suffered at the hands of her biological father.
The other program provides beds and bedding for children escaping domestic violence.
It's been one year since former Cumberland Valley School District student Holden Zimmerman w…
"For the first few months after my parents' separation, I slept on the floor," Maguire said. "My mom worked really hard to get us one. … In order to get comfortable in your life, you have to get a comfortable sleep and not a lot of kids do that."
"She took a bad situation in her life and turned it into something that is going to help hundreds and hundreds of people," Maguire's mother said.
Beyond her personal struggles and helping others through her nonprofit organization, Maguire carried a 94.86 GPA in high school, is a member of the National Honor Society and National Latin Honor Society, a recipient of the Mechanicsburg Pillar of Leadership Award for Caring, Elks Lodge Outstanding Student Award, President's Award for Academic Excellence and President's Award for Academic Achievement.
"I didn't think it was possible," Maguire said of winning Teen of the Year. "I didn't think I did enough. I still don't think I do enough. I just want to do more."
The Sentinel and UPMC Pinnacle Carlisle Teen of the Week program highlights exceptional high school seniors from across Cumberland County.
A llok back at The Sentinel and UMPC Pinnacle Carlisle Teens of the Week for the 2017-18 school year.
One student each week during the school year is featured in The Sentinel.
Students exemplify excellence in the classroom and extracurricular activities, as well dedication to serving the community.
"I have three degrees, and going through these nominations was incredibly difficult," Dr. Christian Caicedo, senior vice president at UPMC Pinnacle and president of the Cumberland division, said during Wednesday's festivities, which brought together all 32 of the 2017-18 Teen of the Week recipients.
"You have done more in your first 18 years than I did until I was in my 30s," he said. "Because of you my hope is renewed in a desire to make the world a better place. Now more than ever we need that type of energy, that type of enthusiasm and that type of tenacity."
At the end of each school year, one Teen of the Week recipient is selected and named Teen of the Year and awarded a $5,000 scholarship to continue their education.
Tags

Cops & Courts Reporter
Crime & Courts Reporter at The Sentinel.
Get email notifications on Joshua Vaughn daily!
Whenever Joshua Vaughn posts new content, you'll get an email delivered to your inbox with a link.
Email notifications are only sent once a day, and only if there are new matching items.
Followed notifications
Please log in to use this feature
Log In