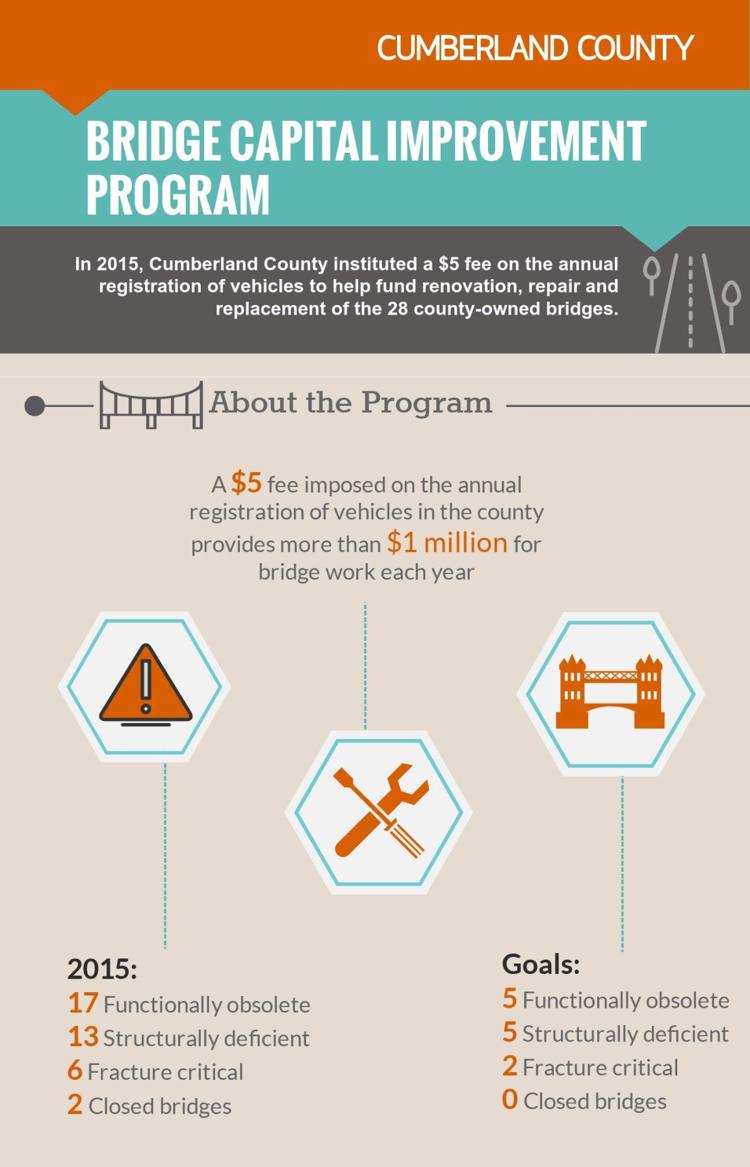 There are 28 bridges in Cumberland County that are owned by the county government.
That infrastructure is aging and the resources needed to keep up with the bridges exceeded what the county had to offer.
This prompted the implementation of a bridge capital improvement program to begin prioritizing work and making headway to keep the bridges open.
"We started the program probably in the 2014 time frame when we started to talk about our bridge infrastructure, realizing the condition it was in and understanding we needed to think ahead," said Kirk Stoner, Cumberland County's director of planning.
The average age of a county-owned bridge in Cumberland County is nearly 80 years old, and nearly a dozen are more than 100 years old, according to the county's website.
Improvements needed to be made, but funds were lacking.
That was until the Pennsylvania Legislature passed a transportation funding bill in 2013 that allowed counties to impose a $5 fee on annual vehicle registrations.
"Up until that point, our funding options were pretty limited," Stoner said
Prior to that, Stoner said the county annually had about $670,000 available to do work on bridges, with roughly $300,000 coming from the state liquid fuels fund.
New funds
In January 2015, the Cumberland County Commissioners approved the new $5 registration fee, which now provides about $1.1 million annually for the bridge capital improvement program.
You have free articles remaining.
Keep reading for FREE!
Enjoy more articles by signing up or logging in. No credit card required.
The program involves identifying what repairs or replacements are needed for the bridges owned by the county.
The projects range from routine maintenance, like what was done on Burgner Bridge in Lower Frankford Township in 2016, to much larger repairs and complete replacements.
In 2016, the super structure of Leidigh Bridge in Monroe Township was replaced at total price tag of roughly $1 million.
The county has also replaced numerous bridges, including Craighead Bridge, which had a new structure built adjacent to the old bridge. The new bridge opened in 2017 and the old structure was sold to the nonprofit organization Workin' Bridges.
Stoner said each bridge operates on its own timeline. Some of the projects have involved state and federal funds, which can slow down the operation.
Work on Wolf Bridge in Middlesex Township was slowed to allow for a survey to determine if an endangered species of mussel resided near the bridge.
"Projects move at different paces," Stoner said. "The pace at which bridges move, there's a lot of variables with that."
History
There are five bridges in the county that will be preserved for their historical value.
Those bridges are Ege's Bridge in South Middleton Township, Hertzler Bridge in Lower Frankford Township, Ramp Bridge in Hopewell Township, Green Lane Farm bridge in Lower Allen Township and Slate Hill bridge in Lower Allen Township.
"A lot of these bridges, while they are not on mainlines like Interstate 81, they are important links to people's homes and jobs and shopping," Stoner said. "Without a proactive approach to our bridge program, the bridges were going to be closed on a more frequent basis and they were going to be weight posted."