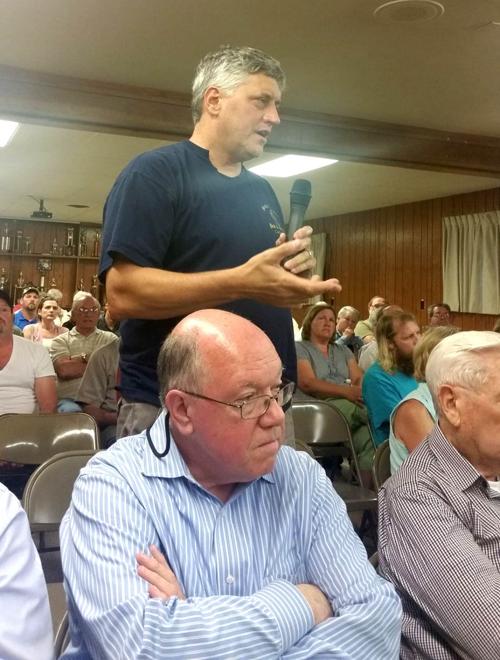 Tempers flared at a West Pennsboro Township Board of Supervisors Zoning Map Amendment Hearing Wednesday night over an application for Allen Distribution, 1532 Commerce Ave., Carlisle, requesting that two tracts of land be rezoned from Residential 2 Zone (R-2) to Industrial Zone (I) to allow the construction of two warehouse distribution centers.
The meeting began with Hubert Gilroy, president of the Cumberland County Bar Association, representing Allen Distribution, explaining the applicant's cause amid various outbursts from the 100 plus people in attendance.
"This application was reviewed by the county's planning commission and they recommended favorable action on our request," Gilroy said. "This application also went before the West Pennsboro Township planning commission, and they made no recommendation to the supervisors. It was also reviewed by the Western Cumberland Council of Governments, a group of which West Pennsboro is a member, and their committee reviewed the application and recommended favorable action by supervisors with respect to the rezoning."
Gilroy called upon Josh Hoffman of Snyder, Secary & Associates to present an outline of the existing zoning map and scope of Allen Distribution's plans, Gregory Creasy of Grove Miller Engineering to relay traffic study results surrounding the property, and on Michelle Brummer, an associate with Gannett Fleming, for her analysis.
Brummer said that if approved, her analysis showed 140 to 150 construction jobs would be created in the building phase of the two warehouses, which themselves, when finished could potentially create "over 400" jobs, with employees earning an average of $43,000 per year.
But it was during Brummer's presentation that the crowd, seemingly growing agitated with the plans, finally burst into angry shouts when Brummer said that there is an "economic need" for the warehouses in the area.
Eager to finally speak, John Dilger, of North Middleton Township, was the first resident given the opportunity.
"Do any of you live in the area?" he asked angrily. "None of your statements are correct because you don't live there."
Other residents raised concerns over the potential harm two distribution centers would do to the area and those living near it due to diesel pollution from the trucks in and out of the facilities, as well as questions of safety, crime and effect on property values.
"Has there been any studies on light pollution, or noise pollution? While I certainly understand the economic impact to the town, I would like to comment on the economic impact to the property values of homeowners," said Mark Butler.
One resident asked the supervisors directly if they're required to sign any paperwork regarding their ethical obligations to the township.
"There is an annual form signed by every elected official each year," Steven Fishman, the township's solicitor said. "In general, it states they can't accept any favors, have any financial interests in projects or be participants of project."
Nathan Wolf, an attorney at Wolf and Wolf in Carlisle, spoke on the behalf of one local family and argued with the panel of representatives from Allen Distribution. Before the meeting reached its end, Wolf asked all in attendance against the rezoning to stand — all of the 100 plus people did stand.
"If you deny this there is nothing they (Allen Distribution) can do about it," Wolf said to the supervisors. "You have met your requirement to them. The only thing they can do is ask, and if you say no, that's it."
After a brief discussion among themselves, Fishman declared the meeting would be continued at a later time so that township officials could better pour over the material and testimony presented to them during the hearing.
"The board will continue this matter to a time in the future will establish a special meeting," he said. "The board will not take any action at this time and will review the information presented."
A date for the continuance was not announced, and Fishman said residents in attendance will be notified by the township.
Tyler Miles is a news reporter for The Sentinel covering Carlisle. Follow him on Twitter @TylerTMiles or email him at tmiles@cumberlink.com.