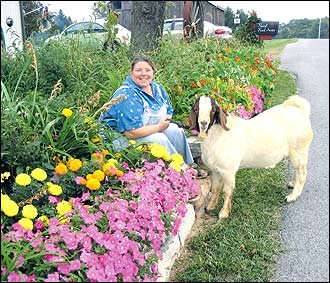 Sandra Miller and Ralph Jones got their wish about the rain holding off Monday.
They were playing host to a Labor Day picnic that included roasted goat and a variety of other holiday favorites.      
The couple owns and operates Painted Hand Farm, 20 acres just off Ridge Road near Newburg where market goats, pastured "heritage" turkeys and black Jersey giant and Araucana chickens roam freely in pastures where the couple practices sustainable agriculture. They say that kind of farming integrates three main goals: environmental health, economic profitability, and social and economical equality.
The Labor Day get-together is something the couple has done for the past two years.
"It's a way to bring our friends and neighbors together as well as our customers," Miller says. "We always roast a goat, and usually a turkey, and everyone else brings a covered dish to share. It's really been a lot of fun the past two years, even though it's rained."
She says the rain has become a standing joke among attendees.
"Even if it isn't supposed to rain, as soon as we plan to have the picnic, rain enters the forecast," she says, laughing. "But that's OK; we go ahead with the picnic and have a great time."
Originally from Mt. Holly Springs, Miller graduated from the University of California at Santa Barbara and was a petroleum geologist who worked on oil rigs off the coast of California.
But she says it always was a life-long dream to own a farm.
Her partner, a retired commercial fisherman, also had wanted to farm.
When the oil industry tumbled several years ago, Miller took a job working in the computer field. Then she and Jones decided to turn their sights toward her home and look for land where they could pursue their dreams together.
"We wanted a tract of land that was at least 10 acres," Miller says. "We wanted to farm."
You have free articles remaining.
Their dreams became reality in 2000 when Miller's real estate agent told the pair about 20 acres that had come on the market.
"Without seeing the land or the buildings situated on it because we were still in California, we literally purchased the property on-line," Miller says. "We liked what the Realtor had to say and immediately decided to purchase the farm."   
They began restoring the Civil War-era farmhouse and surrounding land, which had been slated for subdivisions and development.
"We chose to return the property to a family farm," Miller says.
But their original plans to raise meat rabbits and organic white peaches didn't work out.
"We learned it was too cold to raise the rabbits, and plum pox disease was running rampant in the county at that time, so that meant no peaches," Miller says.
That's when they decided to raise market goats, turkeys and chickens.
Today the couple has two male and 24 female goats, 30 turkeys, a pair of Great Pyrenees guardian dogs, a horse and a yak - all of which graze in pastures of green grass.
Miller says she and Jones chose pasture-based farming primarily because of their dedication to raising the best possible livestock for people who have become loyal customers.
"In addition to healthier livestock, pasture-based farming is good for the environment," she says.
She says they have a good customer base for their goats and, as the farm continues to grow, they hope to add products. At present the couple sells free-range eggs and artisan cheese in addition to goats and turkeys.
Miller and Jones encourage anyone wishing to learn more about sustainable agriculture or the products they have to offer to call them at 423-5663 or visit their website at www.paintedhandfarm.com.
"We'd be more than happy to share what we've learned over the years," Miller says.