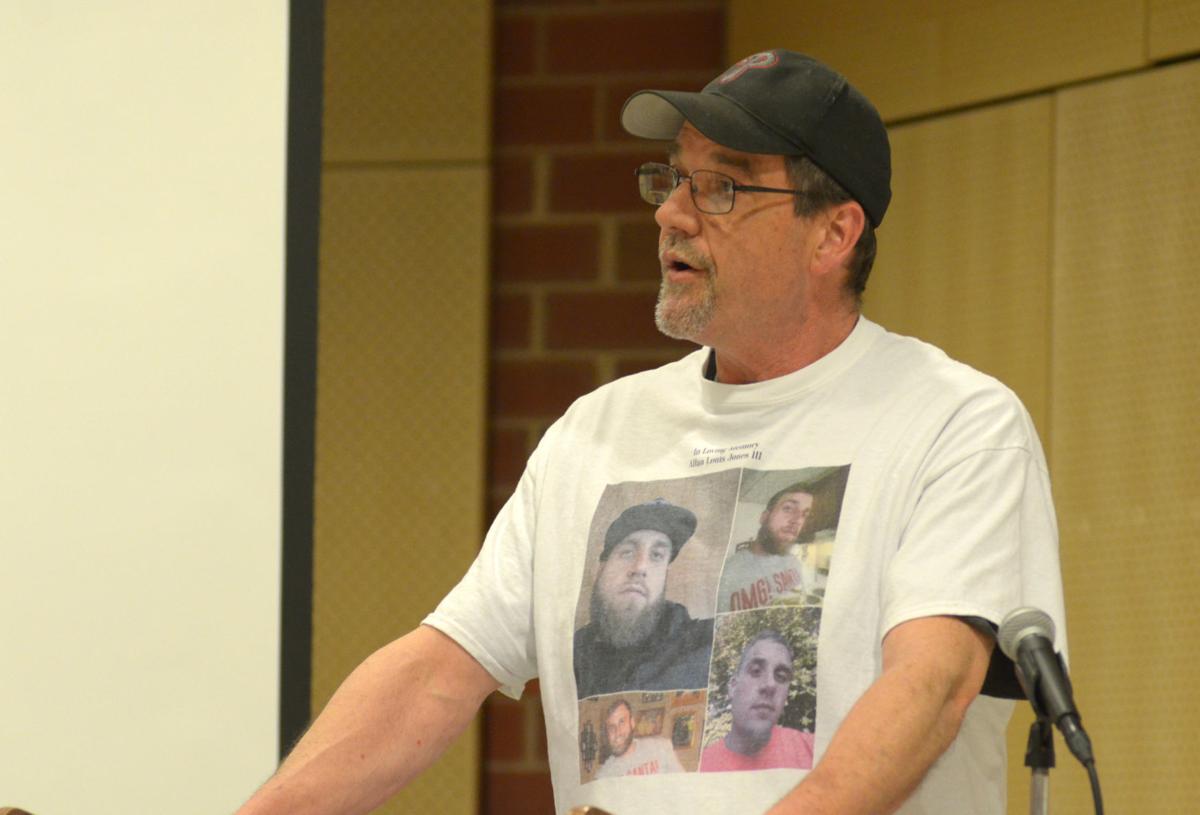 Less than a year ago Allan Jones received the phone call that his son AJ had died of an opiate overdose.
"I was blindsided," Jones said Tuesday, standing in front of a crowd at Wilson Middle School in Carlisle.
AJ had long battled with substance use, and Jones thought his son was in recovery. He thought he had turned his life around, Jones said.
"No parent should lose their child, especially to heroin," he said. "I thank God for the time that I had with him and wish I could have more."
Jones, who has since formed the Carlisle Area Anti-Heroin Coalition, said he wants to be part of the solution and he hopes his experience helps to save at least one life.
On Monday, Jones, along with members of local law enforcement, the courts, treatment services and schools held an opioid action awareness forum at Wilson Middle School to discuss how the community can come together to solve the overdose epidemic.
"Police can't be everywhere. We can't do everything," Carlisle Police Chief Taro Landis said. "We'd like to recruit some of you to be our eyes out there."
Landis called on the community to form a neighborhood watch to help alert the police when criminal activity and drug dealing is happening.
Training will be provided to people who participate in the program, he said, and anyone interested in participating in the borough of Carlisle should contact police at 717-243-5252.
"Police have done excellent work, but we cannot, and I repeat cannot, be the only solution," Landis said.
Among the presenters at Monday's forum was Cumberland-Perry Drug and Alcohol Commission Executive Director Jack Carroll, who spoke about the need for early intervention and prevention.
Carroll said prevention cannot be just passed off to the school system to handle. Everyone in the community needs to be a positive influence on young people, he said.
Speaking of parents, Carroll said, "what you say and what you believe is important" even as children move into the teenage years where it may feel like their peers are more influential than parents.
For those suffering from substance use disorder, Carroll said the Drug and Alcohol Commission can help connect them to treatment options and even help cover the expense if insurance is not an option.
Other efforts being undertaken by the county include expanded access to the opiate overdose reversing drug Naloxone.
While emergency medical services have carried the drug for several decades, more than 300 Naloxone kits have been given to police departments in Cumberland County since a new law helped expand access in 2014, according to Holy Spirit Geisinger EMS Chief Duane Nieves.
"Naloxone is not a cure," Nieves said. "It helps people stay alive to see another day and hopefully to the day they decide to break the cycle of addiction."
Cumberland County recently began an intensive opioid intervention court.
The six week program takes people entering into the criminal justice system who have a substance use issue with opiates and provides them with a rigorous program meant to help put them on a path to recovery as they continue through the criminal justice process and beyond.
The program is spearheaded by Judge Jessica Brewbaker and is the first court of its kind in Pennsylvania and only the second in the United States.
More than half of the more than 80 people who died of from a drug overdose in Cumberland County in 2017 were involved with the criminal justice system at the time of their deaths, according to an analysis of court and coroner's records conducted by The Sentinel.