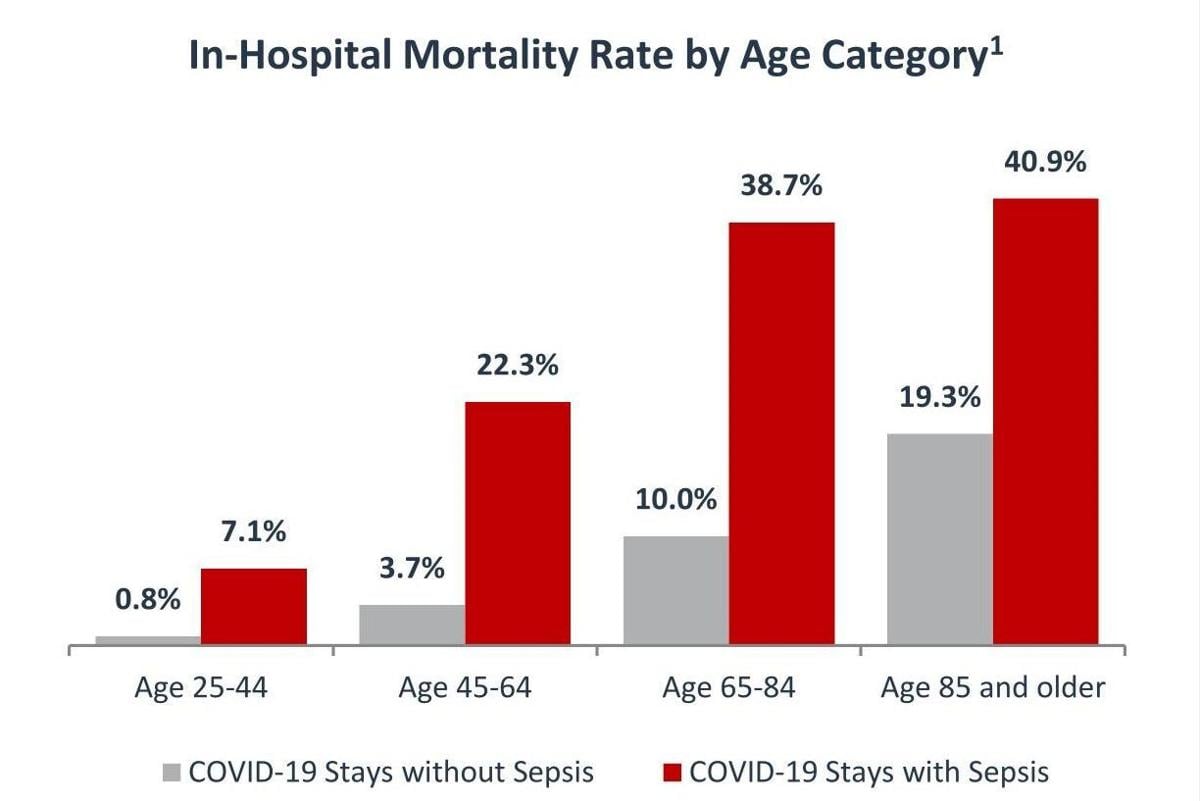 COVID-19 patients who developed sepsis were more likely to be hospitalized longer, require mechanical ventilation and die from the disease during the first half of the pandemic, according to a new report from the Pennsylvania Health Care Cost Containment Council (PHC4).
The state agency, which analyses health care data in Pennsylvania, reported Wednesday that sepsis, a life-threatening condition caused by the body's own defenses against infection, rose mortality rates among patients who were admitted to hospitals across the state for COVID-19. The state's most recent report only analyzes data from March to September 2020, and does not include cases from the second surge in the fall to winter months last year.
According to the report, 30.5% of patients who had COVID-19 and sepsis died of the disease, compared to only 7.6% of COVID-19 patients who didn't develop sepsis. Sepsis patients also stayed in the hospital for a longer period - 12.5 days on average compared to 7.2 days for COVID-19 patients without sepsis.
PHC4 also reported that 33% of COVID-19 patients with sepsis required mechanical ventilation, while only 5.9% of patients without sepsis needed a ventilator.
Though in-hospital mortality rates were statistically higher for white men, the report found that those more likely to develop sepsis were Asian and Black patients. In both cases, those ages 65 and older were the ones most likely to develop sepsis and suffer complications.
"Results from today's release continue to provide important information about COVID-19," said Joe Martin, PHC4's executive director. "PHC4's hospitalization data will be critical in fully understanding this pandemic as we move through the next few months."
Report
The PHC4 analysis also looked at rates of mortality and ventilator usage overall and by county, with rates much higher between March and June than through July and September, when fewer cases were reported and more movement was being made with treatment.
In Cumberland County, 132 COVID-19 patients were hospitalized from March to June at a rate of 5.2 per 10,000 residents, and another 94 patients were hospitalized from July to September. Overall during the study's time frame, about 8.9 per 10,000 residents were hospitalized with COVID-19 in the county.
Based on state Department of Health's daily reports on COVID-19 cases, however, Cumberland County's surge in cases and hospitalizations would not occur until the fall and winter, unlike other areas of the state, such as Philadelphia.
Overall across the state, there were 19.9 COVID-19 hospitalizations per 10,000 residents from March to September.
In breaking down hospitalizations by demographics, the report found that hospitalization rates were statistically higher for those 55 and older, men, Hispanic, Black and those living in high poverty areas.
Men, those who are 55 to 74 and patients who are Black were statistically more likely to stay in the hospital longer, according to the report. On average, the length of stay in the hospital was 8.8 days, but those between 65 and 74 spent 10.1 days in the hospital on average, and Black patients were in the hospital for about 9.4 days. Men spent on average 9.2 days in the hospital, compared to 8.3 days among women.
Though those 55 to 74 spent more time in the hospital than other patients, those 75 and older also had the highest mortality rates, with 24.8% of patients 75 to 84 succumbing to the disease and 28.2% of patients older than that dying in the hospital.
The report also showed men were more likely to die from COVID-19 than women, with 18.2% dying from COVID-19 compared to 14.3% of women.
Overall, in-hospital mortality rates were at 16.3% from March to June and 9.3% between July and September.
Tuesday data
The state Department of Health reported Tuesday that there were 54 new cases of COVID-19 and one additional death for Cumberland County.
Tuesday's report included 182 total test results, with 15 new probables. Comparing just the number of negative tests (128) and confirmed positive tests (39), the county saw about 23.4% of its tests come back positive.
The county's seven-day average of cases now sits at 53.71 and its 14-day per capita rate sits at 317.72.
There were 52 patients hospitalized with COVID-19 in the county in Tuesday's report (the same as Monday), with five in intensive care units, and eight on ventilators.
As of Tuesday's data, the Health Department says 47,954 partial vaccines have been administered in Cumberland County, with 60,120 full vaccines (both doses) administered. That means 28.6% of the county's eligible population (210,236 people) has been fully vaccinated.
In the southcentral region for Tuesday, York County had 124 new cases, Dauphin County 81 new cases, Blair County 63 new cases, and Franklin and Lebanon counties each with 62 new cases.