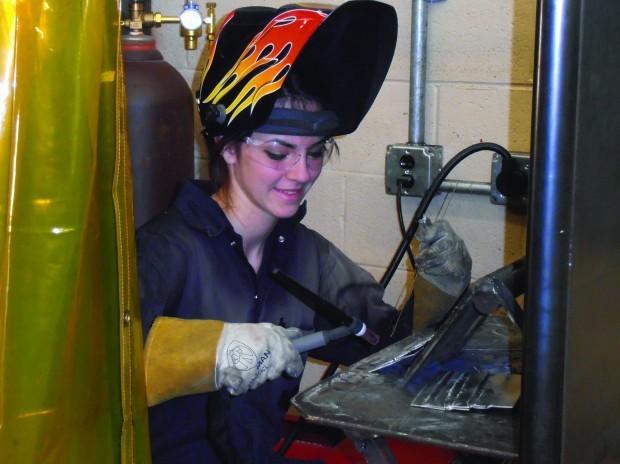 One Perry County woman's welding skills will help make colonizing Mars a reality someday.
SpaceX, a rocket and spacecraft design company based in Los Angeles, hired Liverpool native Molly Soule to help weld together vehicles capable of inter-planetary travel — enabling future generations the opportunity to live on Mars.
"I've always been really fascinated with aerospace," Soule said. "And SpaceX's main mission is to occupy Mars and to make it affordable to have regular people live there."
But it wasn't space travel that encouraged Soule, 20, to pursue welding. It was motorcycles.
"My fascination with motorcycles and cars really got me pumped on working with my hands," Soule said. "I thought welding would be great a way to get involved with stuff like that."
That passion, she says, led her into Keith Hammond's welding shop at Cumberland Perry Area Vocational Tech School three years ago.
Hammond says Soule, one of two women in the class, not only impressed, but she also dominated.
"It's a male-dominated field, but she excelled," he said. "She just rose above everybody else with her grades and work ethic."
Soule mastered tungsten inert-gas welding (TIG) during her three years under Hammond's instruction.
"What was extraordinary about Molly was her TIG welding skills," Hammond said. "TIG welding is very hard, and you have to have good hand-eye coordination."
TIG welding uses an arc of electricity that jumps from a tungsten metal electrode to the intended weld surface, which is often comprised of aluminum or steel. The process proves ideal for welding round or curvy objects, such as motorcycle frames.
When compared to traditional stick welding, TIG welding creates cleaner, more precise seams between objects because no filler metal is applied to fuse objects together.
Soule says she prefers the complexity of TIG welding and its usefulness when constructing motorcycle chassis (frames).
"I really grew in the weld shop at vo-tech," she said. "Mr.Hammond allowed me to demonstrate my skills and really encouraged me."
Soule graduated in June and took a job TIG welding at Henchcraft Racing Products in Newport.
"She turned down a higher-paying job because she wanted to focus on her TIG welding," Hammond said.
The decision, he says, ultimately landed her the position at SpaceX.
"It's an extraordinary opportunity for a woman out of vo-tech school being given a job so quickly," Hammond said. "Her TIG welding skill got her this job."
But for Soule, the confidence she gained while attending CPVTS proved most valuable.
"Vo-tech is such a wonderful opportunity, even if you don't know what you want to do," she said. "It gives you so much confidence and so many skills that you can use in life. It's really a great thing."
Get local news delivered to your inbox!
Subscribe to our Daily Headlines newsletter.