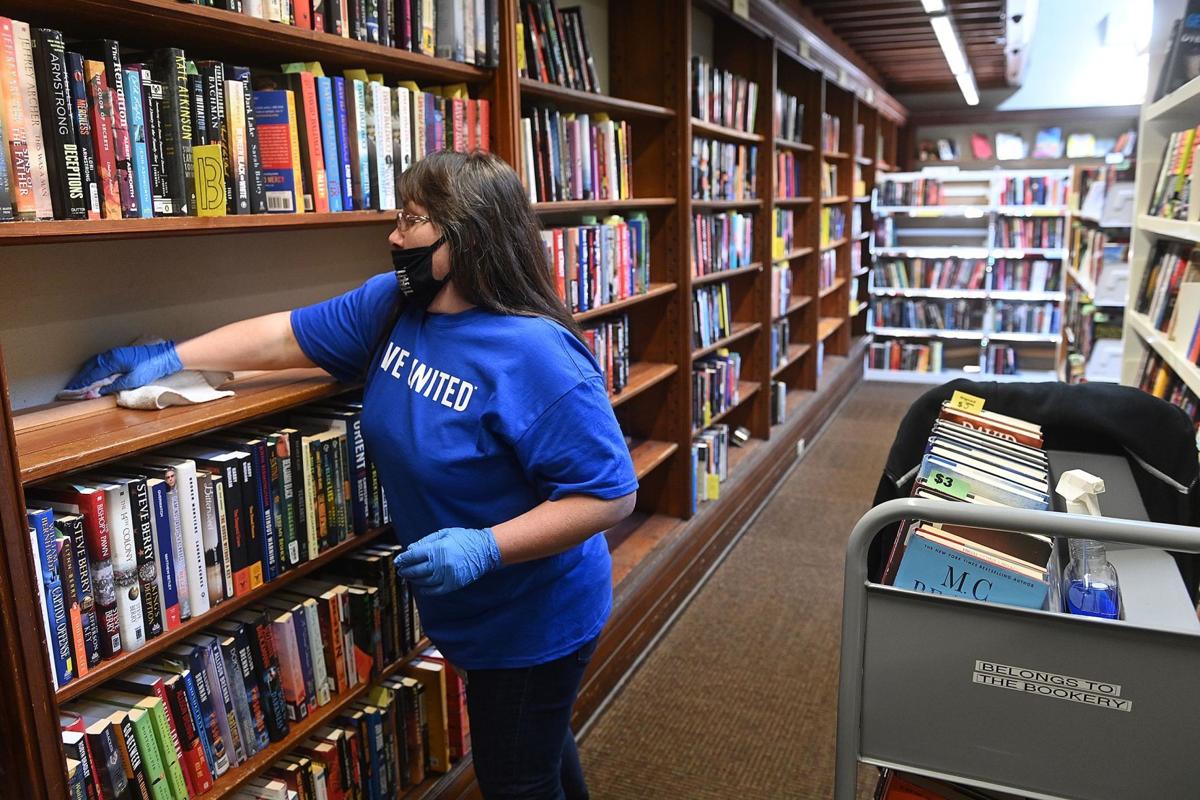 The COVID-19 pandemic has brought on a number of changes for the Cumberland County Library System — some of which may hang on long after the virus subsides.
The past year has seen the county's library network rapidly increase its infrastructure and offerings of remote services, a trend that existed before the pandemic but has, by all accounts, been accelerated by it.
"That was a huge switch to everything being virtual," said Carolyn Blatchley, the system's executive director.
"The chatter in the worldwide library community ... is that this has really opened people's eyes up to e-books for libraries," she said.
The library system, which consists of eight public libraries that receive county and state financial support, has seen a significant decline in traditional service. Library visits, as judged by door counters, were down 48% last year and are still off by about 45% through the first quarter of 2021, Blatchley said.
Circulation dropped 29% last year, although circulation of e-books and audio books jumped 34%, according to Blatchley.
Even as the county's libraries move toward re-opening their in-person services, the infrastructure built during the pandemic will benefit the county for years to come. Individual libraries, as well as Blatchley's central system, received tens of thousands of dollars in pandemic aid, which was used to rapidly expand the libraries' capabilities.
The most difficult part was finding and purchasing the necessary software and hardware, particularly cameras, to do remote programming on short notice, Blatchley said. But staff was able to adapt quickly, and online story-time became a big hit.
Pandemic assistance was used to install a book drop at the Amelia Givin Library in Mount Holly Springs, which previously did not have one. A grant of roughly $32,000 paid for collection expansion, including the use of an online tutoring platform and Kanopy, a streaming service geared toward public libraries and colleges.
Crucially, the county library system invested $15,000 of pandemic aid into purchasing Wi-Fi hot spots to help families with limited internet access.
"There was a parent who called me every month for three months saying 'You're sure you don't want me to return this?'" Blatchley said. "We said 'keep it, and give the password to all your neighbors.'"
In one respect, the pandemic was well-timed for the library system; the libraries were in the process of implementing a radio-tag system for all materials, Blatchley said, a process which often requires libraries to shut down for a few days as tags are stuck to every book and disc case.
But because in-person services were limited over the past year, the libraries were able to re-purpose staff to complete the project without any further disruption.
"It's a function that's really going to increase our accuracy and efficiency in circulation," she said of the tagging system.
Although fines and fees were down slightly over the last year, donations were up, Blatchley said. None of the county's libraries appear to be off more than 5% of revenue, at which point they would be eligible for additional assistance from the American Library Association.
In many ways the learning curve jump-started by the pandemic is still ongoing. E-books, for instance, present a whole new decision-making process for libraries, given how licensing is set up.
"Most are one license, one borrower, so only one person can view on one license at a time," Blatchley said.
Some licenses are indefinite, while others have to be renewed; it's a much different cost-benefit calculation than simply buying a hard copy of a book that will last forever if taken care of.
But the library system is taking the new structure in stride, and plans to roll out new apps and remote services alongside the new radio-tag catalog system.
"We're moving along and working on some exciting things," Blatchley said.