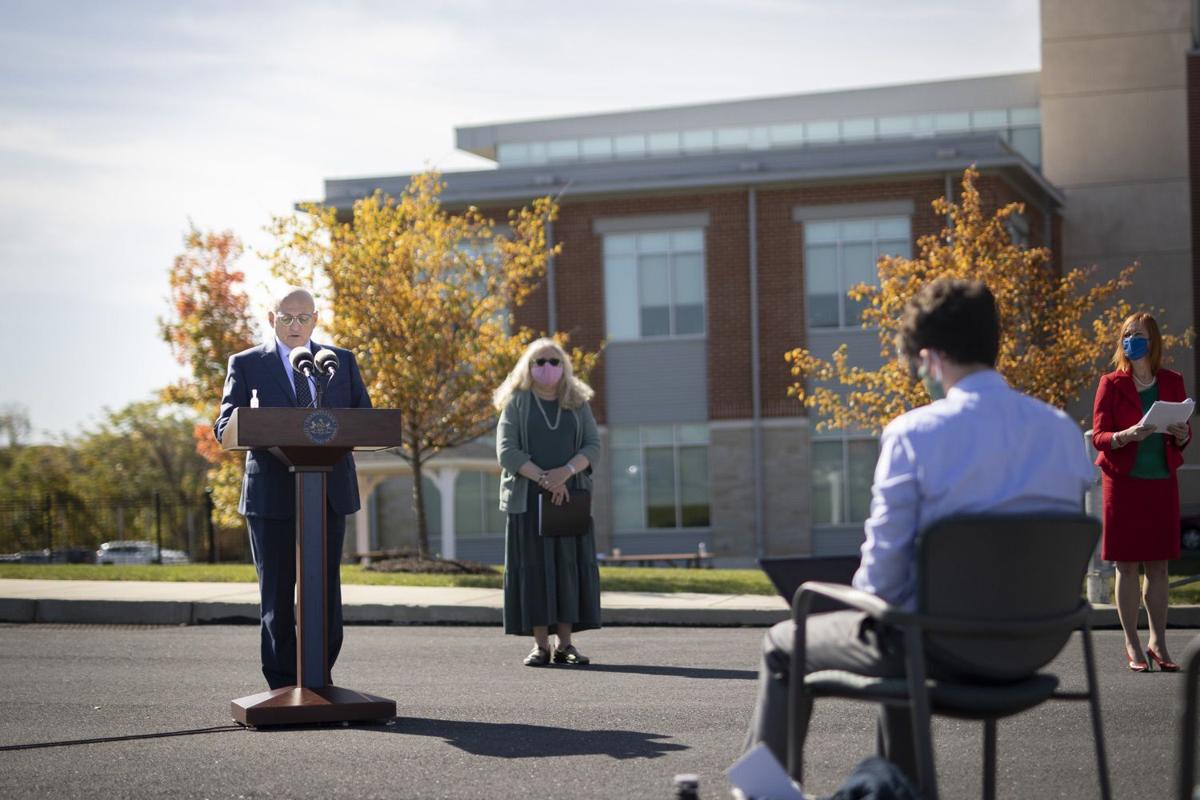 Nine straight days of more than a thousand new cases of COVID-19 has put Pennsylvania at what health officials believe is the start of the fall resurgence of the disease. However, the same state officials on Wednesday were quick to point out that Pennsylvania is in a much different place now than it was in March when the pandemic first arrived.
Health Secretary Dr. Rachel Levine on Wednesday said there were a few indicators of it being the start of a resurgence. Though testing capacity has increased since March to about 30,000 diagnostic tests a day and about 1,000 to 2,000 antigen tests per day, the percentage of tests coming back positive has also been on the rise. She said Pennsylvania as a state has not hit the 5% positivity mark that would be a cause for concern, but the rate is rising.
The rate of hospitalizations have also risen, and while not at the level it was in April, Levine said it is currently about double the hospitalization rate from a month ago.
"It's exactly the same trends seen across the country," she said. "It's very hard to predict what the future will bring, but Pennsylvania is clearly not an island, and we are reflecting what the rest of the country is seeing."
The exact reason for the increase is not as specific as it had been in September with the rise in college cases, Levine said. The current cases are among "younger people," which she defined as those in their 20s, 30s and 40s.
One area of concern, however, are small gatherings, which she said seems to be driving up the number of cases. It's also a worry going into the colder fall months when people are more likely to contract respiratory infections and be indoors with others.
Health officials during a news conference Wednesday promoted flu shots as a way to protect against one respiratory virus, and they said they will submit a state plan to the Centers for Disease Control and Prevention this week on how a phased distribution of the COVID-19 vaccine will work once that becomes available.
Even as Pennsylvania heads into the start of the resurgence, Levine said the state has no plans yet to change any mitigation guidelines that are in place.
Testing
Along with the availability of more personal protective equipment, state officials cited testing as a critical difference between now and the spring in containing the coronavirus.
At the start of the pandemic, COVID-19 tests were not readily available, and even two months ago, diagnostic tests across the country were straining private laboratories, resulting in delays in results. Health officials said Wednesday that there is still some shortage of reagent chemicals and plastics for the testing kits, but they hope an influx of antigen testing supplies will help, especially in high-risk populations, such as those at long-term care facilities.
Unlike diagnostic polymerase chain reaction, or PCR, tests that require a sample be sent to a label, an antigen test is a 15-minute test that uses a nasal swab and test card the size of a credit card to determine a positive or negative presence of COVID-19.
The Wolf administration on Wednesday began distributing the first allotment of 250,000 antigen test kits that were provided by the federal government and will continue to be provided through the end of December. In the first week, kits were distributed to Clinical Laboratory Improvement Amendments-certified institutions in Bradford, Centre, Lebanon, Montour, Northumberland, Schuylkill and Snyder counties, which have high disease incidence rates.
The test kits are in addition to those already being provided to skilled nursing facilities, personal care homes and historically black colleges and universities. CLIA-certified sites include long-term care facilities, institutions of higher education, drug and alcohol and behavioral health treatment centers, state and county correctional facilities and health care providers, which include health centers, urgent care centers, pharmacies and primary care doctors.
Targeted populations for such tests are those who live in congregate care settings, day care workers or clients, K-12 students and employees, university students, people without permanent housing, food distribution facility employees, food workers and first responders, according to the state.
The news comes as state officials fielded questions and concerns regarding the level of testing in Pennsylvania. A Johns Hopkins study had previously ranked Pennsylvania as 49th in the country in testing, but Levine said they investigated why they were ranked so low and determined it was due to states reporting testing differently. After adjusting how they report out tests and positives, Levine said Pennsylvania now ranks somewhere in the 30s.
"More important than the exact number of tests are ... how we're distributing the tests," she said. "We think our system is working well."
Concerned about COVID-19?
Sign up now to get the most recent coronavirus headlines and other important local and national news sent to your email inbox daily.