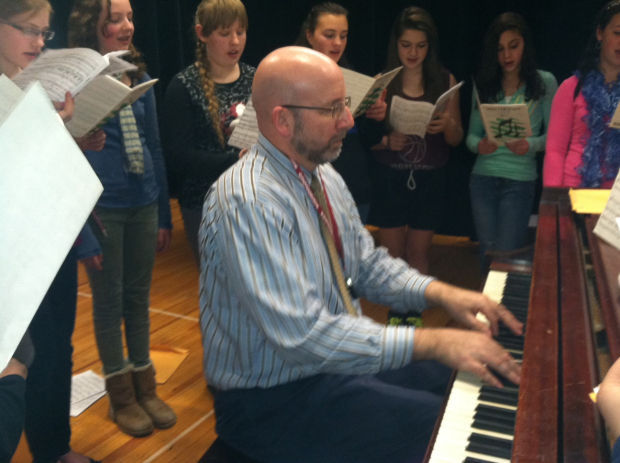 Many students participate in groups such as chorus, band and orchestra. But research shows that music is more than fun, it's also a link to lifelong success.
About 850 students in the Shippensburg Area School District participate in extracurricular music programs, and local educators say their students are learning many important skills.
"Music teaches the skills that the 21st century work force needs to succeed — creativity, teamwork, responsibility and problem solving," said Jen Enders, director of the seventh- and eighth-grade band and Jazz Hounds, as well as the sixth-, seventh- and eighth-grade orchestra. "Students involved in music have higher retention rates, higher test scores, higher self-esteem, and a higher quality of living. Band, orchestra and chorus also gives students an identity and connection in school that they may not be able to find elsewhere."
Sharon Rost, who teaches music to elementary school students in the Shippensburg school district, agrees.
"Music education is a mixture of creativity, discipline and communication — three things that help children succeed in school, in society, and in life," she said. "Every day, I see students beam with a sense of personal accomplishment through playing instruments, singing songs and dancing folk dances."
Beth Dickinson, Shippensburg's fourth- and fifth-grade orchestra director, said music gives students confidence.
"As I've told so many parents before, being part of a school music group is where parents should want their kids to be. ...They spend time improving themselves through practice and group participation and have a wonderful peer base," she said. "Being a member of a positively motivated peer group is influential on every student, and they have fun and make friends for life in the process."
Mark Wilson, director of the fifth- and sixth-grade band and sixth-grade jazz band, said music has always been an important part of his life. In fact, he credits music "for giving me the reason to want to go to school as a child, and for giving me the skills, self-discipline, tenacity and self-confidence to not only be successful in school and enjoy it, but to be successful and enjoy life."
"I learned so many invaluable lessons in music that carried over to life," he added. "I learned that success doesn't happen by mistake; it is a result of many, many right choices and hard work. I learned the incredible value of teamwork and performing as an ensemble. I learned that if something — like a piece of music or a problem in life — seems too difficult at first, not to give up."
He said his students are still learning those same lessons today.
Enders said Shippensburg is also blessed with an administration that supports music in its schools.
Herb Cassidy, school board president, said the district has worked hard to avoid cutting any of the music programs.
"The board supports the arts and music," he said. "I think our teachers are appreciative of us supporting it."
Students also appreciate the opportunities they receive.
"Music provides an escape," said Cole Souders, an eighth-grader who sings in the Accidentals jazz chorus. "The stress of school starts to weigh you down, but music provides a way to release it."
"Music helps me focus in my classes and work with my classmates," said ninth-grader Stephanie Jones, who is in the high school chorus, orchestra and band. "It's a place where I can express myself and not feel like I did anything wrong, like in math class."
"I like music because it's a way to get my mind off other things," said eighth-grader Cassidy Funk, who is also in the Accidentals. "I can always find a song that's about what I'm going through, and that helps bring you up."
"Music is very important to me," said senior Shannon Fields, who is in the Sharps, chorus and band. "As I have grown, so has my love for music. Jazz was my first love, other than Elvis Presley."
These students will be featured in the 14th annual Evening of Jazz, which will be at 7 p.m. Monday, March 10, at the H. Ric Luhrs Performing Arts Center at Shippensburg University. Proceeds will benefit the school district's arts and athletics council, which was established to raise money for arts and athletics projects in Shippensburg schools.
Tickets for this year's Evening of Jazz are $8 for adults and $4 for students. Prime seats are $15 each. Advance tickets must be purchased by Monday, March 3. Tickets will also be available at the door ($10 for adults and $5 for students). For a seating chart of the Luhrs Center, visit www.luhrscenter.com.
Get local news delivered to your inbox!
Subscribe to our Daily Headlines newsletter.