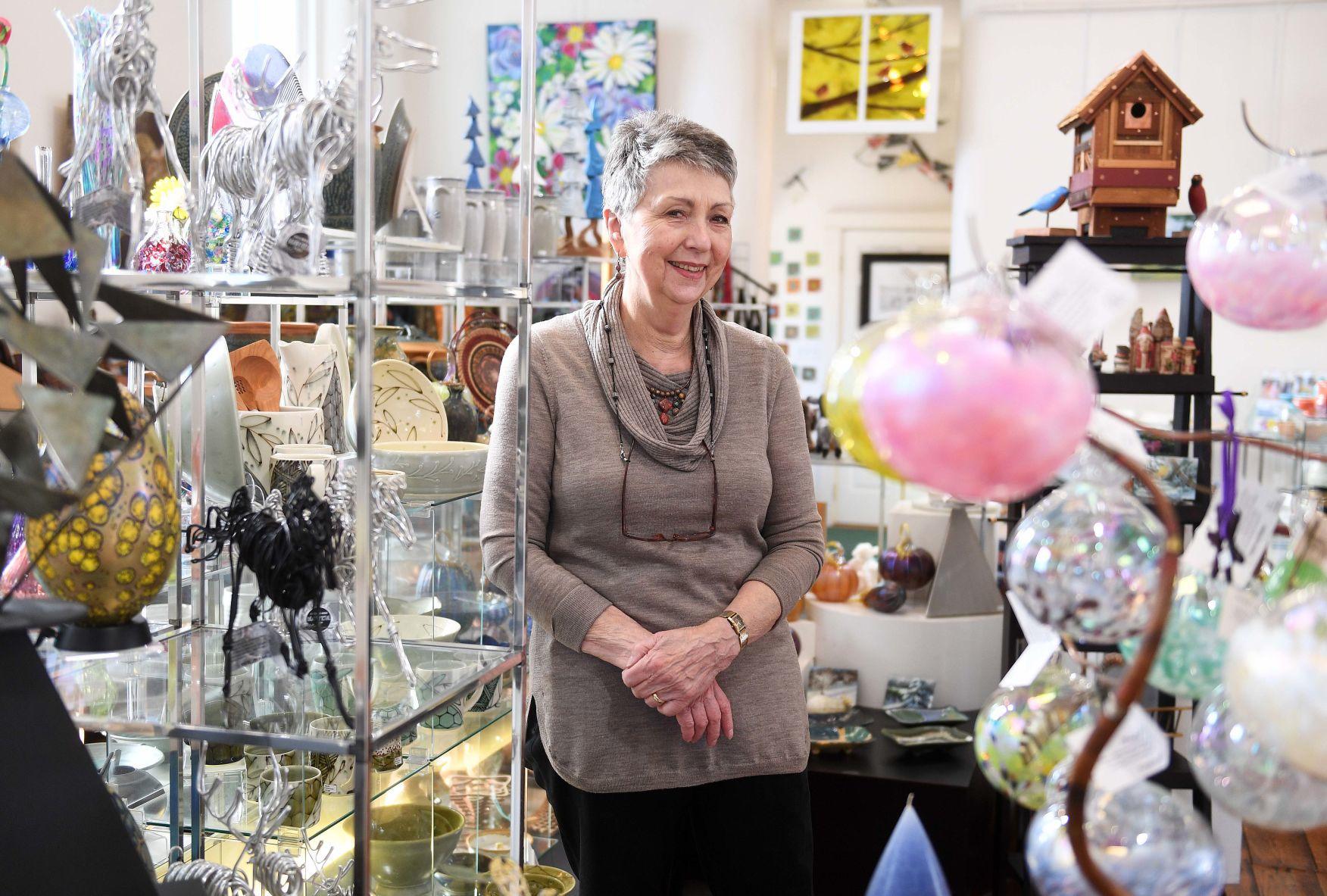 When a congregation planned to leave its home on Walnut and Fourth Street in Boiling Springs, PJ Heyman was just a stained glass artist working in her basement. The building's availability presented an opportunity to work in better lighting and be a start of something bigger for the Holland-born artist.
Nearly 25 years later, Heyman's Village Artisans Gallery is a space that has helped many local artists sell their work through consignment and become connected with one another, despite their varying specialties.
Heyman said the gallery initially started as a retail space with studios for three artists — herself, folk art carver Gay Foltz and a waterfowl carver. Then her consignment gallery went from selling work from about 50 artists in 1995 to anywhere between 170 and 200 artists. The waterfowl carver left a year after the opening in 1995, and Heyman notes there aren't enough hours in the day for her to continue producing stained glass art, Foltz still has a carving studio in the gallery space. Other visiting artists stop by to work and answer questions from patrons and visitors.
It's an opportunity that doesn't always present itself for local artists.
"It's really kind of hard" to find a place to sell artwork, Heyman said. "It depends on what you do."
"There's not a ton of ways other than doing craft shows," Foltz said. "It's hard to find a really good-quality gallery."
So far, artists have sought out Heyman, with some hearing about the gallery from other artists. Heyman gets to choose which artists' work she'll consign, and while that involves a discerning eye for art, it also involves simply getting along with the artist in question.
"I only work with nice people. I'll go out of my way to make sure everybody is happy," she said, noting that sometimes an abrasive artist isn't worth the time. "I don't need that. Life's hard enough as it is."
So far, though, Heyman is enjoying life as a gallery owner, and much of that enjoyment comes from where she lives.
Heyman married a military man and saw the area while shopping at the commissary at the Carlisle Barracks while they lived in York County. When it came time for his retirement in the 1980s, they were interested in settling in the Boiling Springs area, eventually opting to live a little outside of the village.
"I wouldn't want to live anywhere else," she said.
After a few decades, Heyman still loves the village and is an active participant in making sure Boiling Springs and the local art scene gets noticed. She is a member of the Boiling Springs Civic Association, which she said helps keep the village idyllic, and she's also involved with the Foundry Day Arts & Crafts Festival, which brings juried artists to the village every June.
What she's been most proud of, however, is spearheading American Craft Week in the area after joining the national committee when the effort was first launched to promote art about 10 years ago. She also helped form Cumberland Valley Arts, which helps showcase galleries and artist studios in the area. The last is a volunteer effort that has been helped by grants from the Cumberland Valley Visitors Bureau, and one she is looking forward to expanding.
The Village Artisans Gallery
How many years in business: Opened on April 1, 1995, and will be in business for 25 years in 2020
How many years at current location: 24 years, 6 months on Nov. 1 at 321 Walnut St., Boiling Springs
Hometown: Winterswijk, Holland
What do you like best about what you do?
"Bringing the work of American, but in particular Pennsylvania, craftsmen and artists to the public."
What is the toughest challenge you face?
"Finding enough hours in the day to make it all succeed."
Why is it important for a small business to be involved in the community?
"Every business is a part of the community; we need each other."
What's your proudest accomplishment as a small business owner?
"Going from starting as a stained glass artist selling my work at craft fairs to opening a shop with the onsite studio of folk art carver Gay Foltz and becoming a destination for visitors to Cumberland Valley and Boiling Springs. Teaming up with other fine craft and art related venues in Cumberland Valley to form Cumberland Valley Arts (CVArts) to increase awareness, appreciation and accessibility to the rich heritage and ongoing growth of fine Arts and Crafts in the Cumberland Valley PA. CVArts committee members: Kristin Tuckey – the greatest gift, Carlisle; Cathy Stone – CALC; and Elaine Haag – Elaine Haag Designs."
What are the key elements of your business success?
"Finding quality, different, reasonably priced handmade merchandise. Treating my customers, craftspeople and artists the same way I would like to be treated. Being a member of the PA Guild of Craftsmen, the Cumberland Valley Visitors Bureau. Having the working studio of Folk Art carver Gay Foltz on the premises."
"For the future, I want to stay involved in making Cumberland Valley, PA, the place to come for fine American-made art and crafts."
"Every business is a part of the community; we need each other."

— PJ Heyman
Be the first to know
Get local news delivered to your inbox!