Looking back at former Carlisle football coach Neil Hickoff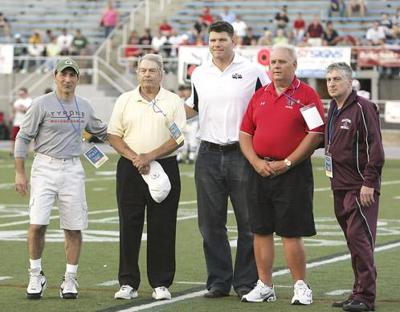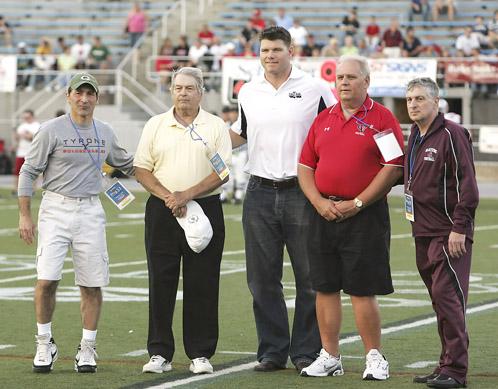 Former Carlisle High School football coach Neil Hickoff died Friday at the age of 85 after a long battle with heart disease.
Hickoff, a graduate of Duncannon High School and Gettysburg College, coached 24 seasons compiling a record of 152-77-8. His coaching career included Lykens High School 1958-1965, Bermudian Springs High School 1965-1970, Central Dauphin East High School 1970-1975 and Carlisle High School 1975-1981.
He led Carlisle to an 11-0 record in 1981.
Hickoff was elected to the Capital Area Sports Hall of Fame (1994), the Adams County Sports Hall of Fame (2003) and the Pennsylvania Scholastic Football Coaches Hall of Fame (2009). He was also named Coach of the Year by the Harrisburg Old Timers Association in 1973 and 1981.
A viewing for Hickoff is scheduled for Friday, Dec. 8 between 6-8 p.m. An open casket service will be heled Saturday, Dec 9. at 11 a.m. at The Boyer Family Funeral Homes, 230 N High St., Duncannon.
Former Sentinel reporter Andy Sandrik published this story about Hickoff on June 20, 2009, celebrating Hickoff's induction into the Pennsylvania Scholastic Football Coaches Association Hall of Fame:
---
The last time Tim Rimpfel and Neil Hickoff crossed paths on the football field was nearly 30 years ago in 1981. It was the 10th game of the season and Rimpfel's Bishop McDevitt Crusaders were taking on Hickoff's undefeated Carlisle Thundering Herd.
"It was my first year at McDevitt, we were on a run and won seven straight," Rimpfel said. "We marched down the field for a touchdown, and then they hammered us."
Carlisle scored 28 unanswered points to hand Rimpfel's squad a 28-7 loss. It wasn't pretty, but Rimpfel learned a lesson from the whole thing.
"We were a little tense coming into that game," Rimpfel said. "His team was smooth and wide open and they kicked our butts. He had his kids relaxed and ready to play football."
As it turns out, 1981 was Hickoff's final season as a high school head coach. His team finished 11-0, but not not as the state champions. There weren't playoffs back then, so according to the Dr. Saylor Rating System, Carlisle was picked as the fourth-best team in the state.
"When you rank with a computer system, there's a good chance of error and mistakes there with that," said Hickoff, who added he is not a fan of the BCS system. "I've always maintained we should've had playoffs in football. In basketball, they had the playoffs for years."
A year after Hickoff retired, the playoffs were instituted in the PIAA system, opening the doors for coaches like Rimpfel. In 1992, Rimpfel's Cumberland Valley team made good on a perfect season, taking out Upper St. Clair for the Class AAAA Championship.
"It was a storybook season, I know it's a trite saying, but it was a magical season," Rimpfel said. "We knew we had good talent coming back and it just worked out well schedule-wise. I don't care how much talent you have, winning a state championship is so tough to do. The teams that you're facing don't have many weaknesses."
Rimpfel, with a career mark of 264-88-1, and Hickoff at 152-77-8, were both inducted into the Pennsylvania Scholastic Football Coaches Association (PSFCA) Hall of Fame on Friday night, along with Frank Scagliotta and John B. Franco, at the Hershey Lodge and Convention Center. All four will be making appearances at tonight's Big 33 game at Hersheypark Stadium.
"The big thing I think is I know I'm going to see some people I haven't seen for a long time, which is a big thrill," Hickoff said in an interview prior to the induction. "It's been a long time coming, there are a lot of people in there that we played against and were fairly successful against."
"It's an honor, definitely, there's so many people I have to thank for getting me where I am today," Rimpfel said. "For me it's special because the first year that they had a coaches Hall of Fame, my coach Tony Cernugal was the first one inducted."
Moving up the ranks
Hickoff was fortunate in that he was a fantastic coach and athlete.
Hickoff, a 1951 graduate of Duncannon High School, piled up the honors as a kid.
He was elected as a quarterback to the Twin Valley All-Star Football Team, named the MVP of his basketball league and named the starting pitcher in the All-Star baseball Game. He was voted by his football teammates as the "Player's Player of the Year."
"I came from a very athletic family to start with and I have to give my three older brothers credit, seeing them playing got me started a little earlier than them," Hickoff said. "Surprisingly, in those days, there weren't a lot of schools recruiting players, but I was recruited fairly heavily and I flew to the University of Arkansas for a tryout. I wanted to play basketball, but there were guys there who were 6-9 and 6-10, it discouraged me from playing."
So Hickoff stayed in Pennsylvania, electing to play football for Gettysburg College. He was there for one-and-a-half years before he was drafted into the Army. Hickoff was away from home, but his favorite game was still accessible to him. Assigned to Austria, Hickoff quarterbacked the Area Command Golden Bears and led his team to an 8-1 season.
"We had a pretty good American Forces league in football," Hickoff said. "Sometimes I think it was a better team than the one I played on in college."
Hickoff's squad played eight of it's games in Austria and another one in Italy.
"We lost one game and missed the championship," Hickoff said. "I was selected as the starting QB on the All-Star team."
Lykens High School
Hickoff returned to the states and finished his degree in 1957. The next year, Hickoff was the head coach at Lykens High School. Early on, the numbers certainly didn't indicate that Hickoff was a Hall of Fame coach. Thirty-five percent of Hickoff's losses came in his first four years at Lykens.
"I was going to be an assistant coach, but then the head coach resigned and they asked me if I wanted to be the head coach," Hickoff said. "I asked for $200 more and they said OK … it was a big raise."
After taking his lumps, Hickoff came up with his own offensive system in 1962 and things got better from there as he had just one losing season over the next 20 years.
"I devised a system that had rules for the backfield that applied no matter what the formation," Hickoff said. "We used four or five rules for any specific series. There were seven different series, so I was able to use this system to run an awful lot of plays."
In 1962, there were 13 students in the entire senior class, five girls and eight boys. That was the year that Hickoff and Lykens won the school's only Twin Valley League Championship.
Bermudian Springs
Hickoff, in the business of turning programs around, went in 1965 to Bermudian Springs, a team that had never experienced a winning season. With Hickoff at the helm, the Eagles had five straight winning seasons, a record of 37-9-1 and were twice ranked second in Class C football in District 3. One player, Charles Green, played in the Big 33.
"I was very pleased with the talent we had at Bermudian, I was shocked they hadn't had a winning season," Hickoff said. "We lost our first two games, but then we won seven of our last eight and tied one. It got motivation in the school and more kids came out and we had five straight winning seasons."
C.D. East
In 1970, Hickoff went to work turning around another loser, the CD East Panthers. Once again, Hickoff was with another team that had never had a winning season. At CD East, a bigger school with more exposure, it became very clear that maybe Hickoff was on to something.
The Panthers became a power and racked up many honors, including five straight winning seasons, a record of 37-11-2, co-champs of the Central Penn League in 1973 and outright champs of the league in 1974. Both those years, CD East was ranked in the Top 10 in Class AAAA football. In his first year, Hickoff was selected as the Coach of the Year and in five years, he had five players named to the Big 33 squad: Dave Teter, Dick Keyes, Jim Wicks, Rick Zimmerman and Win Green.
"No one remembers except for maybe the guys that played on those teams that we were the dominant team in the Central Penn League the last two years I was there," Hickoff said. "People asked me what the difference was between East and Bermudian. There were more athletes there because it was a bigger school. There were a lot more guys with top ability. We had five Big 33 players and haven't had one in 32 years since then. It's very difficult for me to believe that they wouldn't have any more."
Hickoff took over at Carlisle in 1975 (see sidebar) before retiring after the 1981 season.