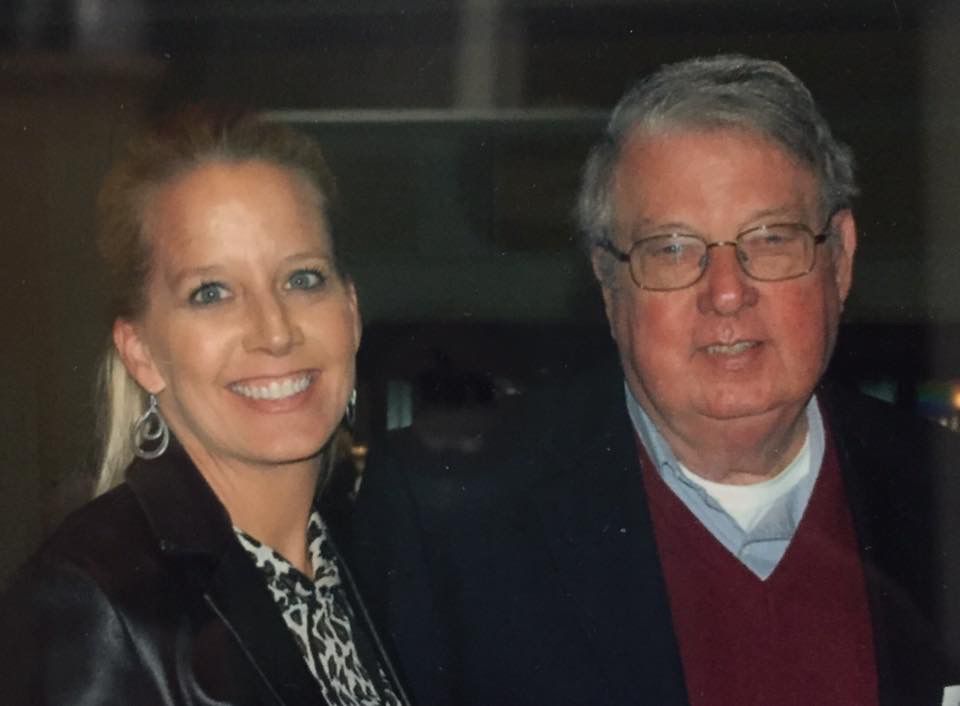 Jacki Fleniken and her father were happy with his placement in Chapel Pointe at Carlisle's personal care home, until one day — two days after Christmas, in fact — Fleniken received a shock.
Staff at the South Hanover Street facility told her that they could no longer properly care for her father, Wayne Powell, the former publisher of The Sentinel who has dementia. They said he needed a higher level of care they couldn't provide.
Fleniken wasn't so sure. She believes it would have been so crushing to his emotional state and motivation that it would "kill him" to be placed in high-level skilled nursing care. At the very least, she wanted some time to think.
Chapel Pointe, though, wanted her to immediately sign documents to move Powell to a different facility, she said. When she refused, Chapel Pointe leadership followed up with a Jan. 31 letter threatening "formal legal action" if she did not work with them on the transfer.
"I couldn't sleep," Fleniken said. "I was a mess."
The story eventually had a happy ending, as Fleniken arranged for Powell to move to Country Meadows of Mechanicsburg at his current level of care, she said. It scares her, though, to think what could happen if a resident's closest family member is an elderly spouse who doesn't know how to assert his or her rights.
"(What if) the wife says, 'OK,' and they take him somewhere that he's not ready to be?" she said.
Chapel Pointe CEO Deborah Sprague said she could not discuss Powell's care due to privacy regulations. In general, however, Chapel Pointe has "ongoing, open and honest" communication with loved ones and only asks a resident to find an alternative facility as "the last resort after we have exhausted all other interventions," she said.
"We work closely with residents and family members to follow the residents' care needs so that if the time comes when we agree that they need to move to the next level, it does not come as a surprise," Sprague wrote in an email.
The Sentinel examined what rights a child or spouse of a person with dementia has when they disagree with the decisions of the facility that cares for them.
How assertive should I be in protecting my loved one?
Cumberland County Aging & Community Services Director Sandra Gurreri said you should be a strong advocate, with one caveat: the resident's own preferences are paramount. The mere fact that someone has dementia does not necessarily mean they are incapable of making decisions about their own care.
Fleniken said that in her case, assertiveness was necessary.
"They put me in a spider web ... and they spun it around me, and they were trying to trick me, and they wouldn't let me out of that web," she said. "I broke out of the web, and I saved my dad from having to go to skilled care. I don't want that to happen to anybody else."
Does the home have to tell me when they make changes?
A facility should and typically will tell the responsible loved one when there are changes to the resident's care or condition, even calling people in the middle of the night if the change is severe, Gurreri said.
However, facilities typically prefer to consult with one person on behalf of all of the resident's loved ones, she said. That person is referred to as a "designated person" in state law.
Facilities also have periodic care conferences for each resident, and a person with dementia and their family members have a right to be present for those conferences, according to the Alzheimer's Association.
Chapel Pointe maintains communication with the loved one authorized to act on behalf of, or in conjunction with, a resident, Sprague said.
"We keep them informed with any change of condition and welcome their insights for caring for their loved ones," she wrote.
Can the home discharge my loved one without my permission?
State law forbids a home from discharging or transferring a resident unless one of several conditions are met — for example, the home closes, the resident has not responded to reasonable efforts to obtain payment, repeated rules violations or the home determines it can no longer meet the resident's needs because of an advance or decline in the resident's condition. If there is a disagreement between the resident or their designated person and the home, state law requires "consultation with an appropriate assessment agency or the resident's physician."
It also requires a home to give a 30-day advance written notice before discharging or transferring a resident, unless a delay "would jeopardize the health, safety or well-being of the resident or others in the home."
The facility must problem-solve the concern before pursuing a discharge, and a doctor must document the reason for the discharge, according to the National Long-Term Care Ombudsman Resource Center. It must also assist with finding another placement for the resident, and the location to which a person is discharged must be listed on the discharge form.
Discharge notices can be appealed, and the resident has the right to remain in the current facility during the appeal, the Resource Center says.
Sprague said Chapel Pointe gives the required 30-day notice if relocation is needed, and makes that determination with input from the resident's physician, other medical providers, the resident's designated person, and the Area Agency on Aging if permission is granted.
Can I see medical records?
If the resident wants their designated person to see their medical records, a facility must honor that request, Gurreri said. However, nursing homes can limit how you see the information, for instance, requiring you to view it at the facility or charging for copies.
Will an ombudsman help me?
Each county has an Area Agency on Aging with ombudsmen who are happy to help, Gurreri said. They don't have regulatory powers, but they work with residents and families to assist in navigating the process and answering questions.
Family members should realize, however, that the ombudsmen are resident-driven. If loved ones are concerned about a resident's care, the first thing an ombudsman will do is contact the resident to see what he or she actually wants, Gurreri said.
The Cumberland County ombudsmen can be reached at 717-240-7300.
"We work closely with residents and family members to follow the residents' care needs so that if the time comes when we agree that they need to move to the next level, it does not come as a surprise." -Deborah Sprague, Chapel Pointe
Daniel Walmer covers public safety for The Sentinel. You can reach him by email at dwalmer@cumberlink.com or by phone at 717-218-0021.
Get local news delivered to your inbox!
Subscribe to our Daily Headlines newsletter.