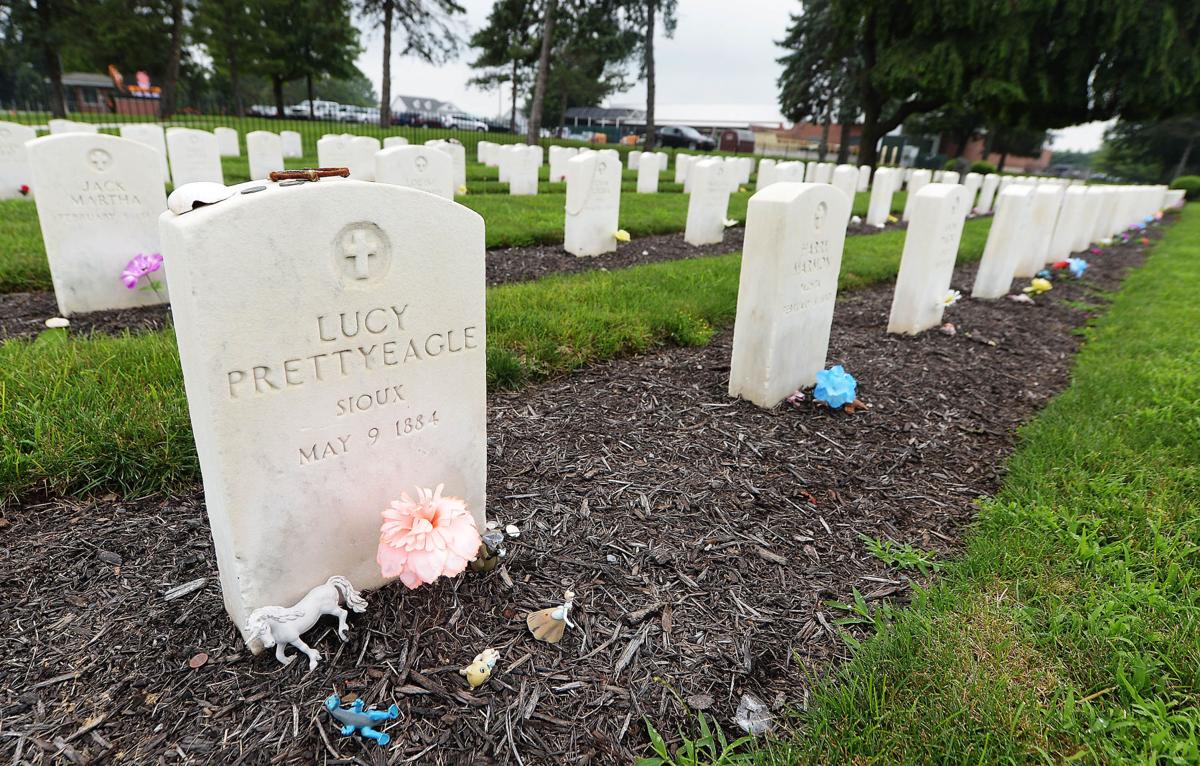 The Department of the Army has scheduled June 14 as the start date to disinter the remains of 10 Carlisle Indian Industrial School students who died between 1880 and 1910 and are believed to be buried in the Carlisle Barracks cemetery along Claremont Road.
The notice of intended disinterment from the cemetery was published in the April 2 edition of the Federal Register. The Office of Army Cemeteries (OAC) is honoring the requests of the closest living relatives of nine students from the Sioux Nation and one student from the Alaskan Aleut Nation.
The names on the list include some of the earliest students enrolled at Carlisle – the first non-reservation boarding school in the country. Open from 1879 to 1918, the school was designed as a social experiment to remove native boys and girls from tribal influences, assimilate them to the white man's culture and teach them a trade.
The list includes Lucy Pretty Eagle who occupies a prominent spot in the folklore of Carlisle Barracks and among the tombstones of the post cemetery.
Situated in the front row, at the far corner of the burial ground, her grave marker is among the first to catch the eye of many a motorist entering the historic Army installation. Local historians have tried to debunk the story that her ghost haunts the Coren Apartments on post.
Work to prepare the post cemetery for disinterment activities will take place in the days leading up to the start date, said Carol Kerr, spokesperson for Carlisle Barracks. The setup will include the installation of privacy fencing along with tents for the experts involved in the disinterment. No changes are anticipated in traffic entry and patterns on post.
Dickinson College has an ongoing project where Carlisle Indian School student records stored at the National Archives in Washington, D.C., are scanned into a digital resource center at carlisleindian.dickinson.edu.
Here is what is known about children whose remains may be exhumed in June, starting with the student from Aleut Nation followed by the nine students from the Sioux Nation.
Sophia Tetoff was 12 years old when she arrived at the Indian School on July 26, 1901. From April 3, 1902 to May 16, 1905, she was assigned to five different off-campus worksites in New Jersey, Maryland and Pennsylvania to receive on-the-job training. Tetoff died of tuberculosis on May 6, 1906.
Lucy Take the Tail (Pretty Eagle) arrived at Carlisle on Nov. 14, 1883, but died on March 9, 1884. She was mentioned in a brief published in the March 1884 edition of The Morning Star, a student publication. The brief reads: "She came to us about four months ago and was not in health then. Her father [Pretty Eagle] having heard she was sick, wrote to us that he was very much concerned about her because 'she had died the year before,' but had come to life again.'" No explanation was given on what exactly he meant.
Rose Long Face (Little Hawk) was 18 when she was in the first group of female students to arrive at Carlisle on Oct. 6, 1879. She died on April 29, 1881.
Ernest Knocks Off (White Thunder) was 18 when he arrived on the campus on Oct. 6, 1879. He died on Dec. 13, 1880. A write-up in the student publication Eadle Keatah Toh states that Ernest was sent to the hospital in October 1880 for treatment of a slight sore throat. While there, Ernest refused both medicine and food. By the time Ernest consented to treatment, he was so weak and exhausted that he could not be saved.
Maud Little Girl (Swift Bear) was 17 when she arrived on campus on Oct. 6, 1879 with the first group of female students. She died on Dec. 13, 1880 – the same day as Ernest Knocks Off. "Maud was a bright, impulsive, warm-hearted girl much loved by her school mates," The Eadle Keatah Toh reported. "She came to the Training School suffering from diseased lungs, and so had not strength to resist pneumonia which seized her."
Dennis Strikes First (Blue Tomahawk) was 12 when he arrived on campus on Oct. 6, 1879. He died of typhoid pneumonia on Jan. 19, 1881. "Dennis was a bright, studious, ambitious boy, standing first in his class, and of so tractable a disposition to be no trouble to his teachers," The Eadle Keatah Toh reported.
Friend Hollow Horn Bear was 17 when he arrived on the campus on Nov. 14, 1883. He died May 21, 1886.
Warren Painter (Bear Paints Dirt) was 15 when he arrived on the campus on Nov. 30, 1882. He died on Sept. 30, 1884. He had one Outing assignment to an off-campus site during his enrollment as a Carlisle student. From April 2 to August 30, 1884, he worked the Childs household of Dansboro, Bucks County, Pennsylvania.
Alvan (One that Kills Horse) was 12 when he arrived in Carlisle on Oct. 6, 1879. He died on March 29, 1882. A fellow Sioux, Luther Standing Boy wrote the following in a March 31, 1882 letter to his father Standing Bear: "The day before yesterday, one of the Sioux boys died. His name was Alvan. He was a good boy always. We were very glad for him. He is better now than he was on Earth." Luther believed that Alvan had gone to Heaven.
Dora Her Pipe (Brave Bull) was 16 when she arrived on the campus on Oct. 6, 1879. She died at 11:50 a.m. on April 24, 1881, according to a letter from Dr. C.H. Hepburn, her attending physician. Dora was first admitted to the hospital that January with a moderate fever and chest pains. Hepburn believes her lung disease had been in progress undetected for a long period of time. Hopes of a full recovery ended in early April when she contracted measles and suffered a relapse of her main pulmonary disease.