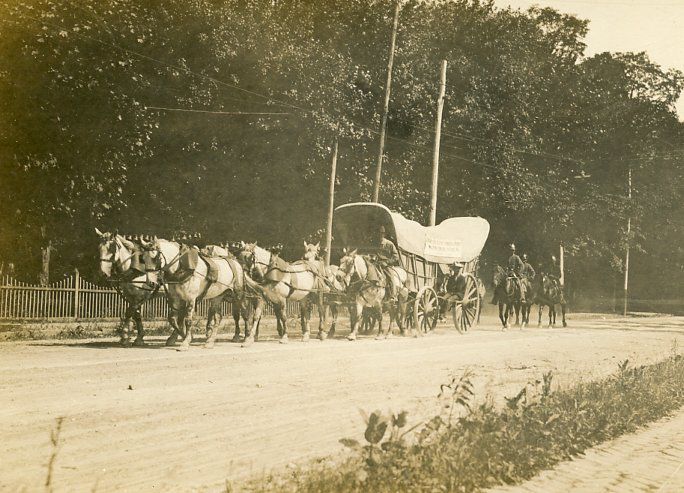 Hundreds of local residents gathered around the Conestoga wagon parked on South Hanover Street in downtown Carlisle.
It was Tuesday, July 10, 1913, and the nearly one-ton vehicle had made a stop on its 28-day journey from the DuPont Powder Mills in Wilmington, Delaware, to Erie.
A team of six gray horses, decked out in reproduction harness, had pulled the wagon north up the Holly Pike. Four troopers on horseback provided the military escort. The men were dressed in War of 1812 style uniforms complete with saber, flintlock pistols and powder horns.
"Even the saddles are duplicates of those in use a century ago," The Sentinel reported on June 11. "Everything about the wagon and its escorts are the same as those of 1813-1814, except for the absence of the powder and the tents for the men." Perhaps the only modern feature was the first aid kit.
The 500-mile journey was the brainchild of the DuPont advertising department. It was an effort to recreate a mission that supplied gunpowder to friendly forces. The route came across southern Pennsylvania before turning north for Erie where celebrations were planned for the 100th anniversary of the Battle of Lake Erie.
Fought on Sept. 10, 1813, the battle was the first unqualified defeat of a British naval squadron in history, according to history.com. Capt. Oliver Hazard Perry led a fleet of nine American ships to victory against six British warships.
After the battle, Perry sent the famous dispatch to U.S. Gen. William Henry Harrison "We have met the enemy, and they are ours." The victory forced the British to abandon Detroit, ensuring American control over Lake Erie and territory in the northwest.
While in Carlisle, the wagon crew distributed thousands of souvenir postcards to residents. The horses were put up for the night at boarding stables while the men stayed at the Pennsylvania House. The plan was to depart the morning of June 11 on the next leg of the journey that included a visit to Shippensburg.
Departure was delayed until noon because one of the cavalry horses went lame. Bretz livery in town replaced the animal. Aside from being a stopover, Carlisle had another tie-in to the DuPont powder wagon expedition. Col. Gerard of the 15th U.S. Cavalry was the officer in charge of selecting the military escort. He was known locally because he married Minnie Lane of Carlisle.
Tour through Time runs Saturday in The Sentinel print edition. Reporter Joseph Cress will work the Cumberland County Historical Society each week to look at the county through the years. Send any questions, feature or tips to jcress@cumberlink.com.