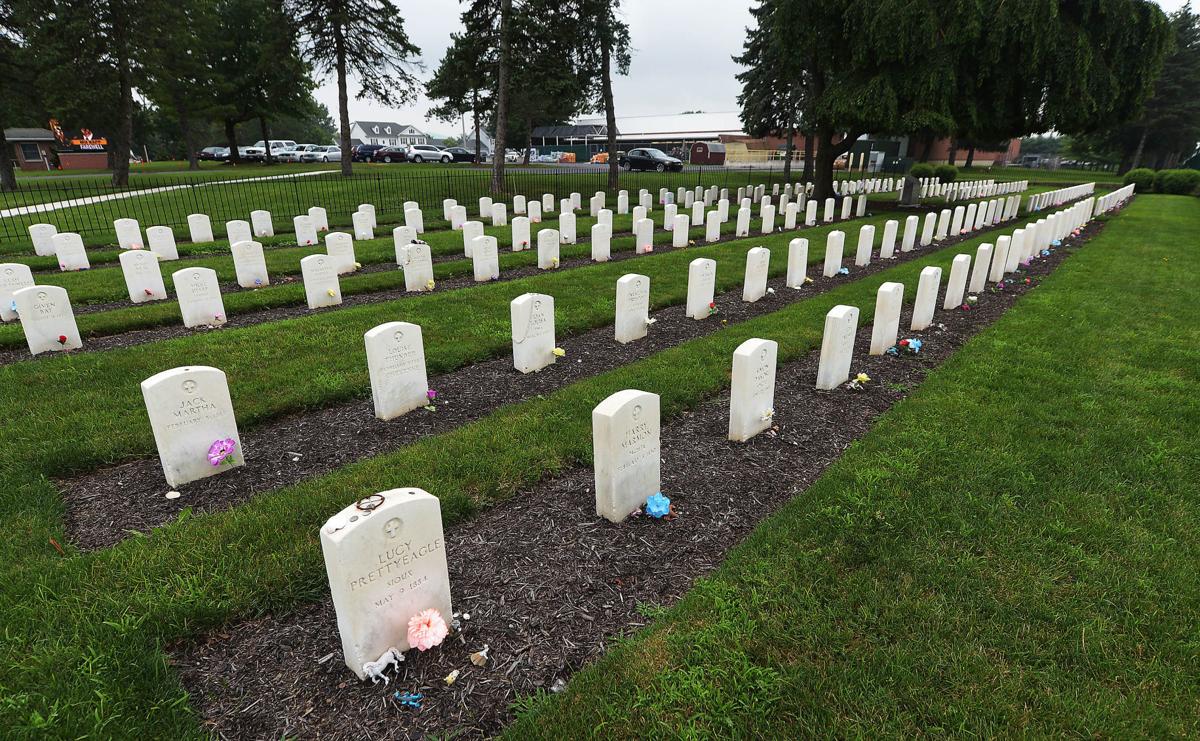 The Department of the Army has scheduled June 15 as the start date to disinter the remains of six Carlisle Indian School students who died in the 1880s and 1890s and are believed to be buried in the Carlisle Barracks Post Cemetery.
The notice of intended disinterment from the cemetery was published in the May 3 edition of the Federal Register. The Army National Military Cemeteries is honoring the requests of the closest living relatives of Ophelia Powless, aka Ophelia Powlas; Sophia Caulon, aka Sophy Coulon; Jamima Metoxen, aka Jemima Meloxen; Henry Jones, Alice Springer and Adam McCarty, aka Adam McCarthy.
The Army will disinter, transfer custody, transport and reinter the remains in private cemeteries chosen by the families of the six students. This is the third consecutive year the Army has honored requests from families to repatriate students' remains to tribal lands.
Dickinson College has an ongoing project where Carlisle Indian School student records stored at the National Archives in Washington, D.C., are scanned into a digital resource center at Carlisleindian.dickinson.edu. Here is what is known about the six students whose remains may be exhumed in June:
Sophy Coulon
A member of the Oneida Nation, Coulon was 13 when she arrived at Carlisle Barracks from Wisconsin on March 23, 1888. From May 23, 1888, to Dec. 3, 1892, she participated in four Outings where Indian school students are sent to off-campus worksites for hands-on vocational training. She died on Jan. 19, 1893. The Indian Helper of Jan. 23 reported that Coulon had suffered from tuberculosis of the bladder and kidneys. The student publication described her as a "nice, good, quiet girl" who "rested more quietly during the last few days." It was said her passing so resembled natural sleep that watchers did not realize her moment of death.
Henry Jones
A member of the Iowa Nation, Jones was a 16-year-old orphan when he arrived at Carlisle Barracks on Feb. 25, 1880. The arrival date on his student identification card conflicts with an April 1880 report in the student publication Eadle Keatah Toh. According to that source, Jones was one of eight students who had arrived March 2 from the Iowa, Sac and Fox tribes. He died on March 20, 1880, following an illness of 36 hours. An autopsy revealed Jones had a heart disease. "Henry was a bright boy, in scholarship somewhat in advance of our highest class. His death cast a gloom over our usually happy community," the April report reads.
Adam McCarty
A member of the Modac Nation, McCarty was 17 when he arrived at Carlisle Barracks on Dec. 20, 1881. He participated in one Outing from April 16, 1882, to May 19, 1883. Two months later, on July 24, 1883, McCarty died of tuberculosis.
Jemima Metoxen
A member of the Oneida Nation, Metoxen was 16 when she arrived at Carlisle Barracks from Freedom, Wisconsin, on Sept. 11, 1903. "She was not ill very long and died of spinal meningitis," according to the April 8, 1904, edition of the Red Man and Helper. School records put her date of death at April 6, 1904.
Ophelia Powlas
A member of the Oneida Nation, Powlas was a 15-year-old orphan when she arrived at Carlisle Barracks from Green Bay, Wisconsin, on Aug. 16, 1889. School records put her date of death at Feb. 1, 1891.
Alice Springer
A member of the Omaha Nation, Springer was 13 when she arrived at Carlisle Barracks on Aug. 19, 1882. She died of tuberculosis on Nov. 12, 1883. "She was a member of the Presbyterian Church and while she was anxious to get well, [she] was not afraid to die," the Morning Star, a student publication, reported in its November 1883 edition.
Be the first to know
Get local news delivered to your inbox!