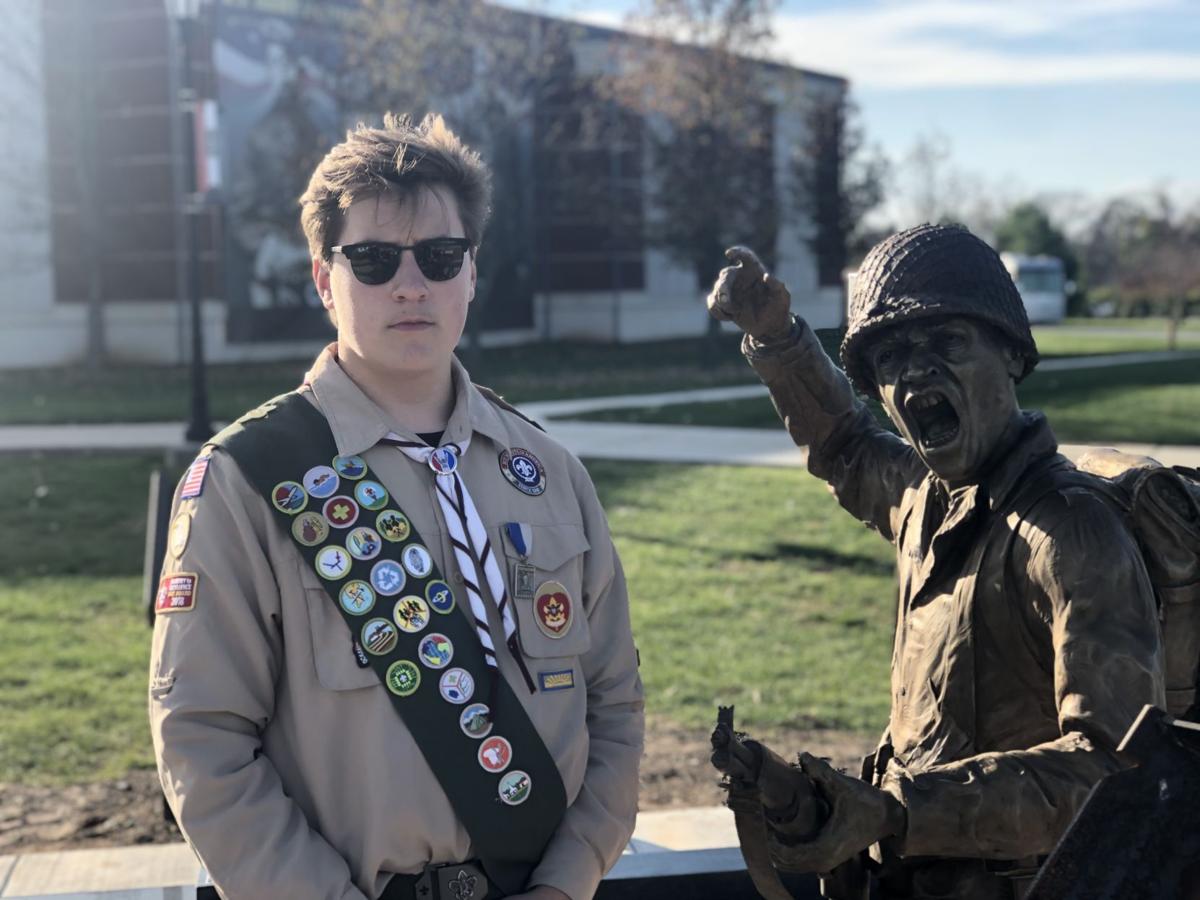 Local Eagle Scout Christopher Adam has earned a national title for his work on the Liberation Pointe memorial project at the U.S. Army Heritage and Education Center in Middlesex Township.
A junior at Trinity High School, the Hampden Township youth advanced beyond the council and regional level to win the Glenn A. and Melinda W. Adams National Eagle Scout Service Project of the Year Award for 2020.
The award was presented Sunday afternoon during a ceremony on the AHEC campus attended by scout executives, community leaders, state government officials and World War II veterans.
Adam is the first Eagle Scout from the New Birth of Freedom Council to win this national title, said Ron Gardner, chief executive officer of the council which covers Cumberland, Adams, Dauphin, Franklin, Perry and York counties.
An advancement committee had selected Liberation Pointe as the number one project from the council, Gardner said. This qualified the project for the Northeast region competition before it advanced to the national level where Adam earned the project of year award.
"It's a tremendous accomplishment for him," Gardner said of Adam. "The scale is incredible compared to most Eagle Scout projects. He really extended himself way above and beyond what you would say is a minimum requirement for a good Eagle project."
A salute to World War II veterans, Adam got the idea for the memorial during an honors history class. He was one of only three in a classroom of 25 students to raise his hand when the teacher asked if anyone knew about the D-Day invasion of Normandy, France, on June 6, 1944.
The scant response from classmates moved Adam to take the initiative to develop Liberation Pointe, which consists of two bronze statues enclosed within a marble pentagon. Each of the five sides represents a different D-Day invasion beach: Omaha and Utah where the Americans landed, Gold and Sword where the British landed and Juno where the Canadians landed.
Each side has an information marker with a map showing the beach location, a summary of what took place there, a list of the Allied and Axis units engaged and the eyewitness accounts of three veterans who survived the D-Day assault.
AHEC visitors can access the memorial by a walkway flanked on either side by information panels detailing the invasion and the special operations that helped make the landings a success.
"I'm just impressed that a young person wanted to do something to commemorate the sacrifices for our freedoms by that generation of Americans," Gardner said. "It was just a wonderful thought."
Anita Adam, Christopher's mother, said, "We are very humbled and proud of his achievements. He chose a worthy topic and worked very hard to accomplish his goal."
In pursuit of his project, Christopher Adam negotiated a price of about $40,000 to have Art Research Enterprises of Lancaster sculpt and cast two bronze statues that are generic representations of U.S. soldiers from World War II. To raise funds, Adam went on the road and visited 20 to 30 VFW and American Legion posts in Cumberland, Dauphin, Perry and York counties.
The statues are positioned next to a tank obstacle called a hedgehog, a common defensive fixture on D-Day beaches. For that design feature, Adam had to work with a metal fabrication shop and learn how to weld and rivet the metal parts together.
The Pennsylvania Granite Corp. of Elverson, Chester County, donated $44,000 of black granite toward the project, which Adam polished by hand with help from employees of Down East Fabrications of Mechanicsburg.
Other companies came in to pour the concrete walkway and to install the statues and granite sides. Adam brought in Boy Scouts to help him place loose stone in the middle of the pentagon and to install benches and plant trees.
The mounts for the information markers were put in by AHEC staff while Adam prepared the text and compiled the visual elements with input from the Army.
All told, Liberation Pointe involved 18 months of development and $150,000 to $200,000 worth of donated labor and material.