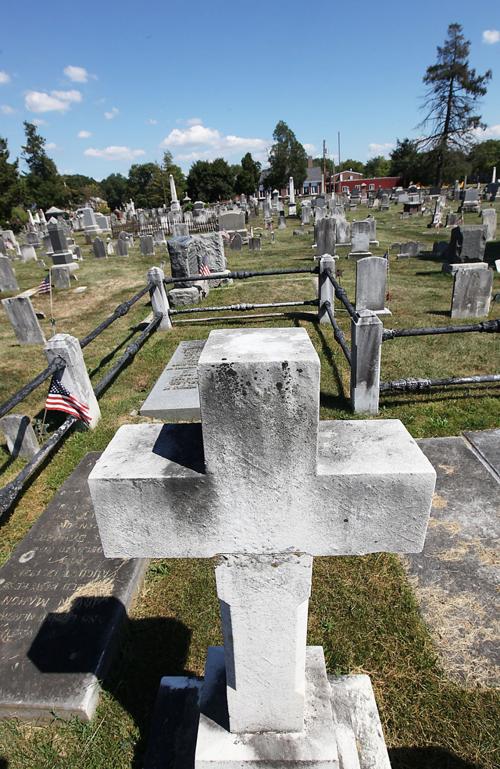 Debbie Miller is comfortable telling people they can take information to the grave.
More than once, she had to relay directions over the phone to a visitor who got lost in a local cemetery while searching for the tombstone of a long dead relative.
Finding out where bodies are buried is just part of her job as a staff member of the Cumberland County Historical Society in Carlisle.
Requests come in most every day from descendants across Pennsylvania, the U.S. and overseas looking for the slightest clue or confirmation to add a branch to the family tree.
"If it leads them to Cumberland County, it leads them to us," said Miller, a collection specialist tasked mostly with cataloging new acquisitions.
CCHS has a number of resources available to track down a burial location. An often-used first step is the Church and Cemetery Records Series that has information on baptisms, weddings and funerals. Reviewing this information can lead the researcher to such other sources as a will or an inventory of an estate.
Every time CCHS receives a church or cemetery record, a volunteer compiles the names from the document onto a master index kept in a digital format on a CD or in a hard copy version in a row of large ring binders on a shelf in the library reading room.
At last count, this index lists about a million entries arranged alphabetically first by family surname and then by the given name of the subject being researched, Miller said. Each entry has a notation listing the type of record available and the volume and page number where it could be found.
Cemetery records may include a map of the burial ground along with a guide a descendant could use to locate a tombstone with an inscription that could verify the birth date and date of death of a distant relative.
There are researchers who walk through cemeteries to take notes on the inscriptions listed on tombstones, Miller said. Often the notes are compiled into a book about that particular cemetery.
The book is then donated to the CCHS to serve as a genealogical resource for staff and visitors. Profiled cemeteries included the Old Graveyard along South Street in Carlisle and the Meeting House Spring Cemetery in North Middleton Township.
Township locations
Some years CCHS volunteer Bob Davidson compiled a book on Cumberland County cemeteries that list locations by township and include written directions to each burial ground, Miller said.
She added library holdings also include three collections of files organized by family surname. Staff have compiled over the years Genealogy Files that are the result of research requests made by phone, email or in person.
"It's a good source if someone has already done a search," Miller said. CCHS charges a fee for staff time spent in conducting research. The Genealogy Files also include any "loose material" pertaining to that family that has been donated over the years such as newspaper clippings.
The two other collections of surname files were donated to the CCHS by local genealogists Merri Lou Schaumann and the late Lenore Flower.
Another local source visitors can use is an ever-expanding collection of family history books, Miller said. She added there is also listing of obituaries organized first by year and then by family surname. Local newspapers are available on microfilm to look up an obituary once research pinpoints a date or time period.