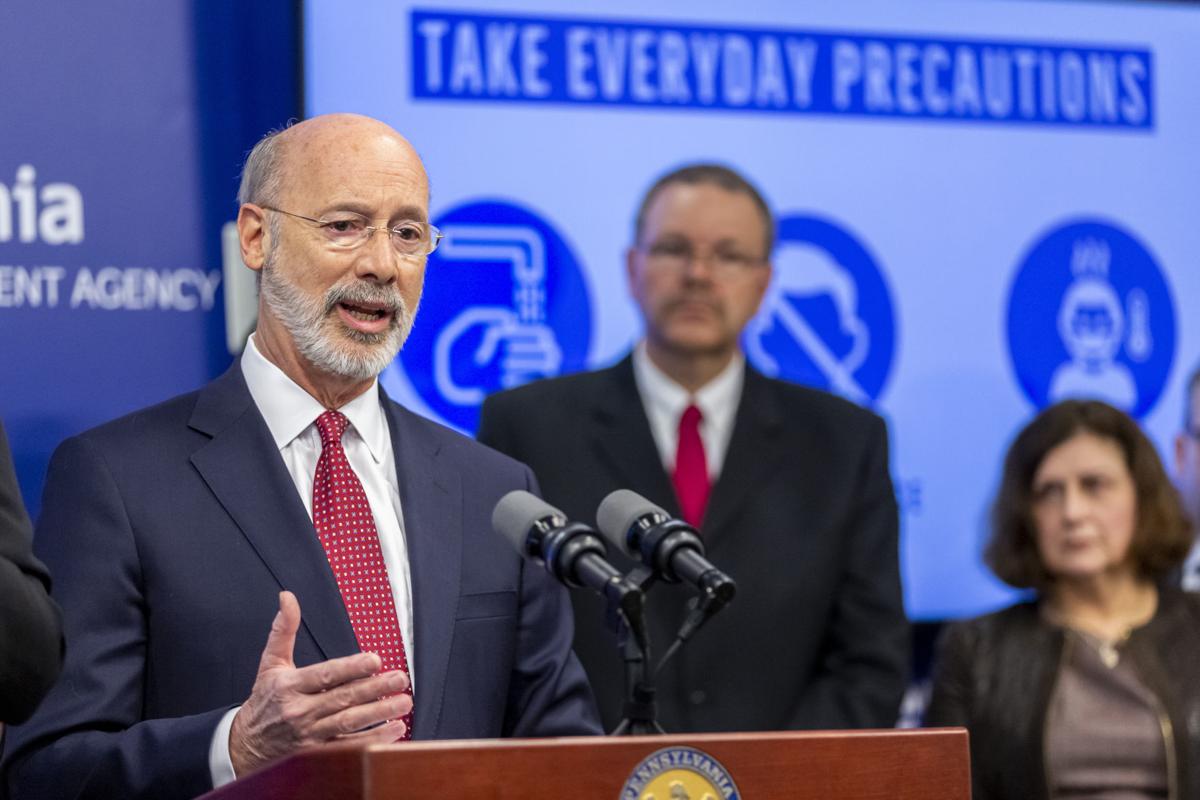 Pennsylvania Gov. Tom Wolf has ordered all "non-life-sustaining" businesses to close as of 8 p.m. Thursday, March 19, with enforcement actions set to begin Saturday, in order to stem the spread of the pandemic coronavirus.
Wolf's previous directives have been based on voluntary compliance, but the order signed Thursday includes teeth.
Noncompliance "will result in enforcement action that could include citations, fines, or license suspensions," Wolf wrote Thursday.
"I had hoped for voluntary compliance so our public safety officials could focus on assisting with the crisis," Wolf said in a video statement. "Unfortunately we have not seen full compliance. We have no time to lose."
State agencies, including the Pennsylvania State Police, are instructed to enforce the order.
Wolf's declaration of disaster emergency on March 6 gives him the legal power to make such enforcement actions under the extraordinary powers clause of the state's emergency management code, his office said Thursday.
The Pennsylvania Department of Health is also allowed to enforce such measures under state law to suppress the spread of disease, and Wolf on Thursday specifically authorized the health department "to prosecute noncompliant entities for the failure to comply with health laws, including quarantine, isolation or other disease control measures."
"Violators are subject to fines or imprisonment," the directive said.
Wolf had previously utilized the state's food and beverage licensing system to force the closure of bars and restaurants, except for take-out and delivery operations.
Those operations are considered "life-sustaining" under Thursday's order and will continue; grocery stores, manufacturers and retailers of building supplies, and most wholesalers, will also be allowed to stay open under a list that accompanied Wolf's order.
That list does, however, shut down most manufacturing in the state with the exception of agricultural products and some chemical manufacturing. Professional offices, such as law firms and accountants, as well as building contractors, are required to shutter, as are retailers such as clothing, furniture, and office supply stores, and car dealers.
Businesses that do not comply will also risk forfeiting any disaster relief funding and may have state loans or grants terminated, Wolf wrote Thursday.
The Commonwealth Financing Authority on Wednesday transferred $40 million into the Pennsylvania Industrial Development Authority's small business loan pool, making a total of $61 million in low-interest loans available. Businesses under 100 employees are eligible for up to $100,000 each in COVID-19 disaster relief loans.
The state also secured a line of small business loans, up to $2 million per firm, from the federal Small Business Administration on Thursday.
Known COVID-19 cases in Pennsylvania now number 185, with 11 in Cumberland County. Pennsylvania also saw its first coronavirus death this week in Northampton County.
An updated compilation of Sentinel and Cumberlink coverage of coronavirus issues in Pennsylvania and Cumberland County.