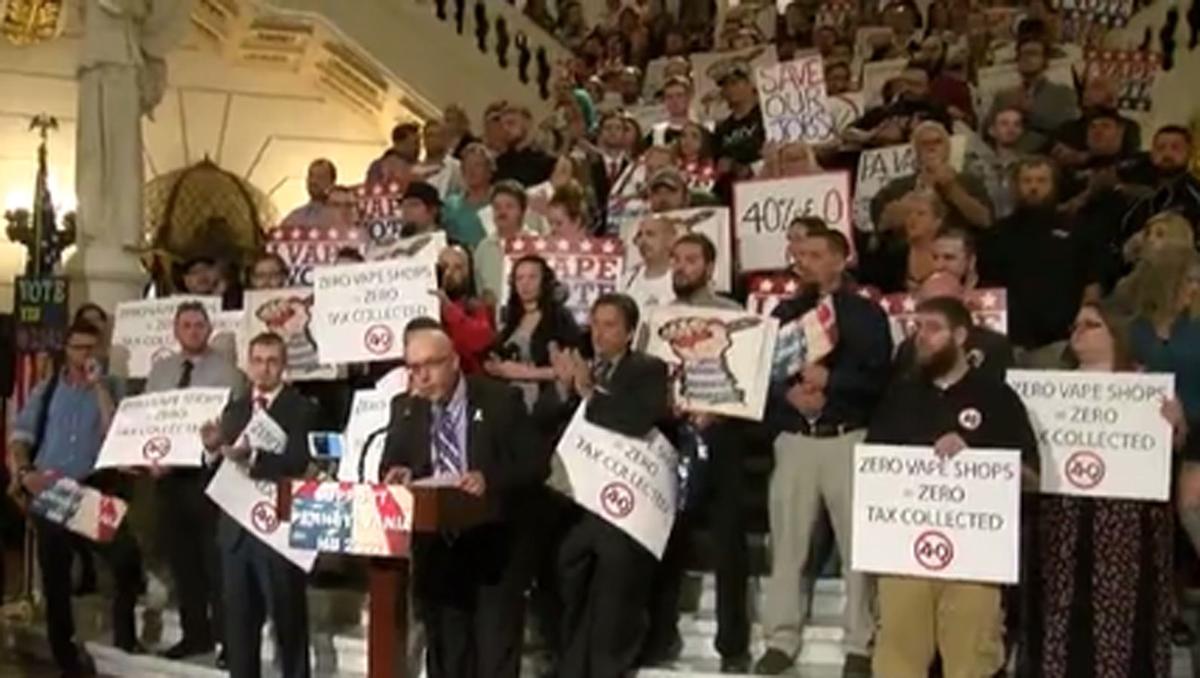 HARRISBURG – Not many issues fill the Rotunda quite like education or gun issues, but the vaping industry gave everybody a run for their memory by packing the front end with supporters and signs.
"If you're within the sound of my voice, you need to stop and listen on how small businesses are being crushed and shut down by taxation," John Dietz said.
Supporters' lungs were filled with passion to keep their lungs filled with vape. The rally was to protest a 40 percent wholesale tax on vaping products, including e-cigarette liquid. Vape shop owners argue the high tax would force them to raise costs too high for consumers and to make an operating budget work.
Several protestors pointed out what they called "unfair policies" for vaping compared to cigars, which are tax exempt in Pennsylvania.
More than 400 vape shops currently operate across the state. Since the tax passed as part of the state budget, industry advocates say more than 50 shops have closed their doors.
Rep. Jeff Wheeland, R-Lycoming, questioned the reason for such a high tax increase.
"Why? Why?" he said. "Why should their home state impede them in business?"
"Greed!" the crowd responded.
Speakers argued vaping offers a "safer alternative" to smoking cigarettes and other tobacco products.
Many called vaping a "life-saving option," although health experts are uncertain that vaping has minimal harmful effects.
Wheeland is sponsoring House Bill 2342, which offers a compromise of 5 cents per milliliter sold. The bill has 60 co-sponsors and is gaining traction in the House, according to several staffers.
With just a handful of days remaining in the fall session, vape supporters hope the tax reform could happen before the break.
"It's wrong for your business to be sacrificed for Harrisburg's out-of-control spending," said Bob Dick of the Commonwealth Foundation.