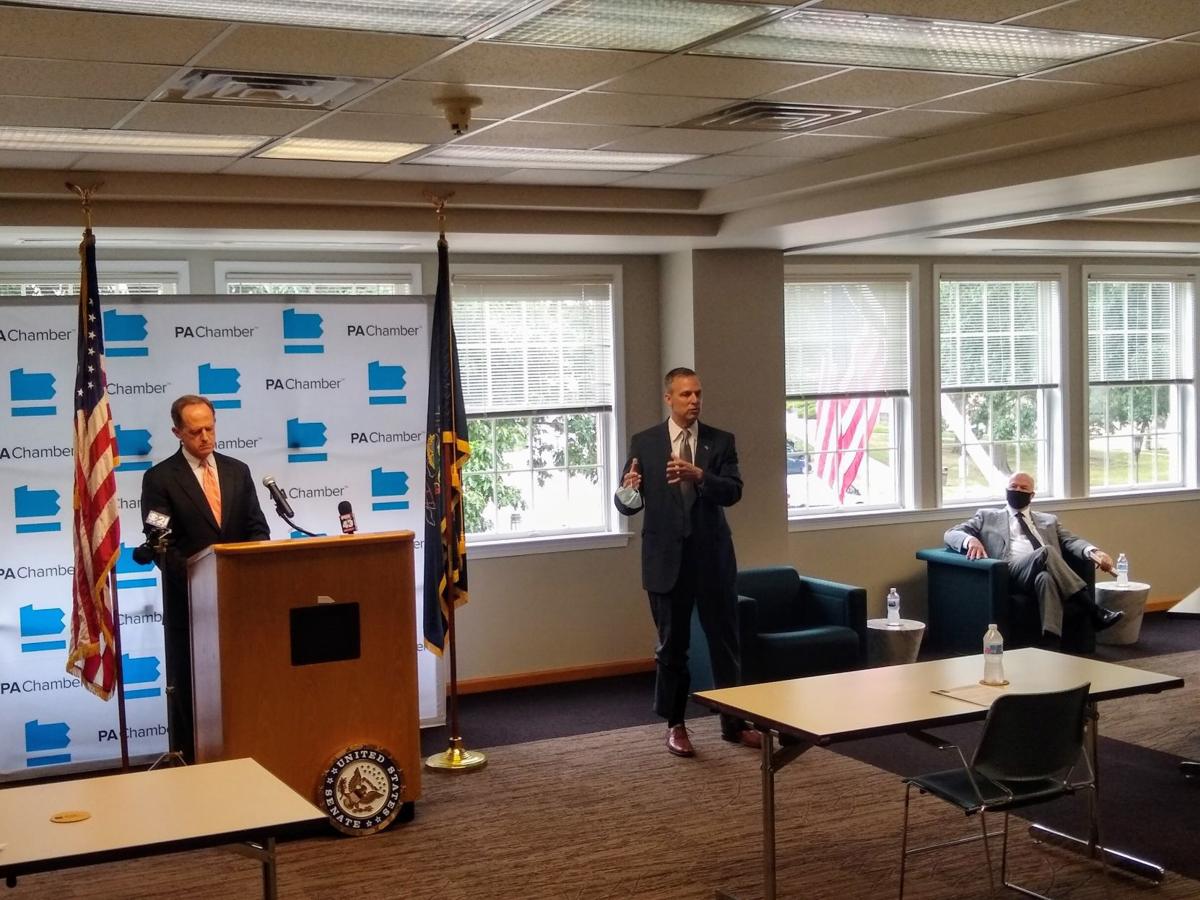 U.S. Sen. Pat Toomey on Tuesday predicted a deal on another round of COVID-19 relief legislation by the end of the month, but with little indication of what might be in it.
Toomey, Pennsylvania's Republican senator, appeared at a forum organized by the Pennsylvania Chamber of Business and Industry, alongside GOP Rep. Scott Perry.
Both predicted another "grand bargain," as Perry put it, between Republicans and Democrats on economic relief amid the ongoing pandemic, but also spent a significant portion of Tuesday's discussion sympathizing with business owners who said the extra $600 per week in unemployment insurance, currently in place under the March stimulus bill, was hurting the labor market by discouraging a return to work.
"There's probably going to be another bill before August, probably late in July, but I think that we want to be very, very careful that what we do does not impede the reopening that's underway," Toomey said.
The Federal Pandemic Unemployment Compensation program, created under the CARES Act stimulus, adds $600 per week on top of workers' normal unemployment insurance, which typically pays out about half of a laid-off worker's wages, depending on the state.
Proponents of the FPUC have argued that it allows workers to stay home during the pandemic without losing money, and the extra cash creates an economic stimulus.
The flip side, according to critics, is that laid-off workers are reluctant to find jobs if they can make more on unemployment, slowing the re-opening of the economy.
Donna Partin, owner of four Merry Maids locations in the Midstate, described "tremendous difficulty" in hiring.
"People aren't actually telling me this, but we're almost 100% certain it's the $600 additional, and if it's extended beyond July it will be disastrous to small business," Partin said.
Wendie Holsinger, owner of food processor ASK Foods, said she has experienced the same phenomenon, to the point she may soon have to start rejecting customers' orders.
"They clearly say to us they're not coming off unemployment," Holsinger said of prospective workers.
"I think that is a very misguided policy," Toomey said of extending the FPUC. "I am not going to support that policy and I hope it stays out of the next bill."
Partin said she wants fill approximately eight openings for jobs paying $12 per hour, plus benefits.
"How could it possibly not deter people from going to work?" Toomey said of the $600 enhancement. "You can't really blame people. They have mouths to feed, they've got a roof to keep over their head, they've got bills to pay and the government is saying 'by the way we'll give you more if you don't' go back to work."'
Both Toomey and Perry said they had supported a measure to cap unemployment benefits so that workers could not make more on unemployment than they had made when they were last working, but that this caveat was quashed by Democrats.
In recent weeks, Senate Democrats have floated proposals to renew the FPUC, but at levels below $600, with a phase-out dependent on the unemployment rate.
When asked by The Sentinel on Tuesday if he would consider renewal at a lower benefit level, Toomey declined to elaborate.
"That's just getting into a speculative area of where the conversation will go" as both sides work on a deal, Toomey said.
That deal, Toomey and Perry said, should include liability protection for businesses: Those that have taken proper precautions to prevent the spread of COVID-19 should be immune from suits by customers or employees who fall ill.
The Pennsylvania Department of Labor and Industry, which administers unemployment insurance, has said that the week ending July 25 will be the last in which the $600 FPUC benefit is payable.
DLI Secretary Jerry Oleksiak and state Department of Human Services Secretary Teresa Miller said last week that state officials are wary of what will happen if FPUC benefits are not extended in some form.
"Unless further action comes from Congress and the federal government … people in Pennsylvania and around the country may find themselves in increasingly uncertain circumstances," Miller said.
The state has paid out several million dollars in emergency assistance under rental and utility aid programs, Miller said, but this injection of cash pales in comparison to the roughly $10 million in FPUC payments that have gone to laid off Pennsylvania workers, according to DLI figures.
Data from the federal Department of Labor, Congressional Budget Office, and the Federal Reserve indicate that the pandemic-induced unemployment spike has disproportionately impacted low-income earners and minorities.
Some economists have predicted that the worst of the COVID-19 pandemic's economic effects have been staved off by CARES Act benefits. A recent University of Chicago study estimated that the national poverty rate actually dropped by 2.3% during the pandemic, despite skyrocketing unemployment; a Joint Economic Committee paper projected that the benefits have saved 1.7 million to 2.8 million jobs by floating consumer spending.
One element of this was the one-time stimulus issuance of $1,200 per taxpayer. President Donald Trump has indicated he is interested in another round of stimulus, although not as large as before. On Tuesday, Toomey said he was "inclined against" such a provision at this point.